2. Xylophone
The xylophone is a popular solo instrument as well as being used in symphony orchestras, chamber ensembles and film scores. Xylophones are noted for their bright and penetrating sound. Small xylophones usually have a range of as little as 2 1/2 octaves though the standard instrument has a range of 3 1/2 or 4 octaves. The term xylophone can also refer to many different instruments found across the world with pentatonic, heptatonic, diatonic or chromatic tuning systems.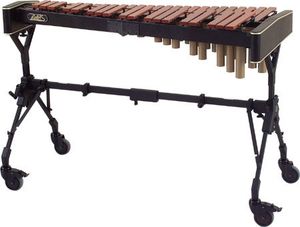 The upper (accidental) bars on a xylophone slightly overlap the lower (natural) bars. This allows for playing faster passages since the performer doesn't need to reach quite as far.
Materials
Traditionally, xylophone bars have been made from wood. Rosewood has been the preferred choice of percussion enthusiasts for its rich tone. Recently, synthetic materials such as Kelon have gained popularity due to their lower cost. Where rosewood is preferred for its bright but resonant and rich tone, synthetics possess brightness and slightly less sustain.
The frame of a xylophone is constructed to offer support for the bars and resonators (resonating tubes). Most frames have an undercarriage to position the instrument at a comfortable playing height and wheels to simplify moving the instrument. Smaller 3-octave xylophones often lack the stand and resonators of larger instruments. This means the instruments lack volume, but also makes them great for students, or for musicians who must put many instruments in a small space such as a theatre pit.

Mallets
A selection of xylophone mallets should include rubber mallets of varying degrees of hardness, plastic mallets, and wooden mallets. The student on a budget should acquire at least one pair of rubber mallets. Marimba and vibraphone mallets are also suitable for xylophone.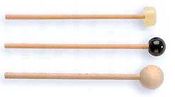 Orchestral percussion panoramica