2. The thing with the numbers
Drum Sticks are mostly given a number and a letter.
Usual sizes are for instance. 2a, 5a, 7a. There is no accurate standard to this system. The appropriate sizes vary from manufacturer to manufacturer.
General rule: Number 7 is a finer stick than number 2 5b is thicker than 5a.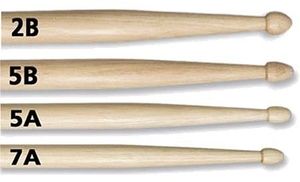 Here a rough scale:
7a - a good stick for light jazz.
5a -jazz, light rock.
5b - good all rounder for rock, rehearsals and for practice.
2a - rock and to practice somewhat heavier material.
2b - ideal for heavy rock.
Between them there is a multitude of models; the characteristics differ depending on the make.
2.

The thing with the numbers
Drumsticks panoramica