6. Common Models
Boss DD7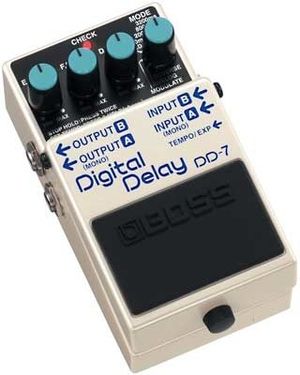 This unit from Boss is recognised as a modern classic, featuring stereo inputs and outputs. The delay time runs up to 6.7 seconds, and also has a 'Hold' function for layering sounds and performances. An unusual feature is its input for an expression pedal, giving the user the ability to vary parameters in real time without having to stop playing. Although this is a digital pedal, it has an analogue emulation mode, giving the delayed signal a warmer tone which is based on the Boss DM-2 analogue delay pedal.
Moogerfooger MF 104Z Analogue Delay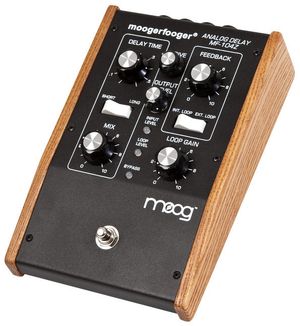 From probably the most famous range of analogue pedals. This is a 100% analogue delay pedal offering up to a second of delay time. What sets this pedal apart from its competitors, other than its unique sound quality, is the patchbay on the rear of the unit. All Moogerfooger pedals have comprehensive inputs and outputs for every part of the signal chain, as well as CV and gate sockets for interfacing with older analogue equipment and expression pedals.
TC Electronic ND1 Nova Delay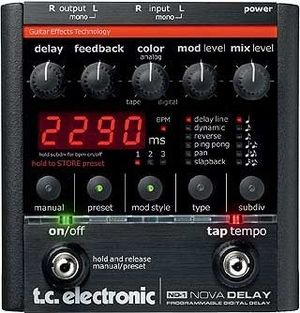 The vintage TC 2290 dynamic delay is a high-end rackmount studio unit from the 80s, and is still widely used in many large recording facilities today. What made this unit stand apart from other delay lines was its ability to dynamically adjust its performance depending on the input signal. Essentially, it combined a noise gate and compressor into its signal path - play a loud note and you hear the delays, play quietly and you don't, and indeed every gradation in between.
TC have incorporated many of these ideas into a footpedal version, with 9 programmable memory locations and 6 different delay types - Delay, Reverse Delay, Dynamic Delay, Ping Pong Delay, Pan Delay and Slapback Delay.
Electro-Harmonix Memory Man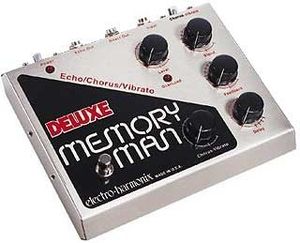 A very famous analogue delay pedal! It's possible to create tempo delay, slapback, tremolo, chorus and looping from this pedal. Its musical sound and versatility have made it a mainstay for guitarists for many years.
Delay Effect Pedals panoramica