| | |
| --- | --- |
| Ancora pi˙ Servizi per I nostri clienti! | |
Pi˙ Servizi, pi˙ Thomann: il nostro centro assistenza ed il suo personale di 135 esperti sono a disposizione per lĺassistenza e riparazione del tuo strumento o equipaggiamento.
The new Thomann Service Centre

Tre nuovi edifici, ospitano i nostri 135 esperti offrendo assistenza e riparazioni per il tuo strumento o equipaggiamneto.
Siamo fieri di presentarvi il nostro nuovo dipartimento assistenza!
dopo tre anni di pianificazione, il nuostro nuovissimo centro assistenza ha aperto i battenti in giugno, giusto a tempo per la mitica festa estiva Thomann.
135 esperti qualificati
sono pronti per effettuare ogni tipo di assistenza e riparazione al tuo strumento o equipaggiamento. L'efficienza energetica ed un basso impatto ambientale sono state le prioritÓ nella progettazione dei nuovi edifici. Il consumo di energia Ú pari a quello di una casa a bassi consumi e usa energia geotermica per il riscaldamento, Mentre il tetto Ú un biotpe. Il nuovo centro puˇ gestire
fino a 1,500 "arrivi" al giorno
,consentendoci di fornire un servizio ancora pi˙ rapido ed efficiente.
Assistenza per gli strumenti migliori
Dalle chitarre alle trombe, dagli ampli ai violini, undici workshops separati,offrono riparazioni e assistenza per un enorme quantitÓ e varietÓ di strumenti ed equipaggiamenti. Il nostro team non include solo tecnici e personale di servizio, ma anche
maestri liutai, costruttori ed ingenieri
per poter risolvere ogni possibile problema con professionalitÓ. Grazie al nostro fornitissimo
moderno laboratorio di riparazioni
, al nostro
workshop di pittura e laccaggio
e al nostro enorme magazzino di ricambi, possiamo offrire riparazioni professionali di tutti i tipi ľ e farlo in maniera rapida e professionale. Spesso non dobbiamo mandare il prodotto in assistenza dal produttore, risparmiando in tempo e costi.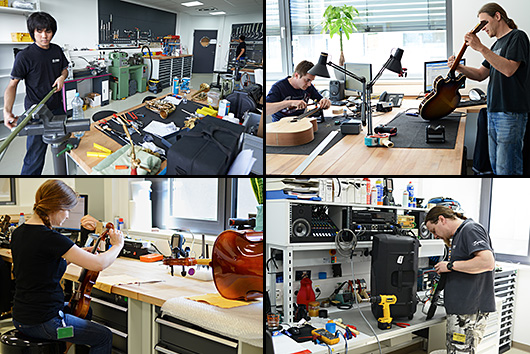 Oltre ai tecnici qualificati, abbiamo nel nostro team anche 15 maestre costruttori ed ingenieri.
Flexible and efficient service
Per rendere il processo di riparazione pi˙ efficiente possibile, abbiamo creato un nuovo call center, al servizio del nostro cliente
in 12 lingue
. Se vuoi portarci il tuo strumento di persona, magnifico! Il nostro centro di assistenza Ú il posto ideale per parlare e ricevere consigli ed assistenza dal nostro personale.

Per telefono o di persona. Ora puoi scegliere.
Di seguito i contatti al nostro service team:
E-Mail:
sc.cc@thomann.de
Telefon: 09546-9223-476