Menü

A Thomann 130 országban található, közel 10 millió ügyfelével, katalógusában mintegy 80.000 termékkel a hangszerek és fény-, ill. hangtechnikai berendezések legnagyobb csomagküldője a világon. Mi magunk is zenészek vagyunk, és a zene nekünk is szenvedélyünk, akárcsak neked. Cégünk számára egyetlen dolog áll a középpontban: te, a vásárló.

Vásárlóink számos oldalon találhatnak tájékoztatást és elérhetőségeket, így igyekszünk biztosítani a vásárlás előtti és utáni teljes körű tájékoztatást. Emellett a közösségi médiában, többek közt a Facebookon vagy a Twitteren található csatornáink is elérhetők mindenki számára.

Szolgáltató csapatunk nagyobbrészt zenészekből áll. Ügyfeleinket örömmel kísérjük végig a vásárlás előtti szaktanácsadástól egészen a karbantartásig vagy javításig vezető úton.

Szakosodott osztályaink és mesterműhelyeink révén szavatolni tudjuk a szakavatott tanácsadást és a gyors karbantartásokat. Ez természetesen hatással van az árakra is - persze a vásárlóink javára.

Nem csak a webáruházunk áll rendelkezésedre. Fórumok, alkalmazások, blogok és még számos egyéb is elérhető kínálatunkban, teljes mértékig a zenészek igényeire szabott extrákkal
4. Valve Amp Basics
Amplifier circuits can be described in terms of the layout or 'topology' of components which plays a crucial part in shaping the sound. Most classic guitar amps employ the 'Class A' design, which is characterised by wide dynamic range, penetrating tone and creamy distortion. Early Class A designs without a master volume control could of course only produce their distortion at full volume, and so one of the disadvantages of this design is that the valves are subject to relatively high wear and tear – regular maintenance is therefore essential.
Class B designs are much less subject to wear, and also maintain a cleaner signal through most of the path - they are ultimately more flexible.
Mesa-Boogie valve amps, regarded as among the most advanced modern designs, combine the best of Class A and B circuitry in various ways, which are often user-switchable for maximum flexibility.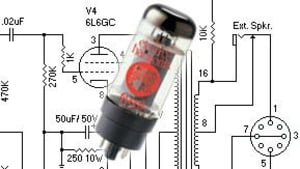 Other than their topology, valve amps are also commonly characterised as having either a 'British' or 'American' sound. The difference applies mainly to the overdriven sound and can be hard to describe in words, but broadly speaking, 'British' generally refers to the classic rock sounds of the seventies (Led Zeppelin, Deep Purple, Free, Thin Lizzy etc), whereas the American sound has found favour with bands such as Green Day.
Modern heads and combos generally have a similar array of features. Most have two separate channels – essentially separate preamps – which are optimised for clean and distortion sounds respectively, and selectable via footswitch. Some manufacturers such as Mesa-Boogie have added a third 'crunch' channel for overdriven rhythm playing.
Most amps incorporate an effects ('FX') loop enabling the connection of external effects such as chorus, delay and phasing. This is usually placed between the preamp and power amp, although some amps include flexible routing options, for example allowing the FX loop to be assigned to one channel but not the other. An FX loop is particularly important if you like the amp's own distortion, as opposed to using a distortion pedal, but want to add a modulation effect such as chorus, which must be added after distortion – chorus before distortion sounds rather unpleasant! Other effects such as delay and wah-wah can be used in either configuration according to taste.
Amps' power ratings give only a very rough indication of maximum volume, particularly as much depends on the impedance, configuration and sensitivity of the speaker(s) they're connected to. As a general indication though, many loud combos are rated at 50 or 60 Watts, and heads rated at 100W have a little more power for comfortably driving four or even eight speakers.
Lastly, guitar speaker connections are usually made with quarter-inch jack leads. Although speaker leads have exactly the same external appearance as ordinary jack leads, they should never be mixed up. Instrument/line level cable is co-axial in design - a single core is surrounded by a braided shield which protects the signal from interference. The thin wire used results in a high impedance, which at best will degrade the signal between amp and speaker, and at worst can overheat to the point of catching fire! On the other hand, speaker cable consists of two cores and no shield - using a lead made from this between guitar and amp, while not dangerous, will usually be very noisy.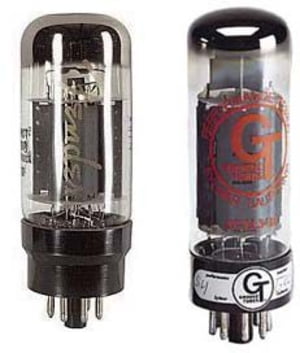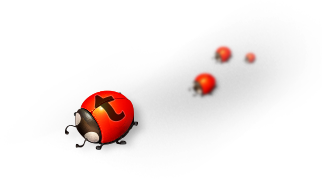 Visszajelzés
Hibára bukkantál, vagy mondani szeretnél valamit az oldallal kapcsolatban?
Örömmel fogadjuk a visszajelzéseket, és igyekszünk a lehető leghamarabb megoldani az általad észlelt problémát.
© 1996–2019 Thomann GmbH Thomann loves you, because you rock!