Menü

A Thomann 130 országban található, közel 10 millió ügyfelével, katalógusában mintegy 80.000 termékkel a hangszerek és fény-, ill. hangtechnikai berendezések legnagyobb csomagküldője a világon. Mi magunk is zenészek vagyunk, és a zene nekünk is szenvedélyünk, akárcsak neked. Cégünk számára egyetlen dolog áll a középpontban: te, a vásárló.

Vásárlóink számos oldalon találhatnak tájékoztatást és elérhetőségeket, így igyekszünk biztosítani a vásárlás előtti és utáni teljes körű tájékoztatást. Emellett a közösségi médiában, többek közt a Facebookon vagy a Twitteren található csatornáink is elérhetők mindenki számára.

Szolgáltató csapatunk nagyobbrészt zenészekből áll. Ügyfeleinket örömmel kísérjük végig a vásárlás előtti szaktanácsadástól egészen a karbantartásig vagy javításig vezető úton.

Szakosodott osztályaink és mesterműhelyeink révén szavatolni tudjuk a szakavatott tanácsadást és a gyors karbantartásokat. Ez természetesen hatással van az árakra is - persze a vásárlóink javára.

Nem csak a webáruházunk áll rendelkezésedre. Fórumok, alkalmazások, blogok és még számos egyéb is elérhető kínálatunkban, teljes mértékig a zenészek igényeire szabott extrákkal
Ape Labs ApeLight mini - Set of 10 Tour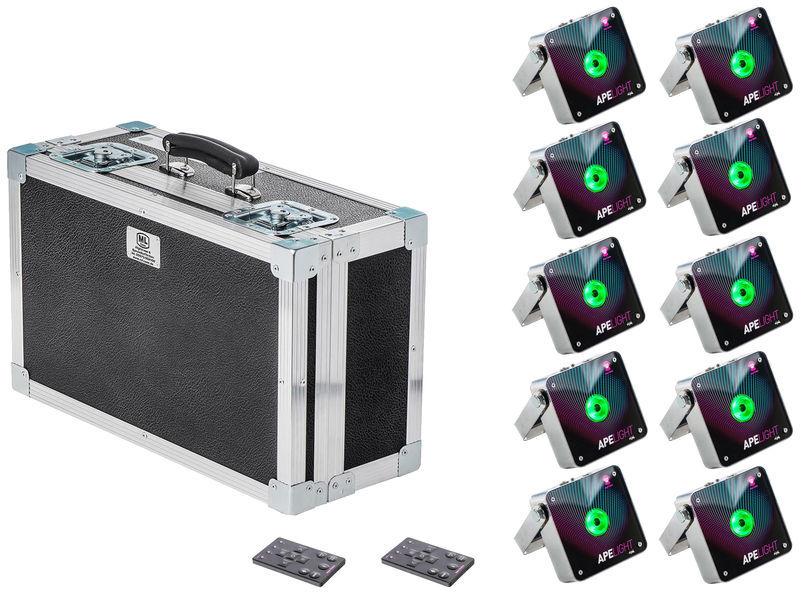 LED Spotlight Set with Case
Consists of the ApeLight mini tourcase and 10x ApeLight mini spotlights

Made in Germany

Tourcase for easy, secure transport and the ability to charge the spotlights automatically using the power adapter built into the case

Each spotlight comes with a built-in battery and an internal radio module

Can be controlled via the ape labs 2.4 GHz radio remote control or via "wireless DMX" with the ape labs W-APE wireless DMX transceiver

The 15 Watt RGBW LED with built-in 10 degree LED optics enables a variety of applications, such as classic up-lighting or as a decorative element for glasses and bottles

Control using preconfigured programs, colours and speeds, sound-to-light mode (via internal microphone that automatically adapts to any volume)

Suitable effect tube for mounting: Article no. 486061 (not included)
Suitable rain cover for ApeLight: Article no. 493961 (not included)
Technical specifications:
15 Watt RGBW LED

Beam angle: approx. 10°

Internal colours and programs with adjustable speed

Dimmable

Sound-to-Light with auto gain via the internal microphone or via the central microphone of the W-APE transceiver

Internal radio module for remote control and W-APE wireless DMX (4 DMX universes possible)

4 Group management for control via remote control or W-APE

Various DMX modes: 3 Channels (dimmer, program, speed)

4 Channels (RGBW 8-bit)

8 Channels (RGBW 16-bit)

Built-in battery pack (NiMH)

Battery life: 8 Hours, minimum

Splashproof

Electronics insulated to protect from temporary exposure to liquids

Load-bearing capacity of the surface: 70 kg

Housing made of high quality stainless steel

Dimensions per spotlight: 121 x 120 x 47 mm

Weight per spotlight: 0.67 kg

Bracket dimensions: 126 x 116 mm
Purchase includes:
10x ApeLight mini

2x ape labs wireless remote control (2.4 GHz)

10x Bracket

Flightcase with power adapter

Batteries are pre-installed during manufacture (NiMH)
További tudnivalók
| | |
| --- | --- |
| Type | Decoration |
| battery powered | Yes |
* Minden ár ÁFÁ-val plusz
szállitási költség
. Díjmentes csomagszállítás 298 € érték fölött Ajánlatok csak a készlet erejéig. Nyomdai hibákért és tévedésekért nem vállalunk felelősséget. A számlákat kizárólag EUR pénznemben állítjuk ki.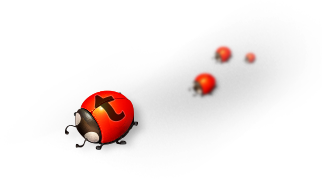 Visszajelzés
Hibára bukkantál, vagy mondani szeretnél valamit az oldallal kapcsolatban?
Örömmel fogadjuk a visszajelzéseket, és igyekszünk a lehető leghamarabb megoldani az általad észlelt problémát.
ID: 386613 © 1996–2021 Thomann GmbH Thomann loves you, because you rock!