13. Auto-Wah
(AKA Auto-Filter, Dynamic-Filter, Touch-Wah, Envelope-Follower, Envelope-Filter)
Instead of the effect being controlled by a foot pedal as on a standard wah-wah, auto-wah varies in response to the strength of the input signal. Since the electronic circuits in the effect can respond much faster than a human musician can physically move a foot pedal, some wah effects can only be achieved with auto-wah. The effect interacts strongly with the dynamics of the input signal which makes it possible to vary the response at will via slight adjustments in playing technique.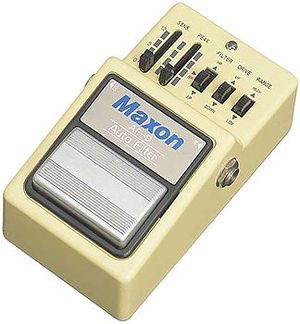 Most units have user control over range, boost, Q/resonance and 'direction' – the filter can move either up or down in response to increasing dynamics. Some have an LFO (Low Frequency Oscilator) which will modulate the filter cutoff cyclically, independently of the signal. A sensitivity control is needed to adjust for different guitar output levels and playing style. A word of warning - to get the most from an auto-wah, it must be placed at the front of the signal path immediately after the guitar, in order to 'feel' the performance dynamics. This sounds obvious, but is often overlooked.
Auto-wah is great for bass, especially for percussive styles. In terms of musical examples, Bootsy Collins' bass playing often features auto-wah, and The Red Hot Chilli Peppers' Flea is another well known exponent - their song 'Falling Into Grace' is a good example of an LFO controlled auto-wah applied to bass, and 'Sir Psycho Sexy' is probably the single best known example of an auto-wah bassline.
Wah Pedals overview