3. Defining Features
Acoustic guitars differ from classical guitars in several important respects:
Strings
By definition, steel-strung acoustics always use steel strings, usually bronze wound, resulting in a very different sound from the classical guitar.
Headstock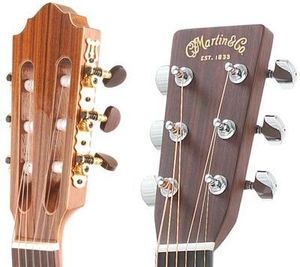 The classical design has a 'slotted' headstock, while most steel-strung acoustics have their 'machine heads' mounted at right angles, although some small-bodied 'parlour' acoustics do use a slotted headstock.
Neck/Fretboard
Steel-strung acoustics nearly always have fret markers in the form of pearl (or synthetic 'pearloid') inlays at the 3rd, 5th, 7th, 9th and 12th frets, with this pattern repeated in the upper octave above the 12th fret. Small dots along the neck binding on the side facing the player usually duplicate this arrangement. Also, the neck is generally around 20% narrower than the classical neck, and usually features a slightly curved fretboard.
Technique & Posture
Acoustic players handle their instruments much more like an electric guitar than classical players, partly as a result of a difference in general musical attitude, and partly because of design differences. Classical teaching has a 'correct' posture - the guitarist is seated with the left foot on the footstool or a special footrest, and the guitar resting on the left thigh. Acoustic players, if they sit at all, place the guitar on the right thigh (the larger lower 'bout' of most steel-strung instruments makes anything else impossible), but more often stand. Some acoustics have two strap buttons, though many have only one, resulting in the common sight of a strap tied to the headstock with a shoelace. Classical teachers also insist that the lefthand thumb must not move above a centre line running along the back of the neck, while acoustic players, like electric guitarists, often bring their thumbs over to damp the lower strings, or even to help form chords.
Acoustic Guitars overview