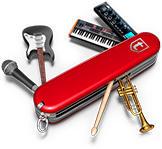 Thomann's Cool Online Guides
Here's a list of our current Online Guides. Each one extends over several pages and explains a specific product area in simple terms with the aid of pictures and diagrams, covering their history, use, and different types. Some documents cover complete setups, and others specific techniques of use. If you're unsure of how to go about choosing the right product for you, or you just want to know more about any of these topics, read on!
Computers can be very complicated. We're here to offer some advice!

Miking up and recording a drum kit is a fairly complicated procedure, and this can apply equally to choosing the right mics for the job.

Headphones are basics for any studio or DJ. But not all headphones are created equal.

Modern electronic tuners are generally accurate, reliable and fairly inexpensive.