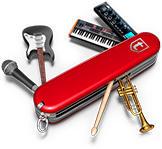 Thomann's Cool Online Guides
Here's a list of our current Online Guides. Each one extends over several pages and explains a specific product area in simple terms with the aid of pictures and diagrams, covering their history, use, and different types. Some documents cover complete setups, and others specific techniques of use. If you're unsure of how to go about choosing the right product for you, or you just want to know more about any of these topics, read on!
Computers can be very complicated. We're here to offer some advice!

There are a wealth of synthesisers available today, ranging from hardware keyboards to virtual software instruments.

These days, software instruments seem to most like the natural thing to use as a sound source in a computer-based studio.

More people than ever are now convinced of the advantages of plug-ins. Why?

Sampling technology is no longer restricted to large studios!

EQ is perhaps the least noticed of all types of audio processing, but also the most important.

Software Sequencing as a term is deeply inadequate to describe the power of the programs now available to the computer-based musician.

Is mastering a 'black art' best left to the professionals, or with the right technology, is it something that anyone can attempt?

This tutorial covers audio compressors and how they are used.