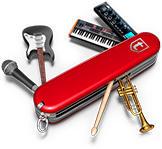 Thomann's Cool Online Guides
Here's a list of our current Online Guides. Each one extends over several pages and explains a specific product area in simple terms with the aid of pictures and diagrams, covering their history, use, and different types. Some documents cover complete setups, and others specific techniques of use. If you're unsure of how to go about choosing the right product for you, or you just want to know more about any of these topics, read on!
Computers can be very complicated. We're here to offer some advice!

Whether you're a fan, a promoter or a performer, the refined craft of live sound is vitally important.

Electric guitars are ten a penny and nowadays there are at least as many models and makers to choose from.

Choosing a digital piano actually involves many of the same considerations as choosing a real piano.

In this guide we'll outline the basic principles of studio monitors, and take a closer look at their most common features.

There are a wealth of synthesisers available today, ranging from hardware keyboards to virtual software instruments.

This guide will help you find a suitable drum kit and accessories for beginners.

The steel-strung acoustic guitar has a range of sounds that are unmistakeable and not easily replicated with any other type of guitar.

Here is a overview of the bass and all its component parts, from vintage to modern instruments.

The multi-FX concept has been around in various forms since the mid 80s - It is therefore no surprise that there is a huge range of hardware available.

You could sum up the whole idea of a PA power amplifier in a single word - sound. The power amp is a crucial part of a musician's live sound.

Percussion instruments are the backbone of many traditional styles of music and are a wonderful way to add colour, texture and motion to contemporary music.

Until recently, the classical guitar represented the most popular route into guitar playing.

Portable keyboards now offer a wealth of features to suit both the first time musician and professional songwriter alike.

Learning to play an Viola is a long, but rewarding journey, and this guide has been designed to help at the start.

The trumpet is one of the most versatile instruments, standing its ground in every music genre imaginable.

This guide aims to help complete beginners and existing double bass students (and their parents).

Is mastering a 'black art' best left to the professionals, or with the right technology, is it something that anyone can attempt?

This tutorial covers audio compressors and how they are used.

Learning to play an instrument is a long, but immensely rewarding journey, and this guide has been designed to help at the start of that journey.

Welcome to our Online Advisor for Harmonicas.

Let's take a close look at this beautiful-sounding instrument.

The workstation keyboards has come of age and found niches in many different areas.

This article will look at what MIDI is, how it's used to connect different devices, and some of the more popular MIDI interfaces.

Explore the oboe, the wonderful sound it makes, and the beautiful music written for it.