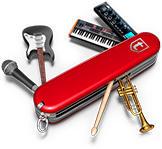 Thomann's Cool Online Guides
Here's a list of our current Online Guides. Each one extends over several pages and explains a specific product area in simple terms with the aid of pictures and diagrams, covering their history, use, and different types. Some documents cover complete setups, and others specific techniques of use. If you're unsure of how to go about choosing the right product for you, or you just want to know more about any of these topics, read on!
The range of available guitars and amps has never been greater than it is today, and a huge variety of sounds are easily accessible.

The first hurdle though, is to decide on which instrument to learn?

Our aim is to explain the basic process of recording the electric guitar!

Electric guitars are ten a penny and nowadays there are at least as many models and makers to choose from.

The following pages give an overview of the various types of guitar amp available.

We investigate some of the many accessories available for both guitar and bass.

If you take good care of your equipment, your pack it up carefully - and this means getting a proper case!

The steel-strung acoustic guitar has a range of sounds that are unmistakeable and not easily replicated with any other type of guitar.

Here is a overview of the bass and all its component parts, from vintage to modern instruments.

The term 'modulation' in its broadest sense covers a range of sonic effects, from the subtlest chorus to ear-bending ring modulation.

Amp modellers are guitar DSP effects units that emulate the sound of a range of amplifiers and speaker cabinets.

Without strings, guitars and basses produce no sound, yet most players know very little about them.

The multi-FX concept has been around in various forms since the mid 80s - It is therefore no surprise that there is a huge range of hardware available.

Until recently, the classical guitar represented the most popular route into guitar playing.

Microphone preamps, are analogue devices that will remain important even as most other equipment is superseded by digital alternatives.

Though there are other options, the stack remains a rock icon, and is still the most flexible form of guitar amplification.

A classic Ibanez Tubescreamer or Colorsound Tonebender can fetch many times its original price from guitarists in search of the ultimate killer tone and sustain.

Effects processors designed for use with bass guitars are now more popular than ever.

EQ is perhaps the least noticed of all types of audio processing, but also the most important.

The acoustic guitar is one of the most frequently recorded instruments in the studio, but it is often recorded poorly.

Before buying an acoustic amp, it's important to consider exactly what you want it to do.

Often underestimated and thought of only as a holiday instrument, the ukulele is experiencing a revival - and by no means only on Hawaii

Delays offer a simple and convenient method of creating a sense of space around your sound.

There is nothing mysterious about the basic principles of the electric guitar pickup.

Modern electronic tuners are generally accurate, reliable and fairly inexpensive.

Reverb is an essential ingredient in almost all pop and rock music.

It would be fair to say that the development of the wah-wah pedal has been somewhat experimental over the years.

In this Online Advisor, created in conjunction with planetguitar.net, we explore the key features of the instruments that have redefined power chords.

Your guitar needs care and attention, and by that we mean more than simply cleaning and polishing it. Read this tutorial to find out more.

We delve into the digital technology bridging the gap between guitars and synths in several exciting areas.

E-bass pickups influence the sound of your bass decisively.

It's time for more guitarists to take advantage of the freedom of movement provided and strut their stuff!