Steel-String Guitar with Pickup
Design: Roundback with cutaway

Top: Spruce

Body: ABS with super shallow bowl

Neck: Mahogany (Entandrophragma Cylindricum)

Fretboard: Roseacer (thermally treated maple wood)

Fretboard inlays: Snowflakes

650 mm (25.59") Scale

Nut width: 43 mm (1.69")

24 Frets

Body and neck binding: Cream-coloured

Built-in pickup with 3-band EQ

Machine heads: Diecast

String gauges: 011-052

Colour: Translucent Blue Sunburst High-gloss

Matching case available under Article Nr 122212 (not included)
available since
November 2019
High-tech meets old-school craftsmanship
Traditional-looking guitar in front, high-tech instrument in the back: The Harley Benton HBO-600TB combines state-of-the-art materials with the expertise of historic luthiers. Even back then, they knew that a rounded back sounds different from a conventional sounding-box – not louder, admittedly, but softer and more resonant. Round-backed instruments made of wood are of course very costly to manufacture – luckily however, these can be made from modern ABS. Add a pickup, and you get a stage-worthy guitar of a very special kind.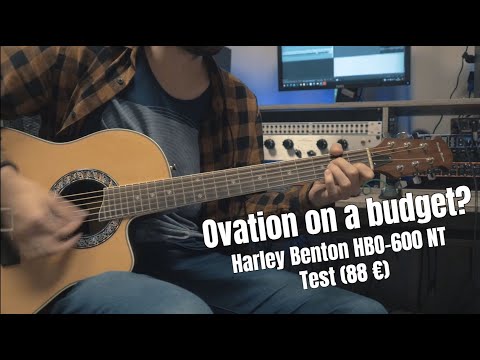 Crisp highs and a compressed tone
With its rounded back and spruce top finished in high-gloss blue burst, the Harley Benton HBO-600TB has its own unique tonal personality. When played acoustically, the shallow bowl delivers a subtle-sounding tone, which is focused through the central sound hole, and the X-braced spruce top adds crisp and slightly compressed highs. The pickup is housed beneath the bridge saddle, and the output can be finely tuned as desired by adjusting the bass, mid, and treble frequencies. The mahogany neck features a dark roseacer fingerboard and, with a nut width of just 43 mm and comfortable C-profile, is shaped to fit the player's hand perfectly.
For fans both present and future
The characteristics of the Harley Benton HBO-600TB naturally make it ideal for the stage. This type of round-back guitar has a dedicated fan community – and no matter what the style, they use these instruments anywhere and everywhere. The HBO-600TB gives round-back guitar afficionados on a limited budget access to the instrument of their dreams. However, its potential is fully realised when used on stage, where the guitar can easily be amplified to thunderous volume levels and played with unrivalled comfort using a strap thanks to its shallow rounded body.
About Harley Benton
Since 1998, the Harley Benton brand has been catering for the needs of numerous guitarists and bassists. In addition to an extensive range of stringed instruments, Thomann's house brand also offers a wide choice of amplifiers, speakers, effect pedals, and other accessories. In total, the range includes over 1,500 products. Built by established names in the industry, all Harley Benton products combine quality and reliability at attractive and affordable prices. The continuous expansion of the range ensures that Harley Benton always provides new, exciting, and innovative products that keep players perfectly in tune with the musical world, day after day.
Refreshingly different
The Harley Benton HBO-600TB is a real workhorse, designed for the rigours of everyday use – preferably on stage or in the rehearsal room, but it is equally at home at youth club meetings or in the pedestrian precinct. Despite its shallow body, the sound of the HBO-600TB cuts through astonishingly well even when played acoustically. Guitarists will definitely shine with this instrument, which looks distinctly different to run-of-the-mill acoustic guitars.
In the spotlight
Roseacer
Rosewood is a particularly hard wood that has long been popular as a material for making guitar and bass fretboards. This wood is now considered endangered, however, and resources are scarce and expensive – which is why guitar makers have already spent several years searching for alternatives. The wood that Harley Benton has chosen as a fretboard material for its HBO series and many other guitars is a type of thermally treated maple known as "roseacer" (a word coined from "acer", the name of the genus to which maple belongs). The heat treatment to which the wood is subjected reduces its water content to around three percent, which prevents subsequent shifting or warping and increases the wood's stability while also giving it a visual appearance similar to that of rosewood.
This is what customers who viewed this product bought