Cymbal Set
Impulz series

Handmade cymbal set of Turkish production

Material: B20 bronze

Universally applicable

The perfect introduction to the Zultan cymbal universe

Cymbal bag included
Cymbal set comprises:
20" Impulz ride

16" Impulz crash

14" Impulz hi-hat

Free 10" splash cymbal
available since
October 2020
Configurations
Complete Bundle + Effect Cymbal
Inc. Cymbal Bag / Case
Yes
Good cymbals don't have to be expensive
The Zultan Impulz Cymbal Set is a complete cymbal set consisting of a 14" hi-hat, a 16" crash, and a 20" ride. The special thing about this series is that you get hand-crafted Turkish cymbals made of B20 bronze at a price that previously would have gotten you only entry-level cymbal sets - with features that would usually require a significantly larger investment. Even a cymbal bag is included so that the cymbals can be safely packed and transported. All of the cymbals are of medium thickness and can therefore be used in many different music genres.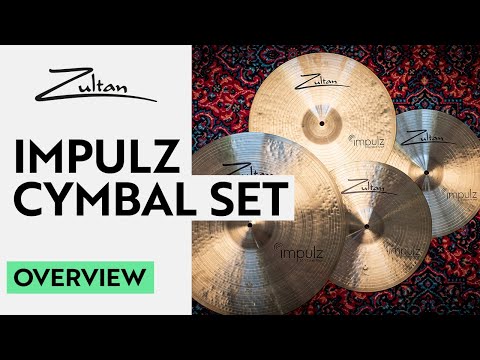 Handmade in Turkey
B20 is a mixture of 20% tin and 80% copper and is the formula that Turkish cymbal smiths have been using to make cymbals for centuries. Cymbals that are handcrafted from this material are known for a particularly harmonious and complex sound that can be used very flexibly. With standard sizes of 14" for the hi-hat, 16" for the crash, and 20" for the ride, the Zultan Impulz cymbal set is an ideally put-together basic set for a price that you would have to pay for a single top-of-the-line crash cymbal from one of the major manufacturers.
Not only suitable for beginners
Anyone who starts playing the drums and buys an inexpensive complete set including cymbals usually has to live with the fact that the cymbals are sufficient for the start, but have a limited sound spectrum. It often doesn't take long before you feel the desire for something of higher quality. If up until now you have been faced with the difficult decision of either investing a lot of money or continuing to play on your old cymbals, the Zultan Impulz Cymbal Set now offers the perfect solution. But even experienced drummers who want to integrate new sounds into their kit and are on a budget might be happy with this cymbal set.
About Zultan
To provide traditional craftsmanship at a fair price has been the guiding principle of Zultan ever since it was founded in 2000. The firm's practice of selling directly to the end customer makes it possible to offer very customer-friendly prices. Nevertheless, the production process for Zultan's trademark cymbals, which are made mainly in Turkey, is of the highest quality, a fact which has ensured they have also been a fixture in the Thomann range since 2011. The nearly 250 Zultan products cover several cymbal series, catering for all sectors of the music market. Zultan also offers accessories such as bags and drumsticks. Thanks to the use of high-quality materials and manufacturing expertise, Zultan really does offer uncompromising quality at a reasonable price.
New cymbals for boosting your creativity
Anyone who compares a cheap beginner's cymbal made of brass with a high-quality B20 cymbal will be amazed that the sounds are worlds apart, although it is apparently a relatively simple instrument. But the material and especially the workmanship makes a big difference. A quality instrument increases playing fun and encourages creativity, and with the Zultan Impulz Cymbal Set you get the sound that only handcrafted Turkish cymbals can deliver, at a budget-friendly price. The result is that beginners are more likely to "stick with it" than they would be with inferior cymbals. This cymbal set is also perfect for advanced drummers who are looking for an affordable second set for the rehearsal room or want to add new sounds to their existing set.
This is what customers who viewed this product bought