Compact 6-in-1 Multi-Effect for Electric Bass
Chorus, Octaver, Bass Amp, Dirty Q, Boost Comp and Tuner

Tuner with fast response, "silent tuning" and large, bright LED display

Chorus

Analogue, monophonic octaver

Bass amp module: Preamp section with many tone possibilities

Dirty Q: Fuzz module

Boost Comp

On / Off switch with status LEDs

Aluminium housing

Jack input & output

FX loop

Balanced DI Out

Parallel Out

Power consumption: 112 mA

Dimensions (W x D x H): 65 x 320 x 42 mm

Weight: 650 g

Includes 9 V power supply
One for all
The Valeton Dapper Bass Effect Strip is a practical and portable all-in-one solution for the bassist on the go, and it combines the most important accessories for rehearsals, gigs, and recording sessions in a single compact housing. This workhorse features a preamp and compressor as well as chorus, octave, and envelope filter effects and an onboard tuner, and it can function as the central sound source in combination with an amplifier and/or with a mixing desk or audio interface. The Valeton Dapper Bass Effect Strip additionally boasts a generous range of inputs and outputs in order to be ready for any situation. Best of all, it packs its wealth of features and effects into a compact housing that will easily fit into any gig bag, for a price that many other manufacturers would charge for a single effect pedal.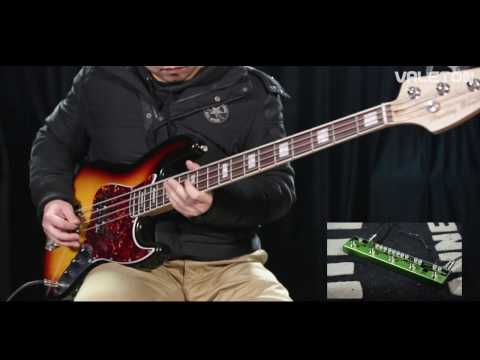 Four of a kind
Valeton looked closely into what bass players really need in today's musical landscape and what their weapons of choice are, and all of their findings have gone into the Valeton Dapper Bass Effect Strip. The basic sound is created by the preamp, which features a three-band EQ, and can then be enhanced with four of the most popular effects for bass: A compressor to smooth out unwanted peaks in volume, a chorus effect for swirling and spherical sounds, an octaver for an ultra-powerful low end, and an envelope filter to spice things up with a funky "quacking" sound. The Valeton Dapper Bass Effect Strip also has all of the inputs and outputs a bass player needs: The XLR output delivers a balanced signal that can be sent to a mixing desk or audio interface, while the "Thru" output simultaneously provides an unbalanced signal to go to an amplifier. And in case the four onboard effects are not enough, an effects loop is also provided so that additional effects units can be added to the signal chain.
Bass sounds to go
The Valeton Dapper Bass Effect Strip is clearly designed for bass players who move around a lot and don't want to lug equipment from A to B, and it combines all the essential functions a bassist needs in a format that will fit into any gig bag - a particular blessing when travelling by public transport or on a tour bus, where every inch of space counts. However, because it effectively replaces five individual effect pedals (each requiring its own battery or power supply) with a single compact unit that needs only one power connection, the Bass Effect Strip is also an interesting option for players who like using and combining effects. And as mentioned before, the effects loop allows the Dapper Bass Effect Strip's sound to be further enhanced by adding whatever additional effects may be desired.
About Valeton
Valeton is a Chinese company that, while still relatively new, has been developing products for other brands for a number of years and thus already possesses a significant wealth of experience. The company mainly specialises in the creation of a wide variety of guitar and bass effects and consistently takes its own distinctive and innovative approach. The main focus is to make equipment that combines high quality and affordability by using efficient production methods, and Valeton's product range has recently been expanded to include small and practical devices such as headphones and desktop amplifiers, which are designed to help musicians in their day-to-day activities.
For recording sessions and gigs with in-ear monitoring
Devices like the Valeton Dapper Bass Effect Strip are a clear response to the changes that have taken place in studio and live music environments. Increasing numbers of musicians are now dispensing with "real" amplifiers and playing gigs with in-ear monitors, so it is useful for these musicians to get their sound from an "out of the box" solution that they can bring with them and make the necessary adjustments at the venue. Sound engineers will also be pleased, since the Valeton Dapper Bass Effect Strip's XLR output gives them a high-quality signal to work with - and the same benefit can be enjoyed during recording sessions at home or in the studio, where the DI signal can be processed digitally without the need for an amplifier. Of course, the Bass Effect Strip can also be used in combination with an amplifier, in which case the user can choose between an unbalanced signal from the "Thru" output and a balanced signal from the XLR output.
This is what customers who viewed this product bought