Clip-On Tuner
PolyTune technology enables you to tune all 6 strings simultaneously

Strobe tuner with ±0.02 cent accuracy

Display is extremely bright and easy to read

Adaptive display ensures optimum readability regardless of the position of the PolyTune Clip

High-quality robust stainless steel clip

Suitable for flat tunings and tuning with a capo

Dimensions (W x D x H): 25 x 60 x 28 mm

Weight: 32 g

Powered via a CR2032 button cell battery (included)

Colour: White
Available since
June 2015
Integrated Microphone
Yes
Special Features
Polytune
High-precision polyphonic clip-on tuner for stringed instruments
The TC Electronic PolyTune Clip White tuner combines cutting-edge tuning technology with outstanding aesthetics and functionality, which makes it the perfect tool for musicians who wish to make no compromises in terms of speed or precision when tuning their instrument. The PolyTune Clip has been designed to be a reliable partner for guitarists and bassists in any situation – whether they are quickly checking their tuning on stage or making sure everything is perfectly in tune before a recording – and offers three different tuning modes: Polyphonic tuning, which allows all strings to be tuned at once, conventional chromatic tuning, and high-precision "strobe" tuning, which offers an impressive accuracy level of ±0.02 cent.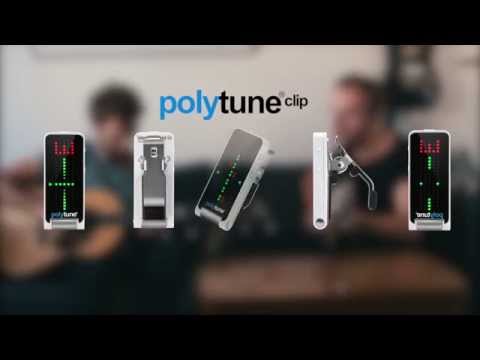 Polyphonic and chromatic tuning with high precision
Basic electronic guitar tuners only allow the open strings to be tuned individually to standard tuning (E, A, D, G, B, and E), which is a time-consuming affair. The PolyTune Clip, on the other hand, is a chromatic tuner, which means it recognises each note and allows each string to be tuned accordingly. And that is not all: Unlike conventional tuners, the PolyTune Clip also allows all of the strings to be struck at the same time while tuning. Its highly responsive piezo sensor then rapidly analyses the pitch of each string, and the display indicates which strings need to be adjusted. The tuning process is thus made significantly faster than using conventional methods.
Discreet and perfect for continuous use
Whether you are a beginner tuning your guitar or bass every day or a professional musician who likes experimenting with alternative tunings, the PolyTune Clip will keep your instrument precisely in tune thanks to its high-speed tracking and its unique polyphonic tuning function. Despite its extremely compact dimensions, the tuner's bright swivel-mounted LED display ensures a clear overview at all times, even in the darkest corner of the rehearsal room. Thanks to its robust stainless-steel clip, the tuner – which weighs just 32 grams – will always stay firmly seated on the instrument's headstock and secured against accidental slippage.
About TC Electronic
The Danish company TC Electronic has been known for its innovative products for many years. It was founded in 1976 by brothers Kim and John Rishøj in Aarhus. The company first made a name for itself with the SCF, a stereo chorus/flanger pedal for guitar. Studio equipment followed during the 80s and 90s, notably the legendary TC2290 digital delay in 19-inch rack format. Since the 2000s, TC Electronic has greatly enriched the guitar and bass scene with amplifiers, cabinets, combos, and effects pedals. Here too, TC's innovative spirit is in evidence, for example with its TonePrint technology and the first polyphonic guitar tuner. TC Electronic has been part of Music Tribe since 2015.
Your loyal day-to-day companion
Thanks to its light weight and swivel-mounted display, the PolyTune Clip can be attached discreetly to the headstock of virtually any stringed instrument – whether it's an electric guitar, an acoustic instrument, a bass guitar, or even a ukulele. Its polyphonic tuning function together with its bright and easy-to-read LED display mean precise tuning takes no time at all, which is particularly valuable during live performances. What is more, musicians who regularly play in alternative tunings can always rely on the PolyTune Clip whenever they choose to venture beyond the scope of regular "standard" tuning.
This is what customers who viewed this product bought