Effect Pedal for Electric Guitar
Delay

The new TC MASH technology turns the foot switch into a pressure-sensitive expression controller

New Ethereal Delay algorithm

For mono use, the stereo input can be used as a Tap Tempo input for an external foot switch

TonePrint-enabled: Load Signature Tones into the pedal with the free TonePrint app or create your own delay effects with the free TonePrint Editor

Controller: Delay feedback level mode

Switch: Subdivision

Foot Switch: Bypass / Pressure Expression

True Bypass

Connections: Mono / Stereo Input: 2x 6.3 mm jack - Mono / Stereo

Output: 2x 6.3 mm jack

9 V DC power supply connection (coaxial connector 5.5 x 2.1 mm - minus pole inside)

Power Consumption: 100 mA

Power supply with a 9 V battery or a 9 V DC power supply (not included), matching optional power supply: Art.409939

Dimensions (W x D x H): 72 x 122 x 50 mm

Weight: 300 g
Available since
July 2017
The Flashback 2 is a compact pedal that delivers a broad range of delay effects, which can be quickly and easily selected and adjusted using the four control knobs and mini switch. TC Electronic's proprietary TonePrint technology allows a significantly broader range of parameters to be fine-tuned and new presets created via smartphone using the free TonePrint app, and these can be wirelessly transferred to the pedal's three memory slots. TC Electronic has been a pioneer in the field of digital echo effects since the release of its classic 2290 studio delay unit, and the company's many years of expertise have gone into this pedal as well. Its fully stereophonic design makes it suitable not only for electric guitars but also for keyboards and other electric instruments, while its true bypass function and analogue dry signal path ensure a clean signal chain. When used in mono mode, the "stereo" input can also be used to connect a tap tempo switch.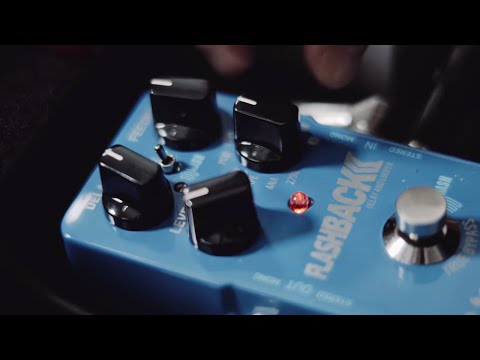 Echoes in every variation
With its compact pedals, TC Electronic bridges the gap between conventional, straightforward operation and tonal versatility, with adjustment options available directly on the pedal and particularly via the TonePrint function. Accordingly, this pedal offers eight echo effect types – from tape and bucket brigade delay simulations through to reverse delay and TC's typical ducking delay – with controls for effect level, delay time, feedback, and subdivision in relation to the tempo. It also includes a looper with up to 40 seconds' recording time. Three memory slots are reserved for TonePrints, which can be configured with highly advanced parameters using the app. An important update that has been integrated into the pedal is the MASH function, which allows the footswitch to be used as an expression pedal, e.g. to trigger typical feedback and space effects.
Not only for beginners
The Flashback 2 is aimed at musicians looking for tonal versatility without sacrificing the compact format of a pedal. Its eight algorithms let players select the sound they desire, and the three TonePrint slots can be used to personalise their settings further or reserved for more unconventional sounds. As a highly functional and affordably priced pedal, the Flashback 2 is ideal both for beginners and for musicians who know exactly what sound they are looking for – and its stereo inputs and outputs also mean that guitarists are by no means the only ones who should take a closer look.
About TC Electronic
The Danish company TC Electronic has been known for its innovative products for many years. It was founded in 1976 by brothers Kim and John Rishøj in Aarhus. The company first made a name for itself with the SCF, a stereo chorus/flanger pedal for guitar. Studio equipment followed during the 80s and 90s, notably the legendary TC2290 digital delay in 19-inch rack format. Since the 2000s, TC Electronic has greatly enriched the guitar and bass scene with amplifiers, cabinets, combos, and effects pedals. Here too, TC's innovative spirit is in evidence, for example with its TonePrint technology and the first polyphonic guitar tuner. TC Electronic has been part of Music Tribe since 2015.
Precise adjustability and artist presets
The Flashback 2 delay serves up a practical selection of typical echo effects for instrumentalists, including simulations of vintage effects units. On top of that, the pedal's Reverse Delay and Crystal settings, the latter of which integrates a pitch shifter, also put other-worldly sounds at the player's disposal, and a practical looper is additionally included. The TonePrint function in turn allows players to extensively customise their settings by giving them access to numerous further parameters that are otherwise only found in significantly more expensive products, while the app also provides presets from a range of renowned artists, allowing their signature sounds to be adapted in no time at all. And last but by no means least, the MASH switch makes dynamic effect control possible, a feature that is simply not available with conventional pedals.
In the spotlight
TonePrint
TonePrint is a technology that allows presets to be uploaded to the pedal from the dedicated app via Bluetooth – without the need for a single cable. TC Electronic provides downloadable TonePrints created by a diverse range of artists, and the app also gives the user access to advanced parameters, which they can then easily adjust. An exciting feature is that the hardware elements are capable of controlling not just one but several parameters, each with an individual adjustment range. Since multiple TonePrints can be managed using the app, the compatible pedals can be treated as overwritable storage devices.
This is what customers who viewed this product bought