Effect Pedal for Electric Guitar
Delay

12 Selectable delay types

Adjustable delay modulation

Independent delay and mix level controls

200 presets

Analogue signal path for the dry signal

Integrated looper with up to 30 seconds recording time

Loop-in path to enable further sound shaping of the delay by external effects

Controls: Type, Value, Time, Repeats, Mix, Filter, Grit, Speed, Depth

LED: Effect A On/Loop record, Effect B On/Loop play, Tap Tempo/Looper active

LED display

Footswitch: Effect A On/Loop record, Effect B On/Loop play,

Tap/Enter Exit Loop

Mono/stereo input: 2x 6.3 mm jack plug

Mono/stereo output: 2x 6.3 mm jack plug

EXP In: 6.3 mm jack

Midi In

Midi Out

Mains adapter connection: Barrel connector 5.5 x 2.1 mm, negative polarity inside

Power consumption: 300 mA

Power supply with a 9 V DC mains adapter (included in delivery, suitable spare mains adapter: Art.409939)

Switchable true/buffered bypass

Dimensions (W x D x H): 171 x 127 x 47 mm

Made in USA
Note: Battery operation is not supported.
Available since
August 2011
Recording time in minutes
0,5 m
A delay that covers all bases
Strymon's Timeline pedal is in a class of its own, and there is a very good reason for the enduring popularity it has enjoyed since its market launch in 2011. Versatility was the name of the game when designing this great-sounding digital pedal, which is equipped with high-quality converters, stereo inputs and outputs, and MIDI connectivity and also offers comprehensive storage options, so it can be legitimately called an all-rounder. What is more, the Timeline's user interface features eight control knobs and a rotary selector for real-time control of the delay effects, which is also possible using MIDI commands and an optional expression pedal.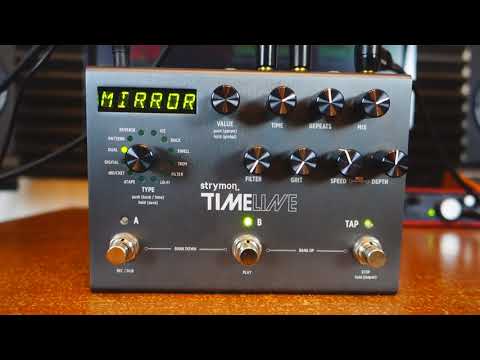 Matched algorithms, not just simple effect chains
Every one of the Timeline's sounds is based on one of twelve specifically matched delay algorithms, and the pedal additionally features a looper with up to 30 seconds of recording time. The high-speed SHARC signal processor delivers a high computation depth and a 24-bit/96kHz resolution, which result in a finely detailed sound and impressive parameterisation options. Strymon has not dedicated all of this processing power to creating a chain of several successive effects, however, but rather devotes it all to a specific delay algorithm in each instance. In short, this pedal is a specialist that takes care of all your echo-related needs with top-quality results.
Way more than a simple delay effect
The Strymon Timeline is aimed at demanding musicians who want to have a wide variety of echo effects at their disposal that they can manipulate in real time if required. Thanks to its twelve algorithms, 200 presets, MIDI capability, and tap-tempo option, the pedal is equally at home on stage and in the studio and the effects can be controlled on the device, via MIDI, or using an expression pedal. The Timeline's stereo inputs and outputs also make the pedal interesting not only for guitarists but for players of other instruments. There is no question that it can compete with specialised rack delay units of past years in terms of sound quality - and in fact generally has better converters and a higher level of versatility.
About Strymon
The Californian effects pedal manufacturer Strymon was founded in 2004 under the name Damage Control and initially produced tube-driven pedals. In 2009, the name was changed to Strymon and the company began developing DSP effects, some of which have already achieved cult status. Classics such as the "Big Sky" reverb and the "Timeline" and "El Capistan" delays can be found not only on many a guitarist's pedalboard, but also thrive in recording studios. The quality of Strymon products has become a byword and today they are also being used by keyboard players and DJs alike. Strymon has firmly established a reputation for uncompromising sound and excellent workmanship.
From slap-back to virtual analogue Dub echo
The Strymon Timeline can deliver all of the commonly found echo effects with stunning authenticity: Rhythmic sounds with varying complixity to suit the tempo of the respective song (slap-back echos for Rockabilly and Country, filter and Dub effects for club use, reverse delays, pitch delays, and even bucket brigade and tape echo emulations). The Timeline includes a modulation section as well, which puts everything from understated delay fluctuations to stunning "rise and fall" effects at your disposal. Incidentally, the effect can be crystal-clear, tastefully filtered, or enhanced with an adjustable helping of dirt, depending on the sound that is needed. Last but not least, the Timeline has a separately accessible looper with up to 30 seconds of recording time.
In the spotlight: External feedback loop
A special feature of the Strymon Timeline is the option of using an external feedback loop. In this case, the user sacrifices the option of stereo operation and uses the right input and output as an effects loop for external devices, whose signals are fed through this loop. This allows external effects such as equalisers, distortions, phasers, and filters to be integrated into the signal path. Each delay repeat passes through the external effect again, so that the latter is re-applied to the signal with each repeat. This produces some truly unique sounds that could not be achieved by connecting effects units together in the conventional manner.
This is what customers who viewed this product bought