Dynamic Instrument Microphone
Dynamic cardioid microphone for recording instruments and vocals. Its bright, clean sound and carefully contoured presence rise make it the ideal tool for live performances and studio recordings. The cardioid pickup pattern isolates the source and effectively reduces the recording of background noise. In the studio, the SM57 is ideal for recording drums, guitar, and woodwinds. The SM57 is not only the first choice for professional musicians, it has also been at the podium of the US President for over 30 years. Its outstanding performance, legendary reliability, and diversity of application make it the choice of performers, producers and engineers around the world.
Cardioid

Contoured frequency response for clear instrumental and sonorous vocal recordings

Decrease of percussion, drums and instruments amplifiers in professional quality

Cardioid for isolated signal source and reduces distracting background noise

Pneumatic shock minimizes handling noise

Holds even heavy use in stage use was

Frequency response: 40-15000 Hz

Output Impedance: 310 Ohm

Open circuit sensitivity: -54.5 dBV / Pa (1.88 mV)

Dimensions (L x Ø): 157 x 32 mm

Weight: 284 g

Incl. clamp, 3/8"Thread Adapter and Bag
Who hasn't heard of it?
Whether in the studio or on stage, the Shure SM57 cardioid dynamic microphone is an absolute classic in the music industry. Renowned for its versatility, it can be found miking countless instruments, amplifiers, and vocals – in as many different settings. The SM57's workmanship is of very high quality and it features a highly robust housing, screen, and grille which protect the microphone's internal electronics and capsule from most forms of physical damage. Shure specifies the SM57's frequency response at between 40 and 15,000 Hz and its sensitivity at 1.88 mV/Pa.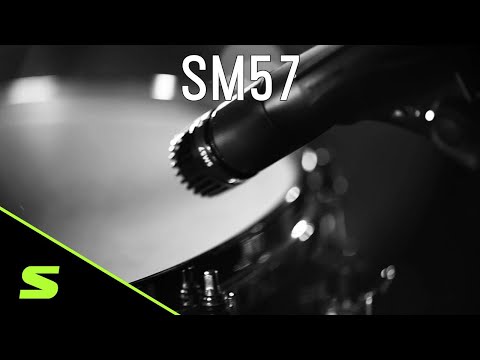 Contoured frequency response
A look at the SM57's frequency response data sheet shows that the latter is not linear but modulates, positively reinforcing key frequencies of many instruments and voices. The bass is heavily trimmed under 200 Hz, preventing sprawling proximity effects and a booming signal. Furthermore, a slight boost between 2 kHz and 6 kHz provides increased transparency and clarity, while the two dips, at 7 kHz and 8 kHz respectively, minimise harsher frequencies. The cardioid polar pattern isolates the signal source effectively, reliably reducing unwanted background noises.
Simply suitable for everyone
The SM57 LC dynamic microphone is ideal for professional-quality instrument miking. Its ability to effectively handle high sound pressure levels, a feature it is renowned for, means it is often found in front of loud sources such as guitar amplifiers, drums, and wind instruments. Live, the SM57 also works great for vocals and speech. The roster of prominent users includes Lemmy Kilmister of Motörhead and the President of the United States. Its attractive purchase price, high-quality and durable construction, and of course great sound provide an optimum price/performance ratio that will appeal equally to instrumentalists, singers, and technicians.
About Shure
The American company Shure began developing microphones during the early 1930s and is one of the pioneers of the audio engineering sector. Models such as the 55 Unidyne - known to many as the "Elvis microphone" - and the SM57 and SM58 which appeared in the mid-1960s are still ubiquitous in live sound production today. They enjoy cult status among musicians and technicians alike. In the 1990s, Shure introduced the first wireless microphones and in-ear monitoring systems and became a market leader in this field. In addition to microphones, Shure offers a wide range of earphones and headphones for studio and live use, as well as various accessories.
No such thing as "too loud"!
As previously mentioned, the SM57 LC is perfect when it comes to miking very loud sound sources, which is hardly surprising since it was specifically designed with this requirement in mind. Piercing snare drums, heavily distorted guitars, and blasting saxophone solos can all be handled with ease. Whether in the studio or on stage, this versatile, dynamic microphone will deliver an excellent sound in virtually every situation. It is near-indestructible and can easily cope with the odd drop, drumstick hit, or worse – guaranteeing its durability even when the going gets tough during live use. Furthermore, the capsule's pneumatic shock absorber system suppresses handling and vibration noises.
This is what customers who viewed this product bought