Synthesizer Keyboard
61 Lightly weighted velocity-sensitive keys

Sound Engines: ZEN-Core, SuperNATURAL Acoustic, SuperNATURAL Acoustic Piano, SuperNATURAL Electric Piano, VTW Organ (ZONE2 only)

256 Voices

Expandable with Roland EXZ, EXSN and EXM Expansions

More than 3500 preset sounds and more than 90 drum kits

Storage for 128 Scenes (x4 banks)

16 Parts, each with up to 4 sound layers

Effects: EQ and Multiefekt per part, 2 insert effects, 6 drum part compressors, master compressor, master EQ

90 Different effect types

Stereo 32-band vocoder

8-Voice pad sampler (16 pads x 4 banks) with max. 60 minutes sample time

Sequencer: 16 MIDI tracks with real-time and step recording as well as TR drum programming

Rhythm pattern, arpeggiator and chord memory function

5.5" Colour touch screen

8 Encoders and 8 faders allow real-time control over sounds, mixers and effects

32x4 USB audio interface (24 bit / 96 kHz)

AIRA Link support (via Roland MX-1)

Roland Cloud Manager support

Native integration of Logic Pro, MainStage and AbletonLive

Dimensions (W x D x H): 1006 x 323 x 95 mm

Weight: 6.0 kg

Incl. external power supply unit (PSB-5U, 12V DC)
Connections:
Main Out: 6.3 mm jack, balanced

2x Sub Out: 6.3 mm jack

Headphone output: 6.3 mm and 3.5 mm jack

3x Inputs for pedals and footswitches: 6.3 mm jack

MIDI In / Out

1x Mic and 2x line inputs: 6.3 mm jack

2x USB-A port for external devices and storage media

USB-B port for computer connection
Available since
March 2022
Number of simultaneous Voices
256
MIDI interface
1x In, 1x Out
Effects
Multieffect processor
Number of Analog Outputs
4
Number of analog outputs
4
Pedal Connections
2x Pedal, 1x Sustain
Pedal Connectors
2x Pedals, 1x Sustain
Dimensions
1006 x 323 x 95 mm
Optional Expansion Boards
n/a
Dimensions in mm
1006 x 323 x 95
The light version of Roland's flagship model
The Fantom-0 series offers an extensive range of features, with only minor reductions and simplifications compared with the larger Fantom models. For a lower budget, users will have access to the ZEN-Core engine, with its vast sound pool of countless instruments, synthesizers, drums, and the corresponding effects and mix options, allowing a seamless transition between all tone generation and sequencing levels thanks to the absence of overarching or mutually exclusive modes. Every feature has been designed with live use in mind – from programming and insertion of sequences and audio clips to sound editing and scene creation. Tone generation is provided courtesy of a flexible and expandable synthesizer and a full sampler, which can be edited on the device itself or with the aid of software. The Fantom-06 can also serve as an audio interface, and be used to control DAWs and plugins together with all of their respective operating options.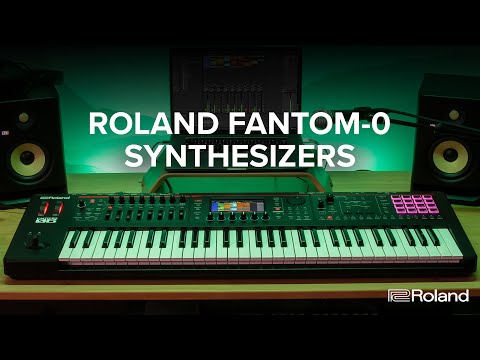 Extensive sonic flexibility
The ZEN-Core engine can generate different synthesis forms in parallel. The instrument sounds are based on high-quality stereo samples and SuperNATURAL technology, while the synthesizers draw on a virtual analogue engine. There is also the VTW engine, added specifically for a tone wheel organ sound. Expansions of the EXZ, EXSN, and EXM series can be retrofitted via the Roland Cloud, and new sounds composed of up to four partials are also possible courtesy of the flexible editing options, including filters and LFOs with complex patterns. These sounds can be set as scenes, which incorporate all settings provided by the 16 channels, and transitions can be made between them without any dropouts. The Fantom-06 also comes with a newly developed, velocity-sensitive 61-note keyboard.
Two separate samplers
The keyboard sampler can be used to create up to 128 multi-samples and manage a total of 2,000 individual samples. Loops and audio clips lasting up to 60 minutes can also be integrated into performances using the eight-zone pad sampler. Both sample sections work with 16/24 bit at 44.1/48kHz and support the import of WAV and AIFF files, while the keyboard comes with 2GB of internal memory. Internal sounds (resampling), external hardware devices, and even DAW tracks can be used as sample sources. The edited multi-samples can then be used, in turn, to create new ZEN-Core sounds.
Designed for the stage
For professional keyboard players who need to manage a large soundset on the stage, the Fantom-06 offers not only a flexible sound selection but also numerous controls. Even the most extensive sets can be changed quickly and reliably using scenes, and the user can assign the knobs, faders, pads, and buttons as required. Efficient sound editing is provided courtesy of the dedicated Synth Control panel, and the 16-track sequencer offers real-time and step recording as well as TR-REC sequencing for drum patterns. One-shot samples and audio clips can be triggered using the dynamic RGB pads. The Fantom-06 can be integrated as an audio interface in a studio environment courtesy of 16 stereo outputs and two stereo inputs, and DAWs and plugins can be controlled via the various controllers and touch display. Users wishing to connect up an additional controller as an extension can do so using the external device port, and the workstation weighs just 6kg, making it easy to transport.
About Roland
The Roland company was founded in 1972 in Osaka, Japan, and has been designing and building electronic musical instruments ever since. During its successful history, Roland has launched many ground-breaking instruments, from legendary drum machines such as the TR-808 and the TR-909 to synthesizer classics like Jupiter-8, SH-101 and the iconic TB-303. Besides synthesizers, Roland's workstations and electric pianos are also very popular. Equally well-known is Roland's subsidiary Boss, under whose brand name it designs and sells principally guitar pedals and effects units. Under the Roland Professional A/V label, the company additionally develops and distributes professional equipment for virtually every branch of audio and video production - from home studios through to commercial applications.
Control centre for live sets and studios
The extensive range of features included in the Fantom-06 also helps to lighten the load on tour, courtesy of the fact that all sounds are integrated and can be edited on the go, and special audio clips can be incorporated at will. Beats run in parallel with the artist's own composition, which can be changed in the blink of an eye courtesy of TR programming. Intervention is still an option at any time if complex backing tracks are running in the sequencer. Live gigs can be transformed into a true performance and the workstation can be optimally connected to the Roland MX-1 mixer via the AIRA link. Many of these qualities are also helpful in the studio and in the preparation of compositions. Transferring sounds and sequences to a DAW is made simple courtesy of the 4x32 USB interface. In addition to the extensive range of presets and the genre-specific cloud content, the Fantom-06 is also an interesting option for sound enthusiasts, as it offers immense potential in terms of sound generation that is set to continue to grow with each new update.
In the spotlight: How are the bigger Fantom models different?
For situations where greater demands are placed on a workstation, the large Fantom models offer a number of professional features that are not available in the more budget-friendly 0 series. Sophisticated instruments such as the V-Piano, as well as more elaborate expansions, can be used in sound generation courtesy of the greater processing power on offer. Four times the number of individual samples can be managed with the keyboard sampler, and an additional analogue stereo multi-mode filter is also available for sound editing. The connectivity of the larger models is also significantly greater, with four CV/gate outputs, a second main output, a second MIDI output and MIDI-thru, and three external device ports. The audio interface has a third stereo playback channel, and the keyboard features an aftertouch function.
This is what customers who viewed this product bought