Compact drum kit
Consists of an 18" bass drum and 10" snare drum

Snare holder is adjustable

Suitable for use with standard drumheads

Collapsible to a thickness of less than 5"

Padded handle for easier transportation

Can be tuned with a standard tuning key

Perfect for street music and small stages

PCTK-1810
Available since
July 2017
Shell Hardware Colour
Black
Goodbye to lugging - this drum kit is really mobile
The Pearl Compact Traveler Kit is a minimalist kit consisting of a bass drum and a snare drum. It is ideal wherever there is not enough space for a complete drum set or where you need some quiet drumming. Thanks to its clever construction, the Traveler Kit can be folded up so small that you can literally put it under your arm. If you want to expand the kit, you will find a 10" and a 14" tom as well as suitable transport bags in the Pearl range of accessories.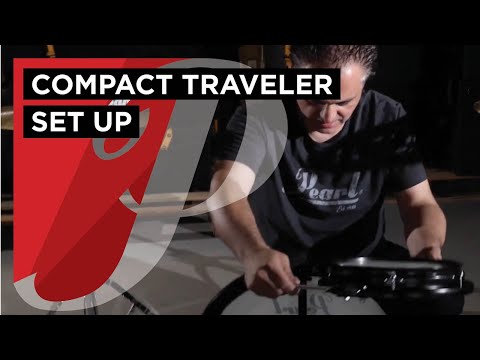 A beat machine with two drums
A bass drum and a snare - that's all you need for a drum beat, and these two components are quite enough to get the audience dancing at the gig. The Traveler Kit can be set up in just a few minutes and only requires a drum pedal, which is attached to the base plate of the amazingly rich-sounding 18" bass drum, to start drumming right away. Just like the bass drum, the 10" snare also has a common standard size, so that the skins can be easily replaced if need be. An adjustable spiral carpet on the underside of the skin provides an authentic snare sound.
Perfectly equipped for street music or a coffeehouse gig
Thanks to its compact, lightweight design, the Pearl Compact Traveler Kit is ideal for situations where quick assembly and disassembly is key, for example for an impromptu street music gig. The Traveler Kit also does a perfect job when gigging in a café, where a conventional drum set would knock the audience out of their seats: It sounds like a drum kit, but is much quieter. Because of that, it can even be used for living room sessions - which is something no other acoustic drum set can do.
About Pearl
The Pearl company was founded in Japan in 1946 and has been making drums since 1950. After initially manufacturing exclusively for other brands, it began to produce drums under its own name in the 1960s. Initially, the company was strongly oriented towards American models, but over the course of time, more and more of its own designs were developed, and ultimately established themselves on the market. Today, Pearl is one of the world's leading manufacturers of drums, percussion instruments, and accessories. A milestone in Pearl's history is the Export Drumkit, introduced in 1982, which is believed to be the best-selling drum kit of all time.
Set up and dismantle at the speed of light
Gone are the days when the drummer was always the last to set up and dismantle. It doesn't take more than a few simple steps and the Pearl Compact Traveler Kit is ready to be played - a huge plus for drummers who play street music and therefore want to act spontaneously. And since many street musicians are on foot or using public transport, the extremely compact design of the kit offers another unbeatable advantage: Even in the largest configuration, the drum kit can easily be carried by one person.
This is what customers who viewed this product bought