Cymbal Set
From the 201 Series

Material: Bronze

The most successful Paiste cymbal set

Made in Germany
Cymbal set consists of:
14" Hi-Hat

16" Crash

20" Ride
available since
September 2007
Configurations
1x Hi-Hat, 1x Ride, 1x Crash
Inc. Cymbal Bag / Case
No
Entry-level models with a great sound
The four machine-made cymbals of the Paiste 201 set are made of B8 bronze, a material composed of 92% copper and 8% tin. The cymbals are of first-class workmanship, feature a versatile sound, and have a moderate weight - so they make a convincing case with their all-round qualities. In addition, the fanned hammer marks create an appealing look. All of these features make this cymbal set an absolute top model for beginners. The set includes a 14" hi-hat, a 16" crash, and a 20" ride - the classic basic cymbal combination that can be used for any style.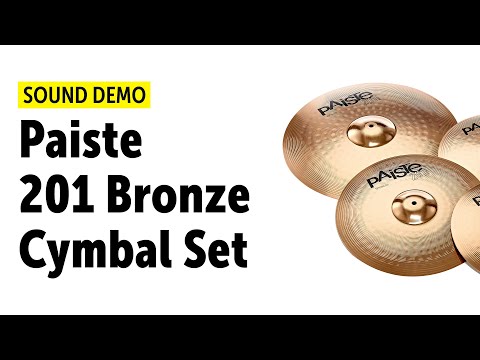 Bright and cutting
The Paiste 201 cymbals have a rather bright character that tends towards Rock. A good, fast response, in connection with a proper weight distribution without tonal losses when being played harder, results in a high-quality, cutting sound that is in no way intrusive or exaggerated. The 20" ride in this set particularly stands out: A comfortable bell size, which also compensates for greater hitting inaccuracies, makes it easy to practise, particularly for beginners. In addition, it also has crash qualities that are by no means a matter of course in this price segment.
Paiste quality for a budget-friendly price
Anyone looking for high-quality beginner cymbals will definitely find what they are looking for in the 201 cymbal set from the renowned manufacturer Paiste. The cymbals in this set are of flawless workmanship, finely tuned to each other, and offer a really well-rounded sound that will definitely give you a lot of joy. All ambitious beginners and hobby drummers will appreciate the attractive purchase price and the top value for money from the minute they start playing these cymbals.
About Paiste
The company was initially founded in Russia in 1901 by composer and musician Michail Toomas Paiste. After the Second World War ended in 1945, the company relocated to Germany before settling permanently in Switzerland and over the ensuing generations has developed into one of the most respected cymbal manufacturers in the world. Paiste is still a family-owned company and, in addition to its HQ in Switzerland, also has international subsidiaries in countries like the USA and Spain. With its varied and always high quality series, all of which are manufactured with the utmost care and absolute dedication, Paiste cymbals have been adopted by countless great drummers, including Stewart Copeland (The Police), Mikkey Dee (Scorpions), and Joey Jordison (Murderdolls, Slipknot).
From Rock to Pop
The well-matched 201 bronze cymbals will convince you with a high-quality sound, an appealing look, and an extremely fair price. Thanks to its multifaceted nature, this cymbal set can meet a number of demands - regardless of whether you prefer harder or softer styles. No matter which style you prefer in the end, the 201 cymbal set from Paiste is a thoroughly successful entry-level product that makes a convincing case in terms of sound and more than lives up to Paiste's good reputation.
This is what customers who viewed this product bought