Amp Head for Guitar
Power: 20 W

Preamp tubes: ECC83 / 12AX7

Controls: Gain, shape and volume

Speaker connector: 1x 8-16 Ohm

Headphone jack with CabSim (speaker simulation)

FX loop

Dimensions (W x H x D): 165 x 135 x 95 mm

Weight: 1 kg

Incl. 15 V DC power supply
available since
October 2015
Tiny amp head – huge tube-driven sound
Orange presents the Micro Dark, an extremely compact hybrid amplifier with a tube-driven preamp stage and a 20-watt transistor power stage that delivers an outstandingly flexible sound: From clean and crunch through to high-gain Metal tones. And the Micro Dark also has plenty of volume on tap. Its clear three-control layout with Gain, Volume, and Shape lets you quickly dial in the tone you are looking for, and a series effects loop is also included to accommodate your favourite effects. To top it all off, the Micro Dark features a combined headphone/line out jack with cabinet simulation circuitry, so you can enjoy the full quality of the sound when practising silently and record directly in the studio without needing to connect speakers.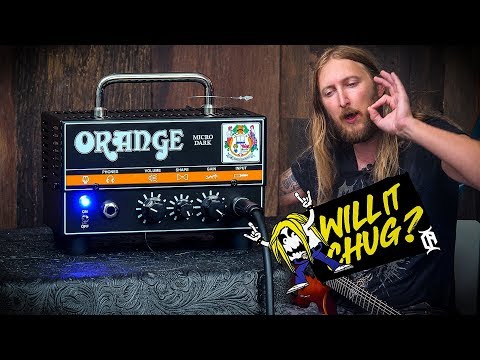 From Funk to scooped Metal
Despite weighing just one kilogramme, the Micro Dark packs enormous flexibility and tone-shaping capabilities into its diminutive sheet metal housing: From warm and shimmering clean sounds for Funk, down-and-dirty breakup for Blues, and gritty crunch for all genres of Rock through to mid-scooped Metal tones with plenty of gain. The Shape control, which is the centrepiece of the amp's front panel and replaces a conventional EQ section, profoundly affects the amp's tone in every position, delivering new and interesting sounds with every adjustment made. The Micro Dark may have just 20 watts of output power, but it can do a lot more than meets the eye: Pair it up with a full-sized speaker cabinet and it can definitely hold its own both in the rehearsal room and on smaller stages.
Dynamic tube tone for all
Thanks to its budget-friendly price, the Orange Micro Dark is of course ideal for beginners looking for a tonally versatile and easy-to-operate amplifier that delivers authentic tube tone, but the astonishingly rich variety of sounds available means that this head will also find favour with more experienced players. The Micro Dark's effects loop and combined headphone/recording output are important tools which allow it to be used at home, in the rehearsal room, in the studio, and even on stage. Its compact dimensions and light weight are also advantages that are not to be underestimated, particularly when it comes to moving your gear from A to B.
About Orange
The British company Orange was founded in 1968 by electronics engineer, bassist, and guitarist Cliff Cooper, who among other things was a member of the band "The Millionaires". Even in its early days, when the company was already producing guitar and bass amplifiers and speaker cabinets, it recognized the value of an eye-catching and easily recognisable design. The orange colour, the striking logo, the picture frame image of the solid-looking amplifier and speaker cabinets, and the basket weave speaker grille cloth are still its trademarks today. In 1979, the unexpected and sudden bankruptcy of its distribution partners obliged Orange to close. Then, in 1993, the U.S. Gibson Group revived the cult brand in England under license and in 1997, the brand finally went back into the hands of Cliff Cooper. Since then, the product range has been actively developing once again.
Flexible in every situation
It makes no difference whether you are using the Micro Dark with a small speaker cabinet for practising at home or running it through a 4x12" cabinet on stage: It will always deliver an outstanding sound. Despite having only one channel, this amp produces an authentic-sounding tube tone that is versatile enough to satisfy both Blues and Metal guitarists, and the series effects loop means the sound can also be further enhanced by adding delay, reverb, and other modulation effects. What is more, the combined headphone/line out with cabinet simulation allows you to record directly without needing to connect the amp to a speaker cabinet.
This is what customers who viewed this product bought