2. What is a Wah-Wah?
Origins
Born in 1903, Clyde McCoy was not a guitarist, but a trumpet player. He stumbled upon the 'wah-wah' trumpet sound that would bring him to prominence in the 30s, and in an odd twist of fate, ultimately lead to the creation of the wah pedal. Clyde figured out that by manually manipulating a traditional trumpet mute, he could achieve a more expressive vocal-like sound. Essentially, the mute acted as a kind of acoustic band-pass filter, and as Clyde played his solos, he'd move the mute in and out of the bell of the trumpet, dynamically emphasising different midrange frequencies.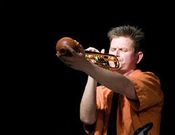 What is a Wah-Wah Pedal?
By mechanical means, a wah pedal transfers its position to an electro-mechanical sensor, which in turn controls the centre-frequency of an electronic filter. Thus the filter 'sweep' is directly controlled by the guitarist's foot movements - of course there's no reason that other instrumentalists can't use wah, but we'll stick with guitarists as they are by far the most common users of the effect. You simply push the pedal forwards to sweep upwards, and pull it back to sweep downwards. This variation in the peak frequency response of the filter resembles the change in 'formant' in the human vocal tract when saying the word 'wah', giving the wah pedal the ability to crudely emulate speech (and hence the name of course). The use of wah does not affect the guitar's volume, although some pedals incorporate a switch which allows them to be used alternately as volume pedals.
Wah Pedals overview