2. Shell Materials
Although manufacturers have experimented with a variety of materials (including acrylic, fibreglass and carbon fibre) the majority of snare drums today are manufactured from wood or metal. Since most drums are made of wood, the snare may be the only drum in a drum kit made from metal. Also, some snare drums and drum kits are made with a combination of wood types (hybrid shells) or with an exterior ply of a different wood selected for aesthetic reasons. The inner ply of a shell has the greatest influence on the drum sound, followed by the core plies; the exterior ply has the least effect on the sound.
Here's an overview of the most common snare shell materials and their respective sound characteristics.
MAPLE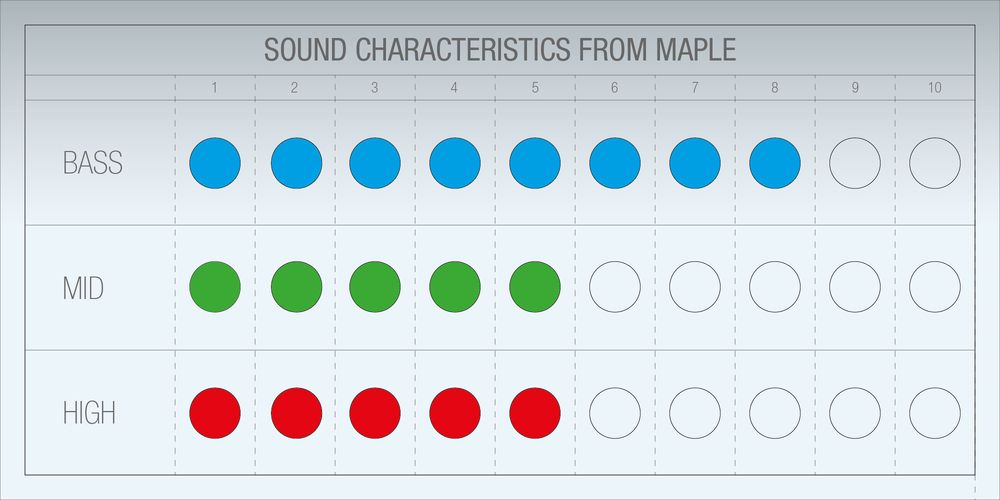 Maple is one of the most popular woods used for high quality snare shells. Maple is known for its warm tone and has enhanced lower frequencies and an even distribution of middle and high frequencies. The sound is clear and supports a wide tuning range making for a good general-purpose snare.
BIRCH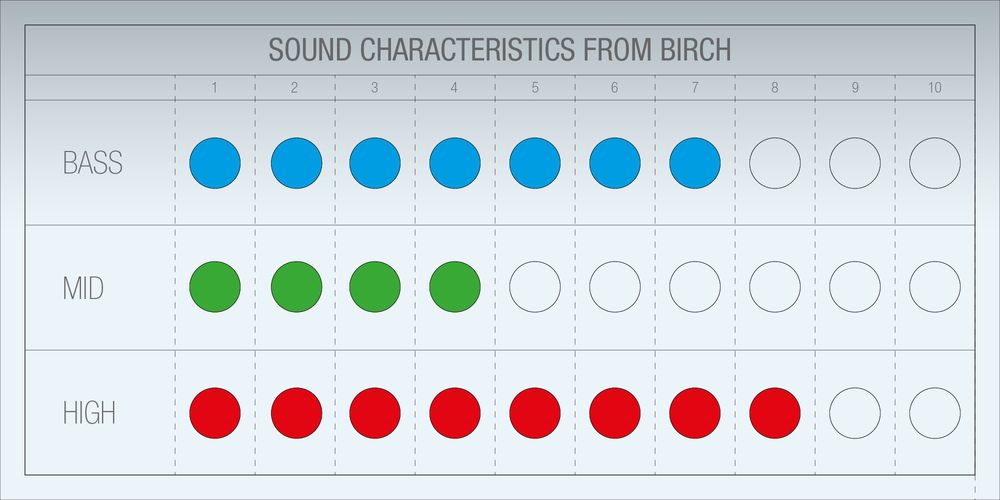 Birch is a dense and durable wood. Compared to maple it has a more aggressive and brighter tone with very good projection. Enhanced lows and highs offer a good balance of tone to crispness and the enhanced high end help snares made from this wood project well.
BEECH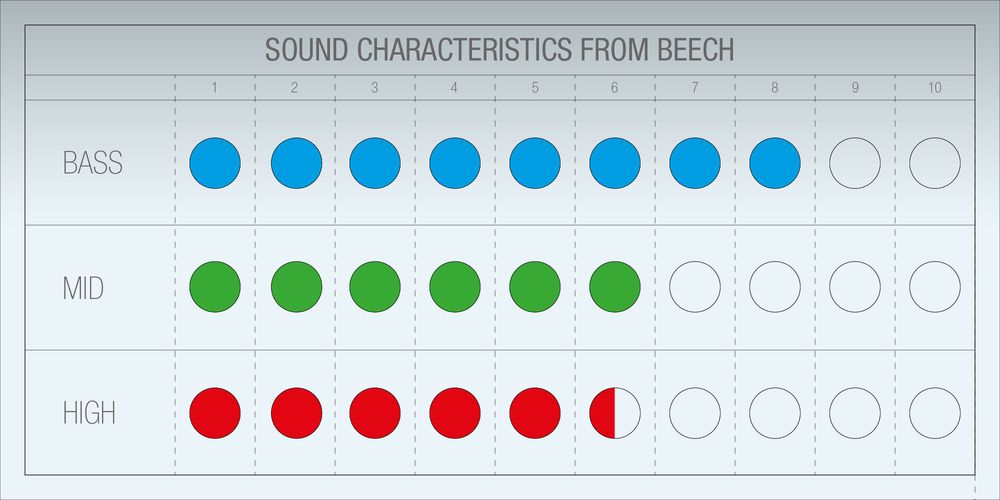 Beech is just as hard a birch, but its rougher grain gives the wood more low-end frequencies than birch. Beech gives snare drums a fat tone, similar to maple. If you want the strength of birch but a sound similar to maple, beech is a good alternative.
OAK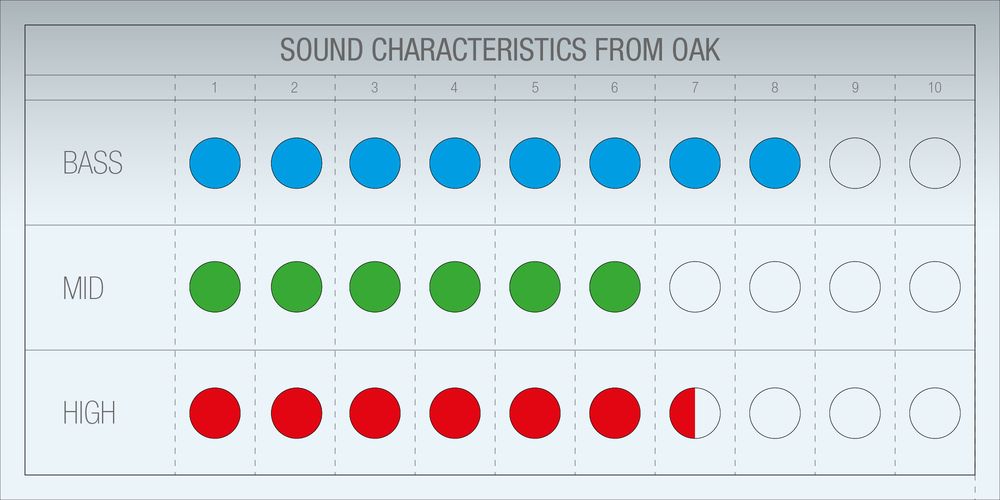 Oak is a very strong wood and offers incredible durability and projection. It makes for a good alternative for more common shell materials offering a very present sound that has enough low-end to keep the tone round.
MAHOGANY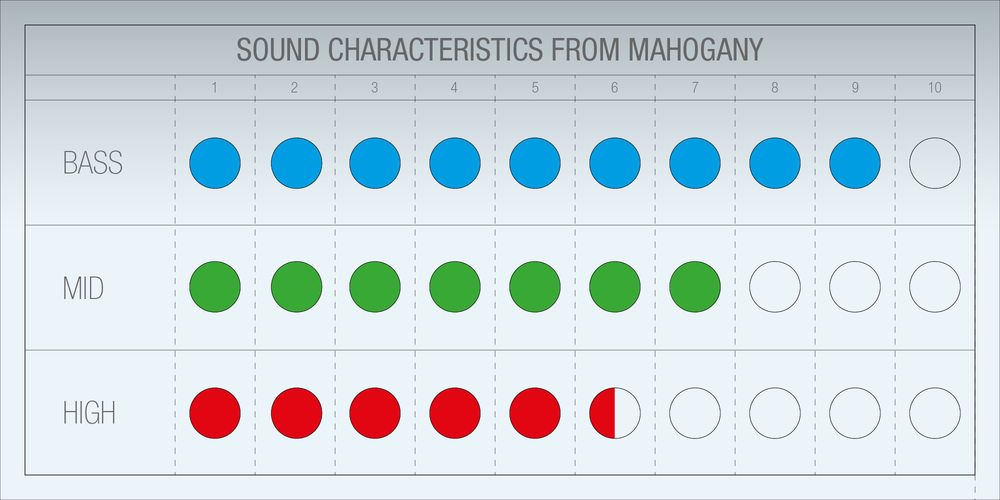 For over fifty years, mahogany was the standard material chosen for drum shells. Nowadays this expensive wood is less common, which is a shame. Its strong low end makes for a very rich, warm tone that gave many vintage drums their treasured tone and its enhanced mid range gives extra punch.
POPLAR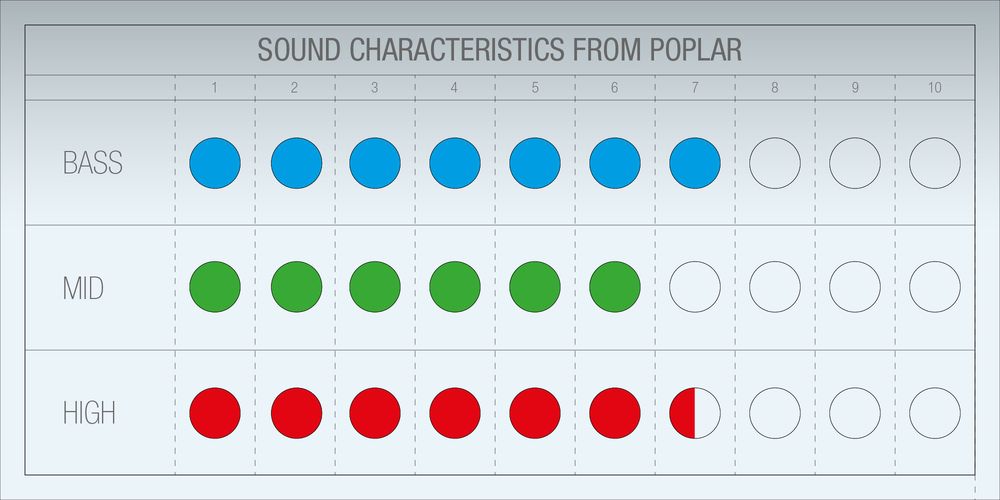 Poplar is a fast growing wood and offers medium strength for drum shells. This softer wood has been used in drum construction for decades and is often chosen as a filler wood between inner and outer plies of more expensive or aesthetically appealing woods. It has a sound similar to more expensive woods such as birch or mahogany.
BASSWOOD
Basswood is another soft, fast growing wood. Many drummers think it has a sound similar to other more expensive woods such as maple or mahogany. It is often chosen for the inner and core plies of drum shells since it is inexpensive, yet still sounds good.
Steel: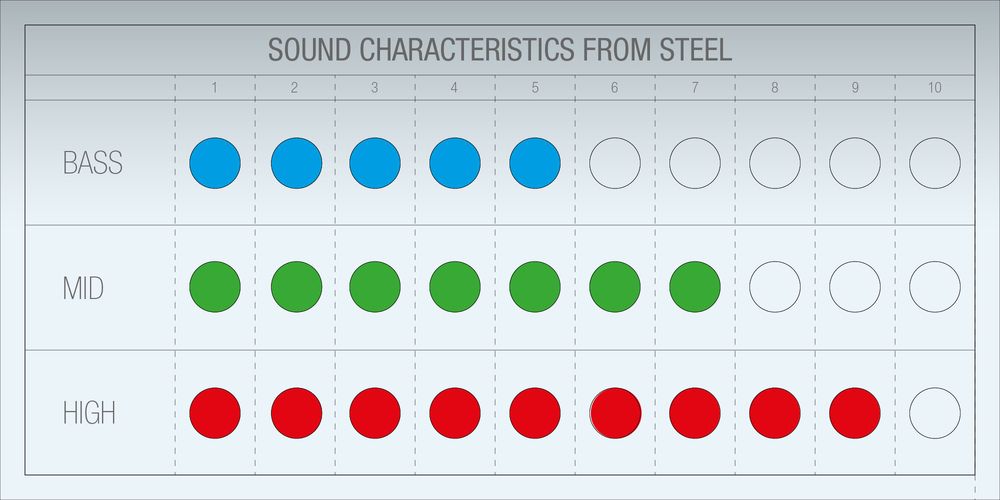 The most notable sound characteristic of drum shells made from steel is their bright tone, long sustain and penetrating rim shot sound. If you play a lot of rim shots or need your snare to cut through loud music you owe it to yourself to audition a steel-shelled snare drum. For this reason, Reggae drummers often prefer steel snare because they have such a cutting and bright tone. Many entry-level drum kits feature steel snare drums because they can be inexpensive to produce.
Brass: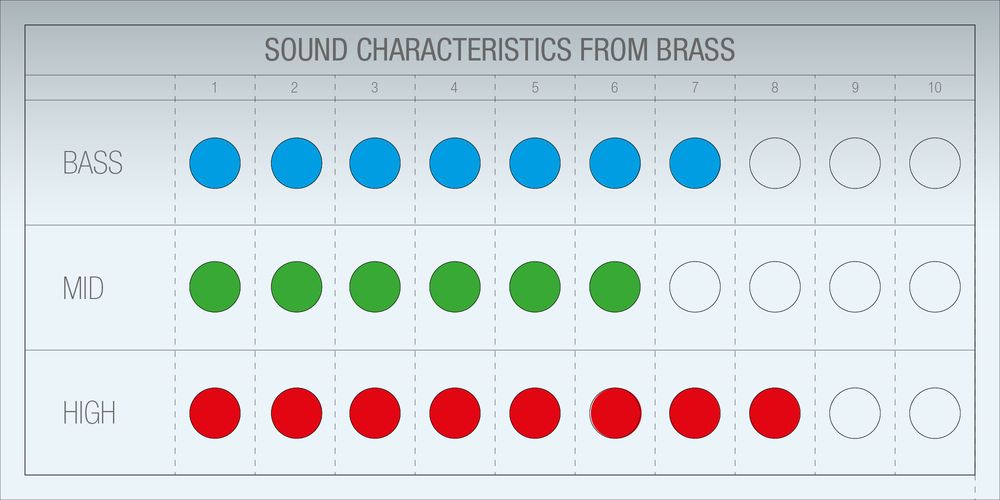 Brass shells offer the crispness generally associated with metal snare drums but also a warm tone, with clear and defined rim shots that are capable cutting through louder music.
Aluminium: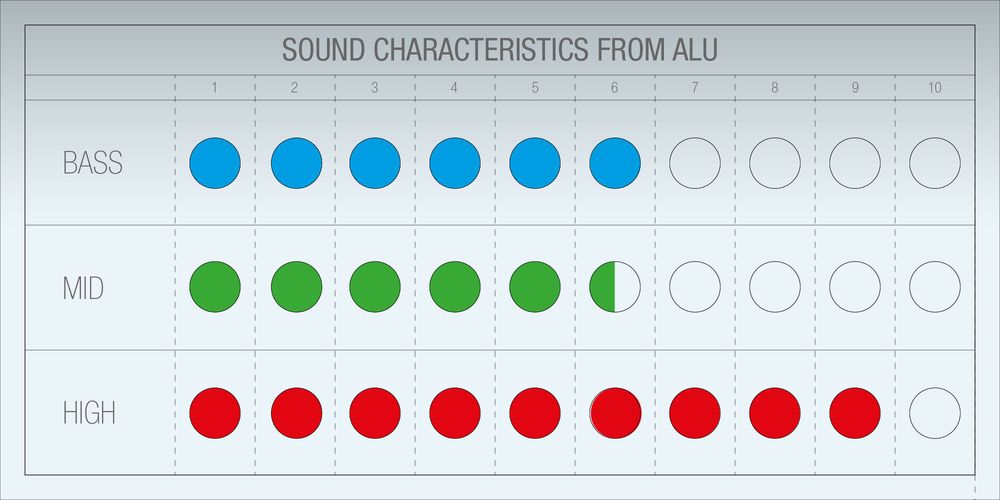 Aluminum offers a penetrating sound that's crisp, yet a bit drier with less sustain than steel or brass snares negating the need for any damping.
Copper: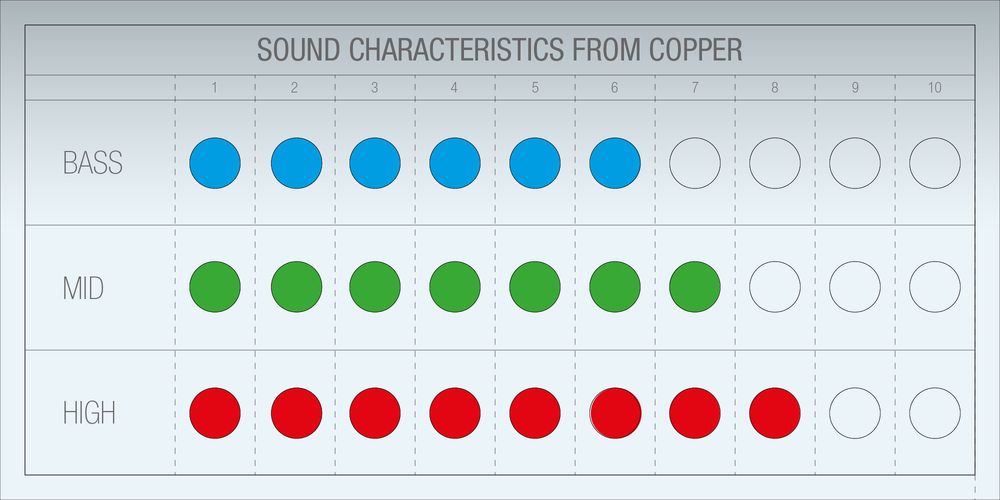 Copper snare drums are often chosen for orchestral use because they have a slightly darker and warmer tone with more low end than brass or steel snares.
Bronze: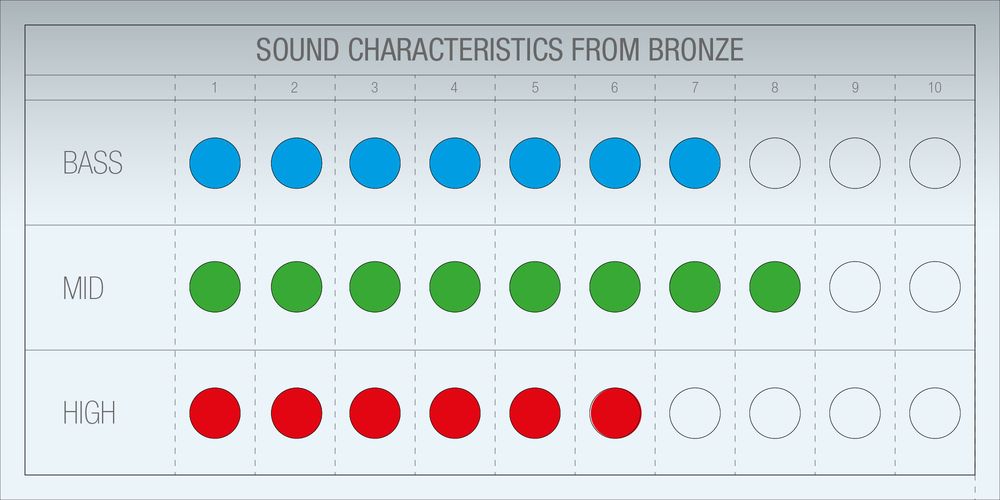 Though often used for making cymbals, bronze is becoming a more popular material for high-end snare drums. The tone tends to be dark and warm and more subdued than brass or steel.
Materials and Construction
In general, wooden snares offer a bit more warmth and metal snares are often brighter, louder and have more overtones, though occasionally individual drums will vary from this rule. While a particular shell material has a great influence on a drum's tone, the shell thickness, depth, diameter, angle of the bearing edges, type of drum hoops and construction method all have an influence as well.
Thinner shells tend to have a fat sound with a deeper pitch and warmer tone than thicker shells, which is why it is often desirable to have thin-shelled tom-toms. Thicker shells tend to project more, have a higher pitch and are louder. If you want more projection and a higher fundamental pitch from your snare, for example for reggae, choose a thicker shell. If you prefer a warmer tone and don't need extra volume, for example for jazz, a thinner shell may suit you better. Metal shells are usually thinner than wooden shells partly because the material is stronger and also because thick-shelled metal drums are usually very heavy.
The depth of a snare also influences its sound. Larger drums tend to be louder, which is why marching snare drums can approach the size of floor toms. If you require volume, a larger and deeper drum will deliver it. However, microphones can make choosing a very large snare drum unnecessary. A shallower snare will usually have a more precise attack and crispness but can choke under very heavy playing.
The diameter of a snare affects its pitch. 14-inch diameter snare drums are the most popular snares used. Smaller drums are higher pitched than larger drums, and are usually a little quieter and brighter than a larger drum. If you play loud music, the drumhead will feel harder. It also gets progressively more difficult to get an adequate rim click sound from snare drum smaller than 13 inches.
Whether one decides on a metal or wooden snare is ultimately a matter of personal taste. In fact, owning a couple of snare drums might be a good idea. It's common for professional drummers to own several snare drums made from different materials and of varying sizes tailored for specific musical applications. Heavy-hitting drummers often carry a spare drum to each gig in case they break a drumhead. That way they don't have to stop the show simply to change a head.
TIPP: If your snare has too much 'ring' after tuning, you may find it necessary to muffle the drum. There are many specific muffling products available but many drummers simply use a small amount of duct tape applied near the edge of the drum to reduce overtones. This can leave a gummy residue on the drumhead if you leave the tape on too long.