2. What is Mastering?
Mastering is the final stage of the creative process of making a finished recording. It's the responsibility of the mastering engineer to prepare the material for transfer from tape or disc to the final medium that will be purchased by the consumer, whether that is CD, DVD or vinyl, or perhaps even a special version for radio or MP3 download. The completed stereo mix that is taken from the recording studio is listened to as a whole in terms of the overall dynamic and tonal content, and then any necessary adjustments are made.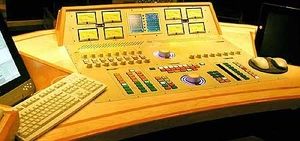 When 'remastering' older analogue material, further processing might also be required to eliminate noise artefacts such as clicks, crackle and hiss. As with a commercial recording studio, a mastering suite will have a range of expensive, specialist equipment, usually including a mastering console, outboard, DAW and monitoring, all specifically designed for this post-production process. Fortunately there are now a wealth of affordable mastering products which can help you to perform many of these tasks yourself, either in software, or by using external hardware processing. Although this will not replace the experience, knowledge and 'golden ears' of a good professional mastering engineer, with practise, impressive results can be achieved.
Mastering overview