5. Overdrive
These are the true successors to the early fuzz boxes. Overdrive pedals are designed to create the sound of an overdriven tube amplifier without having to resort to high volumes.
Early examples include the MXR Distortion pedal, favoured by the late, great Randy Rhoads of Ozzy Osbourne's band, and the Electro Harmonix Big Muff. Boss made their mark with the OD-1, and of course the Ibanez Tubescreamer (TS808) set a standard that many guitarists believe has yet to be surpassed.
Often, guitarists such as Stevie Ray Vaughan and Gary Moore would actually keep the distortion path low, allowing the actual volume to be increased. The result is a rich, warm sound that adds greater depth to the sound of the amp itself.
Not every guitarist relied upon the relatively expensive TS808 to create these kinds of sounds, as many alternatives started to become available at more affordable prices. Still, the scarcity of the Tubescreamer has assured its cult status and high value.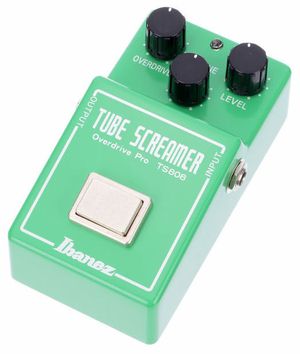 Like the Tubescreamer, today's pedals give you high levels of control over the signal, allowing you to boost midrange frequencies and thin out the lower end simultaneously. With this level of control, you can create superb, penetrating lead sounds without the harsh shrillness of a thin, trebly sound - unless, of course, you want it that way...
Distortion Effect Pedals overview