14. Conclusion
Until recently, most players started out on acoustic or classical guitar, and progressed to electric later. This trend has largely been reversed in recent years, partly because basic results can be achieved faster with an electric, but the acoustic guitar remains a popular choice for beginners.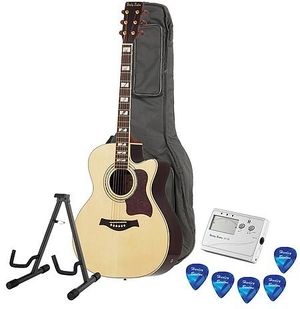 The higher tension of acoustic strings can be hard on the fingertips, but if early practice is restricted to short sessions, protective calluses soon develop, and light-gauge strings can be used to reduce tension, although heavy-gauge strings will ultimately sound better. Technique developed on an acoustic is more easily transferred to electric than vice-versa, so although perhaps a little less 'sexy', in some ways it does make sense to start on an acoustic.
Whether you progress to electric playing or not, a good acoustic guitar can be a companion for life. Even an inexpensive instrument will last a beginner for years, and in any case, you can never have too many guitars! We hope this Online Advisor has left you more confident, both about selecting an instrument, and the pros and cons of acoustic guitars – thanks for reading!
Acoustic Guitars overview