| | |
| --- | --- |
| Even more service for our customers! | |
More Service, More Thomann: Our Service Centre and its 135 expert service personnel are on hand to service and repair your instruments and equipment
The new Thomann Service Centre

Three new buildings housing 135 product professionals offer care and repair services for instruments and equipment.
We're proud to introduce our new service department!
After three years planning and preparation, our shiny new service centre was opened in June, just in time for the yearly Thomann Summer party.
135 product professionals
are now on hand to repair and service your instruments and equipment. Energy efficiency and a low environmental footprint were top priorities for us in the design of the new buildings. The overall energy demands are about the same as an ultra-low energy "passive house" and uses geothermal heating, while the roof doubles as a biotope. The new centre can handle
up to 1,500 "arrivals" a day
, allowing us to offer our customers speedy and reliable service.
Caring for the finest instruments
From guitars to trumpets, from amps to violins, eleven separate workshops offer repair and servicing for a huge range of instruments and equipment. Our service teams include not only technicians and service personnel but also
master instrument builders and engineers
to solve even the most complex issues right here at our new service facilities. Thanks to our well-equipped,
modern repair facilities and labs
, our in-house
paint and lacquer workshop
and our huge spare parts warehouse, we can perform expert repairs of almost any kind – and get the job done quickly and efficiently. Often, we don't have to send products away to the manufacturer, saving both time and money.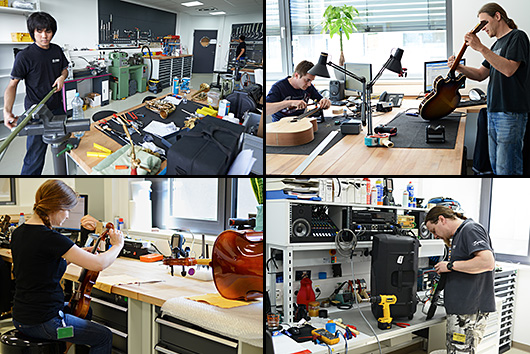 As well as qualified technicians, we also employ 15 master craftspeople and engineers.
Flexible and efficient service
To make the processing of repairs as smooth as possible, we've set up a new call centre, serving our customers
in 12 languages
. If you want to bring your instrument to us in person, great! Our dedicated visitor center is the ideal place to talk to our staff for expert advice and information.

By telephone or in person. It's your choice.
Find out here how to contact our service team:
E-Mail:
sc.cc@thomann.de
Telefon: 09546-9223-476