Millenium Youngster Drum Set Bundle
Bundle offer comprising
Millenium Youngster Drum Set Green
Complete Drum Set for Children

Perfect for drummers as of 3 years old

Shell material: Hardwood

Black hardware

Drum shell with robust film finish

Colour: Green Sparkle
Consisting of:
16 "x 12" bass drum

08 "x 05" Tom Tom

10 "x 04" Snare Drum

Snare stand

Hi-hat tripod

Pedal

Stool

1 Pair of drumsticks

Including LowNoiz cymbals, which are characterised by lower volume and a fast finish
UVEX K Junior Ear Protector
Junior Ear Protector with Shortened Headband

Optimal protection for up to 108 dB

Easy length adjustment for an ideal wearing position

The soft surface ensures maximum comfort even in long-term use

Light weight and small capsule volume

Insulation value: 29 dB

Treble: 34 dB

Midrange: 26 dB

Lows: 18 dB

Weight: 167 g

Colour: Black / Yellow
Millenium Junior Sticks Hickory Blue
Drumsticks For Children

Best American hickory wood

1 A quality

Length: 325 mm

Shaft diameter: 12 mm

Tip shape: Round

Colour: Blue
available since
March 2017
Color Shellhardware
Black
Green, green, green... are all my drums
The Millenium Youngster Drum Set looks really cool with its green aluminium sparkle and is so small that even three-year-olds can really let off steam! This drum set has everything you would expect from a professional unit: a snare, two toms, a bass drum, a hi-hat, a crash cymbal, foot pedals and even a stool. The black-coated hardware looks fabulous, and of course a pair of drum sticks is provided to get started right away. In this bundle the drum set comes with another set of drum sticks as well as an ear protector.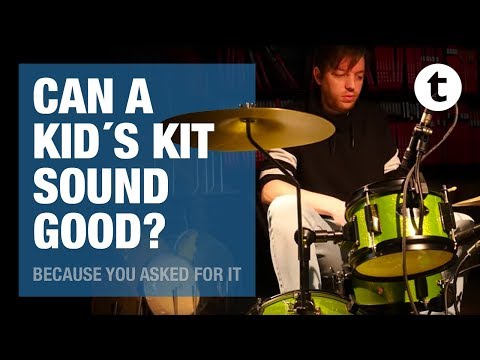 A complete drum set in mini format
At 16" x 12", the bass drum is large enough to provide a solid foundation, the small 8" x 5" toms provide the perfect tonal contrast and the 10" x 4" snare drum is equipped with a well secured rattle. Since the size of the drums are standardised, the batter heads can be easily changed if necessary. The bass drum and toms are made of hardwood with metal tuning brackets and tension hoops. Finally, the manufacturer has opted for low-noise "LowNoiz" cymbals to protect children's and parents' ears alike! In this bundle you get an additional ear protector, which has a shortened headband in order to fit the head of a child.
Everyone starts small
Drums are still very popular among the youngest - and the great thing about this bright green set is that even three-year-olds can enjoy a real funfair-like atmosphere. All the components are adjustable, which means that the drum set can grow alongside the child for several years. The metal pedals are easy to operate and can withstand even the wildest beatings. This bundle with the additional ear protector and another set of drum sticks is perfect for enthusiastic children
About Millenium
Millenium is one of Thomann's in-house brands and has been an integral part of the store's range since 1995. More than 800 products – from drums and percussion through to accessories such as microphone stands, racks, and recording workstations – bear the Millenium label. These products are made by renowned companies who also manufacture products for other well-known brands. Since they are imported directly from the factory without any further distributors or sales companies, they can be sold at particularly attractive prices. Incidentally, one in every four Thomann customers has already purchased at least one Millenium product.
From child's room to rehearsal room
A drum set your own bedroom - which child has never dreamed of this? The Millenium Youngster Drum Set will not only catch the eye, it will also lead many spontaneous music sessions with brothers, sisters, friends and of course mum and dad. Speaking of parents - adult drummers can also have a lot of fun with it, during a break in their kid's sessions, for example, or simply in their own time when the coast is clear!