Complete Drum Set
Focus Series

Especially suitable for ambitious beginners

Drum shells feature a wrap finish

Muffling cushion for the bass drum and tom/snare sound control rings

Colour: Black

Includes a drum throne
Drumshell set includes:
20" x 16" Bass Drum

10" x 08" Tom Tom

12" x 09" Tom Tom

14" x 14" Floor Tom

14" x 5.5" Wooden snare drum
Includes a double-braced hardware set:
Straight cymbal stand

Hi-Hat Stand

Snare stand

Bass drum pedal
Includes a brass cymbal set:
14" Hi-Hat

16" Crash/Ride
Available since
December 2020
Shell Hardware Colour
Chrome
Unbox and get started!
The Millenium Focus 20 Drum Set Black gives ambitious young drum talents everything they need to start playing their first beats "out of the box", so they can start drumming immediately after the kit has been unpacked, set up, and tuned. In addition to the five-piece shell set, two cymbals (14" hi-hat and 16" crash/ride), all of the necessary stands including a hi-hat stand, a bass drum foot pedal, and a drum stool are included in the scope of delivery. Almost sensational in this price range is the stable, double-braced hardware and an extremely useful accessory set with a damping pillow for the bass drum, four sound rings for the snare drum and tom-toms, and a first pair of drumsticks.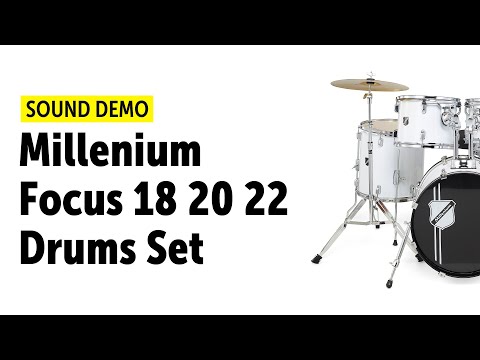 Low budget, high performance
The features and accessories of the Millenium Focus 20 Drum Set Black are impressive! The hi-hat and bass drum pedals feature a durable chain drive, and the bass drum beater comes with a felt and plastic beater surface. The tom suspension does not have holes in the shells, which not only looks more elegant, but also improves the vibration behaviour of the drums. And the included sound rings can muffle the overtones of the snare and toms and reduce their decay. This makes the sound a bit duller, quieter, and more controlled - often an advantage, especially in smaller rooms. The same applies to the included bass drum pillow: On the one hand, it eliminates the often unwanted, high-frequency "boing" sound when hitting an unmuffled bass drum; on the other hand, depending on the positioning and alignment, both the batter and the resonant head can be muffled. This gives the sound more punch and improves the playing feel with the pedal.
First companion
The Millenium Focus 20 Drum Set Black is primarily aimed at young people and adults who want to get a first taste of the world of drumming without having to empty their bank account. At an extremely reasonable price, it offers solid basic equipment with a versatile shell configuration, great looks, and useful add-ons. The aforementioned sound rings make life a lot easier for beginners who don't yet have the greatest experience in tuning a drum kit. Of course, it is recommended that players acquire basic tuning skills over time, but for now there is simply more time to practise and play.
About Millenium
Millenium is one of Thomann's in-house brands and has been an integral part of the store's range since 1995. More than 800 products – from drums and percussion through to accessories such as microphone stands, racks, and recording workstations – bear the Millenium label. These products are made by renowned companies who also manufacture products for other well-known brands. Since they are imported directly from the factory without any further distributors or sales companies, they can be sold at particularly attractive prices. Incidentally, one in every four Thomann customers has already purchased at least one Millenium product.
Be a pop star!
With a bass drum in the popular 20-inch size and toms in sizes of 10", 12", and 14", the Millenium Focus 20 Drum Set Black is a real all-rounder. No matter whether you are playing Funk, Soul, or R&B, the limits are rather dictated by your own skills and not so much by the equipment. Long before that first live gig or recording session, however, your skills must first be developed, and the Millenium Focus 20 is perfect for this. At the same time, this set does not need to be hidden away in the basement practice room. With its timeless black shells, the discreetly stylish Millenium logos, and the chromed hardware, it visually upgrades every rehearsal room. Compared to the Focus 22, the Focus 20 also scores points with its slightly smaller space requirement.
This is what customers who viewed this product bought