Cajon
Maple body

Playing surface made of selected willow

2-String sizzle effect

Non-Slip rubber feet

Size (W x D x H): 30 x 30 x 48 cm

Weight: 3.6 kg

Colour: Black lacquer finish
Available since
April 2016
Impact surfaces material
Willow
Variant group
Millenium Cajon
Much more than a mere wooden box
Not everyone is aware that percussion instruments do not always need a taut membrane in order to make themselves heard. Because unlike membranophones, the cajón, a member of the idiophone family of instruments, does not need a batter head. Instead, the playing surface consists of a wooden plate, which, together with the body and the resonance plate, produces the instrument's typical rattling, percussive sound. In the case of the Millenium Blackbox Cajón, the playing surface is supplemented by a device with steel strings on the back, which, instead of a rattling sound, produces a buzzing sound that comes very close to that of a snare drum.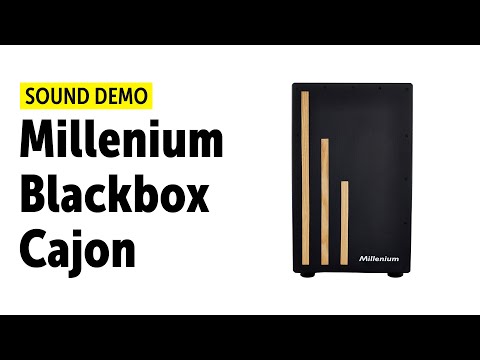 Great customisable sound
The Millenium Blackbox Cajón measures 30 x 30 x 48 cm, which are today's standard dimensions. Thanks to the rubber feet, it is also secured against slipping. The body of the Millenium Blackbox is made of maple, and the playing surface is made of willow wood. Together with the two-string sizzle effect on the back of the playing surface, this produces an appealing sound with a solid bass range and a buzzing snare. Moreover, an Allen screw on the underside of the instrument also allows the sound to be customised by adjusting the string tension. The matching hex key can be neatly stored in a holder inside the cajón.
The perfect start
The Millenium Blackbox Cajón is a pleasant-sounding entry-level instrument that leaves nothing to be desired in terms of workmanship, design, and purchase price. The possibility of making adjustments to the sound generation is definitely not par for the course in this price segment, so the Millenium Blackbox by no means has to hide from more expensive competitors. Since a branded cajón can easily cost four to five times as much as the Millenium Blackbox, this instrument is highly recommended for everyone looking for an inexpensive box drum with a good sound.
About Millenium
Millenium is one of Thomann's in-house brands and has been an integral part of the store's range since 1995. More than 800 products – from drums and percussion through to accessories such as microphone stands, racks, and recording workstations – bear the Millenium label. These products are made by renowned companies who also manufacture products for other well-known brands. Since they are imported directly from the factory without any further distributors or sales companies, they can be sold at particularly attractive prices. Incidentally, one in every four Thomann customers has already purchased at least one Millenium product.
With hands and feet…
A cajón can be played in many different ways. Depending on what kind of sound you are looking for, you can use hands, brushes, and possibly even pedals to achieve the right result. Cajons are excellent rhythmic accompanying instruments that have become established in many musical genres and can be used in a variety of ways. For example, they often serve as a substitute for the snare and bass drums in unplugged sessions. In addition, the low weight and small dimensions make a cajón an extremely pleasant companion on the road.
This is what customers who viewed this product bought