Combo amplifier for electric guitar
Power: 30 W

4 channels (storable and retrievable via optional footswitch)

Equipment: 10 "speaker

3-band tone control

Digital effects

Digital reverbs: studio record and emulated spring reverb

Headphone jack with speaker simulation

MP3 / line input

Dimensions (W x H x D): 480 x 420 x 225 mm

Weight: 10.8 kg

Finish: Black / Gold

Matching footswitch: Art. 223005 (not included)
Available since
January 2018
Connection for External Speaker
No
Footswitch connection
Yes
An affordable little powerhouse
The Marshall MG30GFX is a 30-watt, 1x10" combo guitar amplifier designed for those just starting out on the electric guitar. Its four channels - Clean, Crunch, Overdrive 1, and Overdrive 2 - provide a highly usable range of basic sounds that can be further customised by the player using the effective three-band EQ. The MG30GFX's tone-shaping capabilities continue with its onboard digital effects section, which includes essentials such as reverb, delay (complete with a tap-tempo button), chorus, flanger, octaver, and phaser. The amp additionally features a headphone output with cab simulation, and its AUX input (which like the headphone input is also in 3.5mm mini-jack format) allows the player to jam along to their favourite tracks in complete comfort - and thanks to the inbuild tuner, they can also silently check their tuning quickly and easily whenever they want.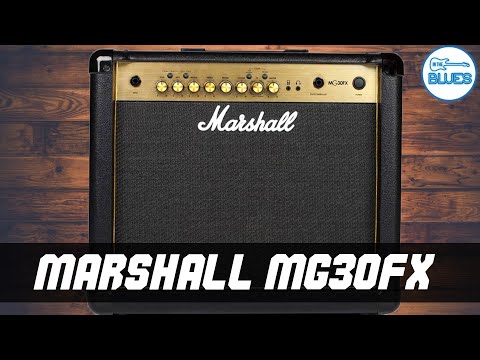 Marshall sound, Marshall looks
The MG30GFX features a typical Marshall-style control panel that is intuitive and flexible enough to allow the player to dial in virtually any desired tone quickly and easily without needing to consult the manual first: The basic sound can be selected via the "Clean/Crunch" and "OD-1/OD-2" buttons and tweaked using the three-band EQ section. The user can then enhance their sound with the onboard digital effects and, when they have got it just right, store their setting by pressing the "Store" button. But no matter which of the four channels the player selects, they can always expect genuine Marshall tone with enough volume on tap to cut through in a band context and for small gigs thanks to the MG30GFX's 30-watt power stage and 10" speaker.
A real Marshall on a beginner's budget
In spite of its impressive wealth of features, the Marshall MG30GFX comes at a surprisingly affordable price that will make it particularly interesting for beginners, who even on a restricted budget still get an amplifier with all the trimmings that combines the legendary Marshall sound with excellent ease of use and sufficient power (as well as a big enough speaker) to handle rehearsals and even small gigs. Another major plus for those who don't have limitless money to spend on gear is of course the MG30GFX's easy-to-use onboard effects section, which provides the most essential effects without the need for pedals.
About Marshall
Marshall, the manufacturer from Milton Keynes in Great Britain, is an indispensable figure in the world of electric guitar. The tube amplifiers of company founder Jim Marshall († 2012) have been writing Rock music history since 1962 with names like Pete Townshend, Jimi Hendrix, and Eric Clapton. The classics of the JTM, JMP, and JCM 800 series are still highly sought-after today, as they shaped the sound of overdriven and distorted electric guitar more than any other product. To this day, the combination of the amp and 4x12" cabinet - the "Marshall stack" - is synonymous with the energy and power of the Rock music genre. Alongside these landmark achievements, however, Marshall has always kept its finger on the pulse of the times and a close eye on the needs of up-and-coming musicians.
From bedroom to stage
For one amplifier to handle everything from jamming along to backing tracks at home using headphones through to band rehearsals and even gigging, it has to be designed with immense flexibility in mind, and the Marshall MG30GFX fits the bill perfectly thanks to its four highly usable basic sounds, effective EQ section, and versatile onboard effects. Even recording to a DAW is possible with high sound quality thanks to the amp's headphone output with speaker emulation: All the user needs is a 3.5mm to 6.35mm jack adapter and they can run the amp signal direct to their computer - no microphones necessary!
This is what customers who viewed this product bought