All-Tube Amp Head for Electric Guitar
Reissue series - authentic DSL sound

Power: Low power circuit from 1 W to 0.1 WM

2 Footswitchable channels with classic Gain and Ultra Gain

Tube assembly: 1 x ECC82 and 2 x ECC83

Tone Shift key for Mid configuration

EQ controls for Treble, Mid and Bass

Emulated Line Output

Series FX loop

Includes footswitch
available since
January 2018
Power Amplifier Tubes
ECC82, ECC83
Less is more
The DSL1HR is the smallest model in Marshall's long-established Dual Super Lead series. Its one-watt output makes it a lightweight in terms of power, but it is nonetheless a true all-tube amplifier – even if that isn't readily apparent from its size and price. At the heart of the DSL1HR are two ECC83 tubes and one ECC82 tube which ensure that players can enjoy true Marshall tone without compromise, even at bedroom volume. But never fear: Anybody who knows just how loud one watt of all-tube power can be will seriously consider whether less isn't in fact more.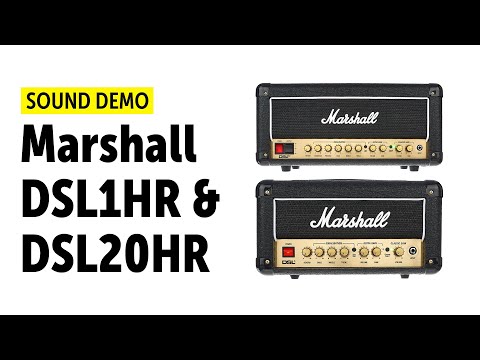 A tiny package crammed with features
The DSL1HR's two channels share a typical Marshall EQ section equipped with a bass, middle, and treble control. The front panel also features a Tone Shift switch that slightly scoops the mid-frequencies for a more "modern" sound. The rear panel features an Audio In socket, so you can play along to music from your mobile phone or computer. It also includes an Emulated Out socket with cabinet simulation, which immediately provides a suitable signal for recording or listening through headphones. One feature makes this amplifier a real gem in its price range: A series effects loop. The channels are of course also foot-switchable, and the amp's features are nicely rounded off by a digital reverb unit.
Stadium sound in your living room
The Marshall DSL1HR is aimed at players who are looking for classic Marshall tone without shaking the walls in the process. This sound gets its particular flavour from the characteristic power stage saturation, which can only be achieved when the amp is cranked to full volume. The DSL1HR makes this possible at manageable volume levels, in addition to which the output can also be lowered to 0.1 watts using the Low Power switch on the rear panel, bringing stadium sound your living room. And the DSL1HR is also perfect for home recording.
About Marshall
Marshall, the manufacturer from Milton Keynes in Great Britain, is an indispensable figure in the world of electric guitar. The tube amplifiers of company founder Jim Marshall († 2012) have been writing Rock music history since 1962 with names like Pete Townshend, Jimi Hendrix, and Eric Clapton. The classics of the JTM, JMP, and JCM 800 series are still highly sought-after today, as they shaped the sound of overdriven and distorted electric guitar more than any other product. To this day, the combination of the amp and 4x12" cabinet - the "Marshall stack" - is synonymous with the energy and power of the Rock music genre. Alongside these landmark achievements, however, Marshall has always kept its finger on the pulse of the times and a close eye on the needs of up-and-coming musicians.
Ready for anything
Whether it's loud or quiet, Marshall's sound is unmistakeable – and players who are looking for that sound won't settle for anything less. Luckily, the DSL1HR admirably upholds this Marshall heritage and comes at an extremely fair price. This little Marshall is by no means too quiet for rehearsals or gigs, however – and it will be a delight for sound engineers to mike up on stage. The DSL1HR's 16-ohm output means it can be connected to the recommended 1x12" speaker cabinet or even a full 4x12", the latter typically being switchable between 4 and 16 ohms.
This product is currently sold out
These are other customers' choices: