Steel-String Guitar with Pickup
Ideal for travelling and practising

The one-piece, injection-moulded AirSonic carbon fibre construction improves physical conductivity, resulting in a fuller tone and longer sustain

The instrument can withstand temperatures from -20 to 90 degrees Celsius and humidity from 10% to 90%.

The "Phantom Structure" honeycomb top structure offers increased strength at a lower weight compared to the Lava ME 2

FreeBoost technology uses the back of the LAVA ME guitar as a loudspeaker

Multi-touch screen and HILAVA system with powerful integrated apps (including tuner, metronome, various effects, trainer, rhythm tracks, looper and recorder)

Inner 4-MASS design

Fretboard: HPL (High-Pressure Laminate)

18 Frets

Bridge material: Glass Fibre Composite

Pickup: L3 Smart with Freeboost 2.2 Technology

Scale length: 597 mm (23.5")

Nut width: 42.9 mm (1.69")

"Screwless" 21:1 aluminium alloy machine heads

Original strings: Elixir Nanoweb 16052 .012 - .053

Dimensions: (W x D x H): 20 x 6 x 93.6 cm

Weight: 2.08 kg

Colour: Space Grey

Incl. Ideal Bag
Available since
January 2022
Fretboard
HPL (High Pressure Laminate)
The smart acoustic guitar
Hot on the heels of the success enjoyed by its existing carbon fibre guitars, LAVA Music now presents its third generation of acoustic instruments, which have been revised from the ground up and now feature an improved construction for the top and a higher level of rigidity while maintaining the same weight. These instruments also feature LAVA's FreeBoost 2.0 technology which, as with the previous series, turns the body of the guitar into its own speaker and allows it to be played without the need for amplifiers or pedals. A new feature, however, is the multi-touchscreen recessed into the guitar's upper shoulder, which provides access to a range of different apps including effects, a tuner, a metronome, a looper, a recording function, and a virtual guitar tutor that provides help in learning chords and scales. The scope of delivery also includes a LAVA "Ideal Bag" carrying case. Welcome to the future!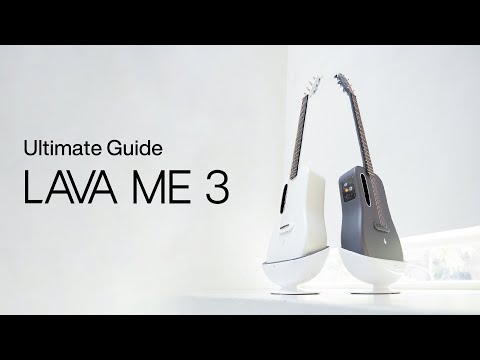 Robust and inspiring
The LAVA Music ME 3's AirSonic carbon fibre construction is highly resistant to changes in the environment and can withstand temperature fluctucations of -20 to +90°C as well as humidity levels of up to 90% - attributes that would be unthinkable for a conventional wooden guitar. The third generation of LAVA's ME series continues to deliver the same powerful and balanced basic sound with a volume level that will easily suit home practice with more to spare. And while the previous generation restricted players to just three effects, the LAVA ME 3 sets entirely new boundaries with its choice of effects and the extensive range of options available via the colour touchscreen. What is more, the FreeBoost technology has undergone some enhancements and now provides a fuller low end and thus a more intensive sonic experience.
High-tech inside
With its compact and robust carbon fibre construction and the expanded range of options mentioned above, the new LAVA ME 3 is ideal for musicians looking to enjoy its unique sound and cutting-edge enhancements both at home and on the go. But that is not all: This eyecatching instrument with its "Space Grey" finish will also cut a fine figure on stage, where its smooth-action aluminium alloy machine heads and high-pressure laminate bridge will also ensure reliable tuning stability and accurate intonation in every register. The version of the ME 3 shown here has a 36" (597mm) scale length and a nut width of 42.9mm, which makes the neck slightly shorter and narrower than that of the 38" version. The guitar comes complete with an Ideal Bag carrying case, which provides a high level of protection and makes the instrument easy to transport.
About LAVA Music
LAVA Music is a Chinese brand that develops and builds musical instruments, such as guitars and ukuleles, in a completely new and modern way. The use of moulded and robust materials, for example, enhances durability and weather resistance, and also makes it possible to modify their shapes from those of conventional instruments, which have evolved only slightly over the years. In addition, many instruments from LAVA Music also come with state-of-the-art pick-up systems that exceed the functional range of conventional systems. So, if you are interested in the use of modern techniques in instrument making, LAVA Music is a go-to outfit.
Inspiring sounds
Living room, hotel room, rehearsal room, recording studio, or stage: All one and the same to the LAVA Music ME 3. This new version of the ME takes a quantum leap forward from where its predecessor left off and opens up a virtually limitless range of possibilities. The instrument's robust AirSonic carbon fibre construction and unique FreeBoost technology have been enhanced yet again, but the real highlight is the guitar's integrated touchscreen display, which gives the player access to a wide range of effects and apps and thus provides a huge increase in flexibility for playing, jamming, and learning.
In the spotlight
Multi-touchscreen
The multi-touchscreen recessed into the upper bout of the LAVA Music ME 3 provides access to a wide range of effects that include reverb, chorus, echo, flanger, overdrive, talkbox, pitch shift, and many others, which can be edited to suit the player's musical vision. A looper and even a selection of drum tracks are also on board, and the LAVA ME 3 even includes a practice app with chord transition, strumming, and scale tuition features as well as a recording function that allows players to store and share their sessions with the rest of the LAVA community. Both Bluetooth and WiFi connectivity are on offer, as the guitar's HILAVA operating system supports both options.
PLEK
PLEK is a patented process in which the frets of a guitar or bass are dressed with extreme precision using a computer-controlled machine. In the first stage, this machine carries out a measurement of the instrument under real playing conditions (i.e. under string tension) in order to identify any uneven spots on the fingerboard. The objective of the process is to provide optimum playability and eliminate fret buzz and loss of sustain, and for this reason, it also includes the instrument's bridge and nut. The PLEK machine is capable of filing the individual frets with a tolerance as fine as 0.001 mm until the optimum result is achieved, and the process is particularly suited to instruments on which the frets have become worn from years of playing. At the same time, however, numerous manufacturers now also use the PLEK process to make their instruments as playable as possible straight from the factory – as is the case with this guitar.
This is what customers who viewed this product bought