A perfect cross-breed
No, your eyes did not deceive you: it's a black acoustic Harley Benton in ST style! This design possesses all the inherent advantages of the ST design, such as the double-cutaway and a slim maple neck for comfortable handling - and its sound is also unique. Amplification is provided by an integrated pickup and the output can be modelled as you wish thanks to a 4-band EQ. Though the ST's spruce top and bridge are reminiscent of a traditional acoustic guitar, its slim body consists mostly of plastic (ABS), making it very light. So, all in all, it's an interesting hybrid and a definite eye-catcher.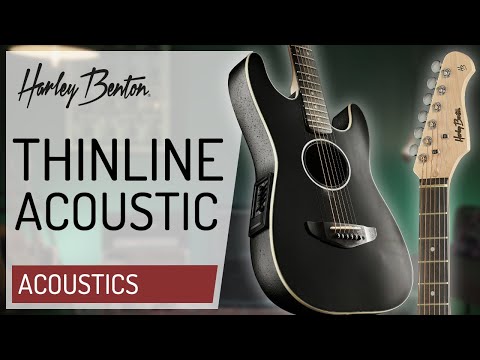 ST-Style all the way
The Harley Benton ST-Acoustic Black is visually the perfect cross between an ST-style electric guitar and a traditional acoustic guitar - not only in terms of looks, but also in terms of feel. The modern D-shape of the neck makes for easy gliding over the strings. The double-cutaway, an inherent feature of the ST-style, will allow your fingers to effortlessly reach the highest of its 22 frets. Its surprisingly light and slim form hugs the body perfectly and allows hours of playing. Thanks to the smaller volume of the ABS body, there are also fewer feedback issues with amplifiers than with larger acoustic guitars. Although this guitar can be played acoustically, it really feels at home with an amp. The built-in pickup and the 4-band EQ provide the ST-Acoustic with all the necessary power and versatile sound adjustment you will need.
As for me, I only play electric...
One could argue that the Harley Benton ST-Acoustic is a perfect compromise for electric guitarists who normally have little enthusiasm for conventional acoustic guitar designs, such as the dreadnought. The ST-Acoustic is a lot slimmer and thus far less cumbersome than most acoustics. It feels much more like an electric guitar, if only because of the neck. This design also makes it possible to play on stage for a long time. The Harley Benton ST-Acoustic is really inexpensive and could be the perfect introduction to the world of acoustic guitars for purely electric-oriented guitarists. At any rate, this guitar will make you stand out - so if you are looking for something out of the ordinary, satisfaction is guaranteed.
About Harley Benton
Since 1998, the Harley Benton brand has been catering for the needs of numerous guitarists and bassists. In addition to an extensive range of stringed instruments, Thomann's house brand also offers a wide choice of amplifiers, speakers, effect pedals, and other accessories. In total, the range includes over 1,500 products. Built by established names in the industry, all Harley Benton products combine quality and reliability at attractive and affordable prices. The continuous expansion of the range ensures that Harley Benton always provides new, exciting, and innovative products that keep players perfectly in tune with the musical world, day after day.
Light stage companion
As mentioned already, the ST-Acoustic is the perfect stage companion - largely due to its lightness, ergonomic shape and its built-in pickup and 4-band EQ. This inexpensive guitar is also ideal for practising. Not only does it convey the feeling of an electric guitar, it's also far more quiet than a large dreadnought, for example, when it isn't amplified - which is perfect for practising at room volumes, especially late at night.
This is what customers who viewed this product bought