12-String Steel String Guitar
The Harley Benton HBD200-12 is a twelve-string electric acoustic guitar in a dreadnought design with cutaway and comes at a sensational price. The back and sides are made of mahogany, and whereas you won't expect to find a solid top here, the laminated spruce top yields an unexpectedly punchy, brilliant sound for such a moderately priced guitar, with the higher octave strings delivering sufficient resounding trebles. The sound is transmitted seamlessly via a 4-band EQ pickup system. Now nothing can keep you from the stage.
Build: Dreadnought with cutaway

Laminated spruce top

Back and sides: Mahogany (Shorea spp.)

Neck: Mahogany (Shorea spp.)

Roseacer fretboard

Built-in pickup system with 4-band EQ

Colour: Natural
available since
February 2004
Back and Sides
Sapele, Mahogany
Rich 12-string sound at a budget-friendly price
The full and wide-spectrum sound of a twelve-string acoustic guitar has always held a fascination all its own. The Harley Benton HBD200-12NT gives even beginners the opportunity to enjoy this unique sound at home - for an affordable price! Despite the low cost for which Harley Benton instruments are reniwned, you don't have to do without tried and tested tone woods. Mahogany is used for the back, neck, and sides, while a laminated spruce top rounds off the overall appearance. In addition, this natural beauty features a pickup system including a four-band EQ, so that you are always well-equipped for all eventualities onstage and when recording at home.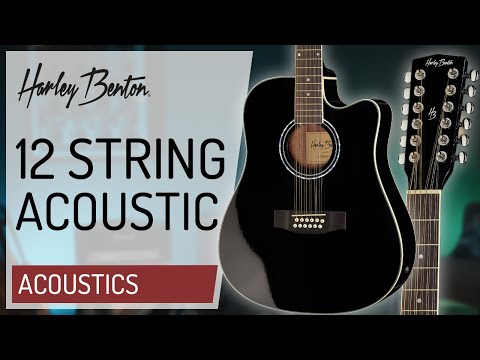 Brilliant sound with integrated preamp - and without the hassle
The Harley Benton HBD200-12NT only needs a simple jack cable - and you're already in the world of electric amplifiers with all its advantages. In addition to amplifying the rich 12-string sound, you can also add effects that provide a very distinctive touch to the sound. Furthermore, feedback and other background noises are also largely eliminated. The basic sound can be optimised with the four-band EQ for bass, mid, and treble frequencies as well as with the presence control. A volume control is used to adjust the level of the signal that is generated by the piezo system and sent to an amplifier, to a mixer, or even directly to your computer. "Just plug in and enjoy" - that's the motto of the HBD200-12NT.
Suitable for beginners and advanced users alike
Given its affordable price, the Harley Benton HBD200-12NT is primarily aimed at beginners who often have to get by on a smaller budget. In return, they get a lot of 12-string power and the sure knowledge of always drawing people's attention at rehearsals, in the studio, and at gigs thanks to the integrated preamp. Advanced players who are looking for a second instrument or only occasionally need the 12-string sound and also like the look of the natural wood finish might also find the Harley Benton HBD200-12NT an ideal and reliable companion for the rehearsal room and on stage.
About Harley Benton
Since 1998, the Harley Benton brand has been catering for the needs of numerous guitarists and bassists. In addition to an extensive range of stringed instruments, Thomann's house brand also offers a wide choice of amplifiers, speakers, effect pedals, and other accessories. In total, the range includes over 1,500 products. Built by established names in the industry, all Harley Benton products combine quality and reliability at attractive and affordable prices. The continuous expansion of the range ensures that Harley Benton always provides new, exciting, and innovative products that keep players perfectly in tune with the musical world, day after day.
Always ready to go!
Plug your cable into the amp/mixer and then get down to business - the possibility of electrically amplifying the rich and brilliant sound of the Harley Benton HBD200-12NT opens up a wide range of applications for this instrument. The spectrum ranges from direct recording on your PC at home, to amplifying with a corresponding acoustic amp, all the way to live use via a PA. Gone are the days when you had to struggle with tedious miking, feedback, and other noise. The four-band EQ is an effective tool for adapting the fat 12-string sound to the circumstances and, of course, for delivering a clean and powerful signal to the connected amplifier. But don't worry: Even when played purely acoustically, this guitar offers a great sound!
This is what customers who viewed this product bought