Shell Set
Catalina Club Series

Rock set

Colour: Gloss Crimson Burst

7-Ply, 100% mahogany shells

High gloss lacquered

30° Bearing edge on all shells

GTS freely suspended tom tom mounting system

1.6 mm hoops
Set configuration:
24" x 14" Bass drum without rosette

13" x 09" Tom tom

16" x 16" Floor tom

14" x 6.5" Snare drum

Set includes tom tom holder
Other hardware / stands and cymbals are not included!
available since
August 2016
Shell Finish
Lacquer, High glossy
Color of Shell Hardware
Chrome
Gretsch Catalina Club - traditional meets modern
The Gretsch Catalina Club Rock Drumset is perfectly suited to fans of heavier genres with its classic Rock configuration. The shells made of 100% seven-ply mahogany deliver a warm, resonant sound. From its round badges and classic lugs through to the natural wood and foil surfaces, this set has a look that is very clearly in keeping with the Gretsch tradition.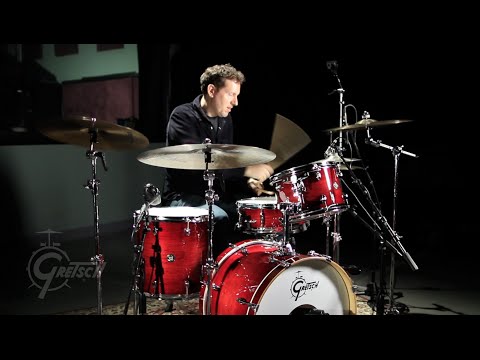 Big drums - voluminous sound
A 24"x14" bass drum combined with 13"x9" and 16"x16" toms and a 14"x 6.5" wooden snare drum make up the Catalina Club Rock drum set. Gretsch's typical 30° bearing edge not only gives the mahogany drums a soft, musical sound, but also makes tuning the drum heads a lot easier. Additionally, the free-floating tom mounting system and the 1.6mm thick hoops ensure optimum sustain. Last but not least, the 14" deep bass drum creates a warm, powerful sound that is strongly reminiscent of the classic vintage sounds.
There's a lot more to it than just Rock…
The list of possible applications for the Catalina Club Rock Drumset is very diverse. The affiliation with Rock music is already clear from the name, but it cuts an excellent figure in many other places too. The kit also makes a convincing case for other heavier genres thanks to its large drum shells. Above all, the mighty 24" bass drum, a size that Big Band drummers of the 1920s also appreciated, delivers some respectable power. Drummers who travel a lot will appreciate the small number of drums and the fact that the complete set can be easily stowed in a car.
About Gretsch Drums
The Gretsch company was founded in 1883 by Friedrich Gretsch, a German-born immigrant, in Brooklyn/USA and has been owned by Drum Workshop since 2015. In the first decades of its existence, the company specialised in the production of tambourines, drums, and banjos, but from around 1930 it started building guitars. By this time, Gretsch had established itself as a serious manufacturer of drum sets, and in the decades that followed, Gretsch drums were extremely popular, especially among Jazz drummers. Today, Gretsch offers a range of drum sets in all price ranges, starting with the affordable Catalina series and extending to the exclusive American Custom drums - and every series includes traditional features, a characteristic trait of Gretsch Drums.
Your fellow musicians will also love this drum set
Whether you are in the rehearsal room or on stage, the Gretsch Catalina Club Rock drum set is suitable for all drummers who want to make themselves heard over their fellow musicians in the most elegant way possible. The reasons for this are obvious: Thanks to the large drum sizes and the associated increase in volume, this kit is able to hold its own against loud guitar riffs. It was not for nothing that John Bonham (Led Zeppelin) was an enthusiastic fan and trendsetter of large bass drums. Thanks to the excellent musical sound, this happens without being obtrusive, which will also really be appreciated by your fellow bandmates.
In the spotlight
30° bearing edge
The typical wooden drum shell has a relatively narrow contact surface for the head on the outside, which allows it to vibrate unhindered. On the inside, most manufacturers mill the shell at a 45° angle. However, the Gretsch company has been an exception in this regard and consistently relies on a 30° angle in order to achieve a softer, more controlled sound due to the slightly expanded head contact surface.