Electric Guitar
Body: Mahogany (Swietenia macrophylla)

Cream-coloured body binding

Top: AA flamed maple

Neck: Mahogany (Swietenia macrophylla)

Neck profile: Slim Taper

Fretboard: Rosewood (Dalbergia latifolia)

Trapezoidal fretboard inlays

Cream-coloured fretboard binding

Graphtech nut

Nut width: 43 mm

Scale: 628 mm

22 Cryogenically treated medium frets

Pickups: Burstbucker 61T (bridge) and Burstbucker 61R (neck) humbucker

2 x Volume and 2 x tone controls

Handwired with Orange Drops capacitors

Aluminium Tuneomatic bridge

Aluminium stop bar

Colour: Iced Tea

Includes case

Made in USA
As classic as it gets
There are only a few guitar designs that have decisively influenced generations of players and shaped the course of music history, and there is no question that Gibson's Les Paul is one of those few. Of course, this model has gone through numerous variations in the 70-odd years since it was first introduced, but most players ultimately still want instruments that are as close as possible to those from the late 1950s and early 1960s. That is exactly what they get with this guitar - which of course is manufactured to the highest standards of quality in the USA and is just waiting to continue the Les Paul's illustrious legacy.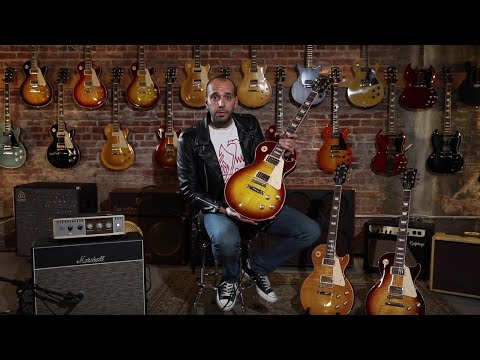 The perfect guitar for Rock - and beyond
Explaining the Gibson Les Paul to a guitarist is pretty much like bringing sand to the beach - after all, anyone who is even remotely familiar with the history of the electric guitar or takes an interest in the instruments played by prominent musicians will have heard of this classic model. Rock musicians like Slash and Peter Frampton as well as more modern bands like In Flames are often among the first names to crop up in conjunction with the Les Paul, so many are quick to overlook how flexible it can be and how well it can handle other styles. Thanks to its excellent combination of woods, ingenious and now-legendary design, and top-quality hardware, the Les Paul Standard is quite simply a fantastic guitar. End of story.
For guitarists who want to keep growing, year after year
In these times of constant technological change, it is easy to forget that there is an essential, down-to-earth craftsmanship that goes into to playing the guitar. So if you are looking for an instrument that will both challenge you and boost your development while letting you find your very own style, you have come to the right place. There is a very good reason why the Gibson Les Paul has become a classic that is loved by millions of musicians around the world. Quite apart from its tonal characteristics, this guitar also looks stunning. The Iced Tea finish shown here, for example, brings out the grain of the guitar's maple top beautifully with its striking colour transition.
About Gibson
The Gibson Guitar Corporation was founded in 1902 by Orville Gibson and has its headquarters in Nashville, USA. Gibson is world famous and is loved by many musicians for its cult-status instruments. Gibson was responsible for building the world's first mass-produced electric guitar, the ES-150, in 1936. The "Les Paul", one of the first solid-body electric guitars, followed in 1952 and remains hugely popular to this day, in great part thanks to the "humbucker" pickups installed from 1957 onwards. The range has expanded over the years to include such well-known guitar models as the SG, the Flying V, and the ES-335, as well as bass guitars and acoustic guitars including the Thunderbird bass and the Hummingbird dreadnought. Well-known artists such as Pete Townshend, Slash, Angus Young, Tony Iommi, B.B. King, Michael Patrick Kelly, and Nikki Sixx, swear by Gibson guitars.
Develop your own unique sound
If you want to improve your guitar playing and find a sound and a style of your very own, you will need a partner that gives you all the necessary tools as well as plenty of flexibility to use them - and the Gibson Les Paul Standard 60s BB gives you both. It is of course also perfect for those who "only" want to unleash rocking riffs and creamy lead tones on the audience, but it is well worth studying this high-quality instrument in greater depth and fully exploring the sounds and possibilities offered by the two Burstbuckers, which are equipped with a dedicated volume and tone control each and governed by a three-way toggle switch. This combination puts the full range of sounds - from Funk and Jazz all the way to Metal - at the player's fingertips, so guitar and player together will form an unbeatable partnership.
Burstbuckers
Gibson's Burstbucker pickups are essentially classic humbuckers, read: Extremely classic humbuckers. The idea that Gibson had when designing these models was to produce pickups that would recreate the sound of the company's legendary late-1950s PAF humbuckers as accurately as possible. Consequently, the Burstbuckers also feature unmatched numbers of bobbin windings, a feature that - albeit unintentionally - was characteristic of the originals. What is more, none of the pickups are wax-potted, which makes them more susceptible to feedback but also has a marked influence on their sound and gives the guitar a more "singing" tone. The Burstbucker series also features special magnets that come very close to those used in the late '50s. Incidentally, the name "Burstbucker" is derived from Gibson's legendary "burst-finish" Les Pauls, which are now the most sought-after models of their kind and sell for hefty six-figure sums.