Electric Guitar
Body: Mahogany (Swietenia macrophylla)

Cream-coloured body binding

Top: AA flamed maple

Neck: Mahogany (Swietenia macrophylla)

Neck profile: Slim Taper

Fretboard: Rosewood (Dalbergia latifolia)

Trapezoidal fretboard inlays

Cream-coloured fretboard binding

Graphtech nut

Nut width: 43 mm

Scale: 628 mm

22 Cryogenically treated medium frets

Pickups: Burstbucker 61T (bridge) and Burstbucker 61R (neck) humbucker

2 x Volume and 2 x tone controls

Handwired with Orange Drops capacitors

Aluminium Tuneomatic bridge

Aluminium stop bar

Colour: Iced Tea

Includes case

Made in USA
It doesn't get more classic than this
There are very few guitar models indeed, that have influenced and changed generations of players and even the entire history of music. Gibson's Les Paul definitively belongs to this extremely short list. Naturally, in the almost 70 year history of this model, there were diverse variations on the classic themes. Yet, in the end, the players want instruments that are made as exactly as possible as they were made in the late 1950s and early 1960s. This is just what you are getting here, so that you can add your contribution to the history of electric guitars – of course these guitars are only made in the best possible quality as well as being made in the USA.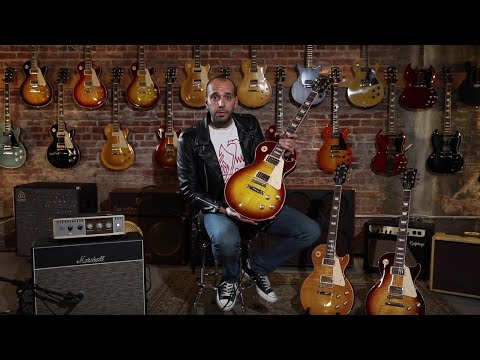 The perfect Rock guitar - and so much more
To try and acquaint a guitar player with the Gibson Les Paul model is pretty much like "carrying water to the sea". Anyone who has even a passing interest as far as the history of the electric guitar goes, or anyone who notices which instruments famous musicians play, simply can not help but be aware of this true classic. In these cases one often ends up noticing Rock players such as Slash, Peter Frampton as well as more modern bands such as In Flames. Yet what is often overlooked, is that a Paula is very flexible companion and also performs admirably in other styles of music. Thanks to its outstanding wooden foundation, the genius as well as legendary construction and its great hardware it is simply a fantastic electric guitar. Period!
For guitar players who want to develop their playing with their instrument over the years
In these times of continual, technical innovations it is easy for people to forget that at its core playing guitar is a down-to-earth, manual craft and experience. If you are looking for an instrument that you can command as a player but which will also support you and the development of your playing and your own, unique style, then this is exactly the right instrument for you. It is not for nothing that the Gibson Les Paul is an evergreen classic, which is highly rated and beloved by millions of musicians throughout the whole world. Besides all that, it simply looks killer – including in the Iced Tea finish with the beautiful Burst (colour gradient), which outstandingly emphasizes the wood grain texture of the maple top.
About Gibson
In its more than 120 year history the US-American manufacturer of the finest instruments has repeatedly proven, that they know exactly, what musicians want and they proceed to offer those products. One of the pieces of evidence for this way of doing things is the Les Paul model, which was developed in the early 1950s in conjunction with the musician and inventor Lester Polsfuss. It constitutes one of the first, true electric guitar models. The fact that one still hears Gibson's customers and players everywhere today, is a testament to the dedication Gibson has to working on and providing us musicians with the perfect instrument that we want and need.
Work on your own truly personal voice and sound
When you, as a guitar player, wish to become better and to develop your unique personal sound you will need a partner which provides the best foundation and an expansive flexibility. Exactly all that is what the Gibson Les Paul Standard 60s IT does perfectly. Of course, when you "only" want to fire off rocking riffs and creamy lead sounds at your audience, you are also in the perfect position with this instrument. However, with such a high calibre instrument, it really pays off to intensively concern yourself with exploring all the possibilities and sounds that both Burstbuckers offer, and using the 3 way toggle switch and experimenting with the two Volume controls and two Tone controls they offer. With these you can perfectly deliver all sounds, from Funk to Jazz all the way to the heaviest Metal. Above all, you and your guitar can develop together and become an unbeatable team.
In the spotlight
Burstbucker
In general Gibson Burstbuckers are classical humbuckers – extremly classical humbuckers in fact! The idea behind this line of pickups is to faithfully recreate the sound of the legendary PAF-models from the late 1950s. Among other details both coils are being wound slightly differently, which apparently used to happen by chance in the early days. Beside that the coils are not being waxed, which on one hand makes the pickups slightly more susceptible to feedback but on the other hand significantly influences the sound – the guitar tends to sing a whole lot more. Beyond that different magnets are being used, which tend to be similar to these of the past. And by the way: The naming stems from the legendary Les Pauls with Burst finish, which are the most sought after models and often sell for six figure sums.
This is what customers who viewed this product bought