Pedal board
With pedal board bag

For floor effects units

Dimensions: 420 x 305 mm

Velcro fastening

Incl. 600 Denier nylon bag in black
available since
September 2008
Manage your pedals without busting the bank
It's a situation that any guitarist or bassist will be familiar with: Your live effects setup goes from two pedals to three, then suddenly to four. And before you know it, you're stuck with the hassle of connecting and disconnecting them all individually. Fortunately, Gator has an affordable solution to hand with the GPT-Black. Measuring 420 mm x 305 mm, this slightly slanted wooden pedalboard has space for around six pedals, which can be fixed to the board using hook-and-loop tape - so once your cable connections are in place, they can stay that way. What is more, a fixture for mounting a multi-pedal power supply is provided on the underside of the GPT-Black, and the board comes complete with a black nylon carrying case. The spacious pocket on the front of the case is also perfect for storing all manner of other accessories.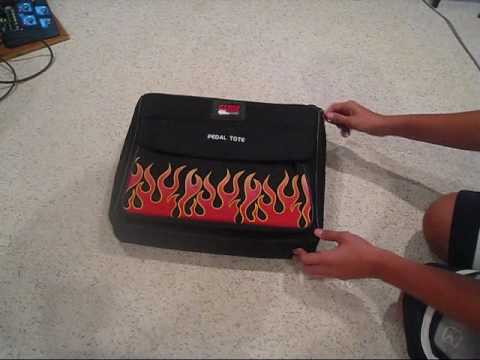 Keep your effects in order
The GTP-Black features a sturdy plywood construction and black Tolex covering. It provides a 420 mm x 305 mm surface for your pedals, which is completely covered with female hook-and-loop material and angled towards the player. Two long strips of male hook-and-loop tape are included to allow pedals to be fixed in place. Four holes for fixing screws are also provided on the underside of the board, allowing multi-pedal power supplies like the Gator G-Bus-8 and others of similar size to be permanently mounted. The power supply's output cables can be routed to the pedals via the small slot at the upper edge of the board. The design of this pedalboard not only gives you more space for your pedals, it also lets you keep everything tidy and makes tangled cables a thing of the past.
One for the minimalists
The GPT-Black is the perfect choice for anyone looking for a basic board for a small number of pedals that won't break the bank. It can easily accommodate four to six standard-size pedals (e.g. Boss compact effects) without making too much complicated tap-dancing necessary on stage. If patch cables with flat connectors are used and the pedals aren't too wide, it should even be possible to fit up to eight pedals onto the board. This will increase the risk of accidentally stepping on two pedals at the same time, however. The hook-and-loop covering lets you position your pedals in whatever way to want, and if one of your pedals breaks down, you can easily remove it from the signal chain during a break in the set.
About Gator
Gator, or Gator Cases, is an American firm founded in 2000 by father-daughter team Jerry Freed and Crystal Morris in Tampa, Florida. Initially, Gator began with a modest range of moulded plastic guitar cases. From there, they expanded the product line to include case and bag solutions for the whole field of instruments and equipment. A wide variety is covered: Instruments, microphones, and all aspects of live performance, including lighting equipment. At the same time, products for other media areas such as photo and video are also available. All products are made of high-quality plastics, wood, textiles, and EVA materials. The Gator companies also include flight case manufacturer Viking Cases and guitar strap manufacturer Levy's Leathers Ltd., as well as Gator Rackworks and Gator Frameworks.
More space on stage
The diminutive GPT-Black is particularly suitable for gigging on very small stages, where every inch of space counts. The board's lightweight nylon carrying case is padded to protect your pedals and, unlike a cumbersome hardshell case, it is remarkably easy to transport. It is worth noting that the carrying handle is permanently fixed to the board, and it protrudes through a slot in the case. This has the advantage that the board can easily be carried on and off stage with just one hand, without needing the case. Once the board has been put back in its case, all manner of other accessories can be stashed inside, and the capacious front pocket provides space for things like instrument cables, power cords, and even an additional effect pedal.