Headphone Preamplifier for Electric Guitar
12 Amp models from the Mustang GTX series

12 Effects

EQ

Bluetooth 5.0

Rechargeable lithium-ion battery

Approx. 4 hours of playing time

USB-C connection (recording out and firmware updates)

Rotatable jack plug

Headphone output

Cable included
Available since
February 2021
Effect Types
Headphone Amp
Number of stereo channels
1
Output Level Adjustment Per Channel
1
The sounds of the Fender Mustang GTX series - straight to your ears
Fender's Mustang Micro Headphone Amp packs 12 amplifier models from Fender's popular Mustang GTX series together with 13 effects into one compact housing, but this is way more than just a basic heaphone amp for practising and warming up: It can also be used as an audio interface. The diminutive amplifier features a 6.3mm jack connector that can pivot by up to 270° and can thus be connected to virtually any type of guitar, while its onboard lithium ion battery allows up to four hours of operation. What is more, the Mustang Micro's Bluetooth 5.0 connectivity allows audio files and backing tracks to be streamed seamlessly from a smartphone, which makes this amp a pleasure to practise and jam with at home and even more so when on the go.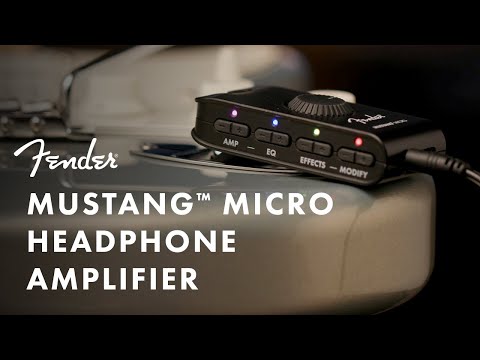 Practise and jam along
The 12 amp models that the Fender Mustang Micro has on offer can be selected via the AMP +/- button on the side and include both the clean sounds of classic Fender amplifiers and the overdriven sounds of other legendary amps. A dedicated LED adjacent to the switch indicates which amp model is currently selected. The EFFECTS switch allows the player to choose from a number of effect presets, including chorus/reverb, tremolo/reverb, and various delay and reverb combinations. These presets can then be adjusted to taste using the MODIFY switch. The fourth switch activates the EQ, which offers a selection of five settings. The Mustang Micro's USB-C socket performs three separate tasks: It provides a connection to the player's computer for recording music and for updating the device's firmware when required, and is also used to recharge the battery. And as mentioned above, the Mustang Micro's Bluetooth 5.0 connectivity makes streaming songs child's play.
A headphone amp for the discerning user
The Fender Mustang Micro is the perfect companion for players who want to enjoy a great range of sounds when practising and jamming on the go. The twelve available amp simulations cover virtually every imaginable style of music, and the impressive selection of effects allow some inspiring soundscapes to be created. And solo sessions are not the only option, as the amp's Bluetooth 5.0 connectivity also allows backing tracks and songs to be streamed wirelessly. What is more, the Mustang Micro's integrated lithium ion battery means up to four hours of playing enjoyment before a recharge is needed. Installation should be a breeze as well thanks to the input jack connector with its 270° swivel feature, which allows the compact amp to be plugged into virtually any guitar - whether it's a single-cut, a double-cut, or even a semi-acoustic.
About Fender
Fender is without doubt one of the most legendary guitar and amplifier manufacturers of all time. The company was founded in 1946 by its namesake Leo Fender († 1991), whose innovative ideas brought a breath of fresh air into the musical world. His Telecaster, Stratocaster, Precision Bass, and Jazz Bass are not only classics – they also continue to shape the styles of musicians in countless genres to this day. Timeless Fender amplifier models such as the Bassman, Twin, Deluxe, and Princeton also enjoy a stellar reputation. Besides maintaining its classic product portfolio, however, the company is also constantly developing new products that make Fender a driving force in today's music industry.
Cool sounds straight to your ears - wherever you are
The Fender Mustang Micro Headphone Amp will deliver the goods in any situation - whether it's practising on the couch at home, jamming to backing tracks via Bluetooth, or recording to a computer - thanks to its extensive range of amplifier models and great-sounding effects together with its outstanding ease of use. And it is by no means restricted to indoor spaces, as the onboard lithium ion battery means that up to four hours of playing time outdoors or on the go are also possible. All of this makes the Mustang Micro the ideal companion for spontaneous jam sessions and for getting in some practice in your hotel room - and always in complete comfort.
This is what customers who viewed this product bought