Electric Guitar
Artist series Ed O'Brien

Body: Alder

Neck: Maple

Neck profile: V

Fretboard: Maple

21 Narrow tall frets

Nut width: 42 mm

Vintage machine heads

Scale: 648 mm

Vintage style synchronised tremolo

Pickups: Duncan JB (bridge) and Texas Special (middle), Sustainer Driver (neck) (requires 9 V battery)

5 Way Switches

Original Strings Fender 250L (Article Nr 133191)

Gig bag included
available since
November 2017
Signature Strat with a Sustainer pickup and an attractive price tag
The list of big-name musicians who have become devotees of the Fender Stratocaster is a long one, and Ed O'Brien, guitarist with British Alternative band Radiohead, is one of a select group who have also received their own signature instrument from Fender. Though it may initially pass for a completely "normal" Strat, there is much more to this guitar than first meets the eye: This workhorse of an instrument features a Fernandes Sustainer pickup in the neck position that makes it perfect for Alternative Rock experimentation as well as a "10/56 V" neck profile that ensures outstanding playing comfort. Alongside the Sustainer neck pickup, the guitar also features a Fender Custom Shop Texas Special single coil in the middle position and a Seymour Duncan JB Jr. - a humbucker in a single coil format that delivers a cutting, dynamic sound - in the bridge position. The guitar's basic construction comprises an alder body and a bolt-on maple neck with a compound-radius fingerboard as well as a vintage-style vibrato unit, a combination of features that has proven itself to be solid and reliable.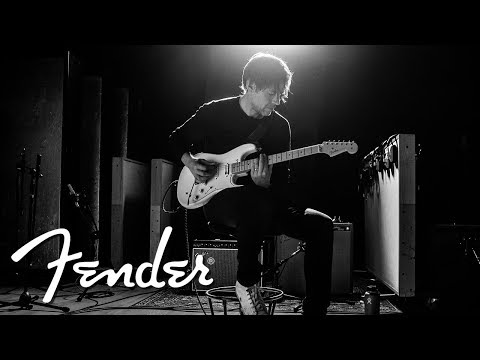 Endless sustain, even for clean sounds
The highlight of this signature Stratocaster is undoubtedly the Fernandes Sustainer pickup, which makes the strings vibrate on its own and thus allows completely new sounds to be created. Even completely clean lead lines and chords can be infinitely sustained and thick, textured sounds achieved without even striking the strings, so musicians who love to experiment will feel right at home here. And when a grittier, heavier sound is needed, the middle and bridge pickups are of course on hand to push any amplifier into saturation: The Texas Special provides the "typical" single coil tones with which the Stratocaster is synonymous, while the JB Jr. provides the power and punch needed for chunky riffs and singing lead sounds without producing unwanted noise. And the vintage-style vibrato unit provides the buttery-smooth feel that guitarists have come to expect from this design and brings out every nuance from the player's right hand.
A luxurious Strat that not only fans will love
Fans of Radiohead and Ed O'Brien probably won't need to be asked twice, especially in the light of this signature Stratocaster's attractive price tag. Its varied and extremely versatile pickup combination makes this guitar suitable for a wide range of musical applications that encompass eveything from experimental textures through to sounds that will suit every style even remotely connected with Rock & Roll. Its versatility is further enhanced by the comfortable playing feel of its maple neck, which has been designed according to the artist's specifications and has a smooth satin urethane finish on the back. This wealth of features clearly sets the Fender Ed O'Brien Stratocaster apart from the company's standard models and, thanks to the resulting flexibility, makes it ideal for use in the studio and for musicians who want to cover a broad tonal spectrum with a single instrument.
About Fender
Fender is without doubt one of the most legendary guitar and amplifier manufacturers of all time. The company was founded in 1946 by its namesake Leo Fender († 1991), whose innovative ideas brought a breath of fresh air into the musical world. His Telecaster, Stratocaster, Precision Bass, and Jazz Bass are not only classics – they also continue to shape the styles of musicians in countless genres to this day. Timeless Fender amplifier models such as the Bassman, Twin, Deluxe, and Princeton also enjoy a stellar reputation. Besides maintaining its classic product portfolio, however, the company is also constantly developing new products that make Fender a driving force in today's music industry.
A truly flexible musical tool
The Fender Ed O'Brien Stratocaster can do everything a "normal" Strat can do and puts everything from pearlescent, shimmering clean sounds to punchy overdrive at the player's fingertips, all delivered with Fender's customary playing comfort. However, the Fernandes Sustainer pickup makes it a very special instrument and a powerful tool for players who want to escape the mainstream, experiment with different sounds, and set new creative boundaries. This guitar will thus delight sonic explorers as well as musicians who often need to be very flexible in the studio and even top 40 guitarists who have to cover a range of different styles during their performances without constantly changing instruments. Electric guitars don't come much more versatile than this!
This is what customers who viewed this product bought