Tube Combo Amp for Electric Guitar
All tube amplifier

Power: 15 W

Equipped with: 1x 12" Jensen C-12N with ceramic magnet

Tubes: 3x 12AX7, 2x 6BQ5s (EL84)

1 Channel

Fat switch

Vintage style controls

Spring reverb

Controls: Reverb, master, middle, bass, treble, fat switch, volume

Foot pedal connector

Tweed finish

Dimensions: 40.64 x 45.72 x 23.31 cm

Weight: 14.06 kg
Available since
September 2006
Connection for External Speaker
No
Footswitch connection
Yes
Fender's Blues Junior amplifier is aimed squarely at guitarists with a taste for vintage sounds, from clean through to overdriven. Dynamics are the order of the day for this 15-watt, all-tube combo – true to the philosophy that the tone is in the fingers. The necessary presence is ensured by the matched Jensen C-12N speaker, which is housed in a semi-open backed cabinet finished in Fender's classic Lacquered Tweed covering.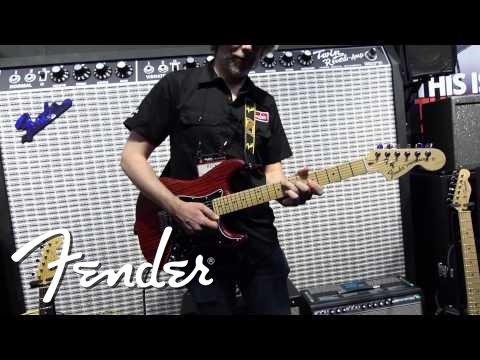 No-nonsense vintage tone
This all-tube combo amp was created to deliver dynamic vintage and Blues tones in a compact package, and its single-channel design with a three-band EQ, Fat boost switch and spring reverb has everything you need to cover the range of sounds from smooth cleans to full-sounding crunch. The amp's power stage delivers 15 watts from two EL84 tubes and plays a big part in giving the amp its high responsiveness and dynamic breakup, which are both essential to the overall sound. The level of preamp crunch is also independent of the power amp's volume level.
It's all about the dynamics
With its outstandingly dynamic characteristics, the Fender Blues Junior is the perfect home amp for guitarists looking to combine authentic vintage tones with an appealing retro design and an ideal stage or studio amp for those in search of the right sound for performing and recording. The 15 watts of all-tube power from the amp's two EL84s are not to be underestimated, especially since the 12" Jensen speaker can also move plenty of air. The preamp's saturation level can be regulated independently of the power amp volume, while the Fat switch in turn provides even more tonal variation. This compact combo thus covers the whole spectrum of sounds from clean to crunch, and its excellent responsiveness means the level of saturation can easily be controlled using your guitar's volume control.
About Fender
Fender is without doubt one of the most legendary guitar and amplifier manufacturers of all time. The company was founded in 1946 by its namesake Leo Fender († 1991), whose innovative ideas brought a breath of fresh air into the musical world. His Telecaster, Stratocaster, Precision Bass, and Jazz Bass are not only classics – they also continue to shape the styles of musicians in countless genres to this day. Timeless Fender amplifier models such as the Bassman, Twin, Deluxe, and Princeton also enjoy a stellar reputation. Besides maintaining its classic product portfolio, however, the company is also constantly developing new products that make Fender a driving force in today's music industry.
Highly versatile
The Blues Junior is at home in all manner of environments – from practising at home and jamming with fellow musicians through to recording in the studio and even performing on stage. Its warm clean tone gives an excellent account of itself regardless of whether it is used "as is" or as the basic sound for pedals to be added. When the amp's gain reserves are tapped, the sound will go from a mild, bluesy crunch through to Classic Rock. And this combo's chief strength is its ability to seamlessly vary the level of saturation and overdrive depending on the volume of the guitar's input signal and the player's picking dynamics, which makes it a highly expressive musical tool – a characteristic that is lacking even in some modern multi-channel amplifiers.
This is what customers who viewed this product bought