Electric Guitar
Body: roasted pine

Bolt-on maple neck

Rosewood fingerboard

Neck profile: Deep C

Scale: 648 mm (25.5")

Fingerboard: 241 mm (9.5")

Nut width: 42.8 mm (1.69'')

22 Narrow tall frets

Pickups: 3 V-Mod II single coils

Control: Master Volume

2 Tone controls (tone control 2 with push/pull function for switching on the neck pickup at the 5-way switch positions 1 and 2)

2-Point synchronised tremolo with curved steel saddles

Pop-in tremolo arm and cold-rolled steel block

Hardware: Nickel

Original strings: Fender 250L NPS .009" - .042" (Art. 133191)

Colour: Natural

Includes case

Made in USA
Available since
October 2020
Vintage guitar with an elite case
The AM Pro II Strat RST PIN from Fender is a Stratocaster for guitarists with exacting demands in terms of technology, playability, and design. This guitar comes loaded with a trio of V-Mod II single coil pickups, a configuration that brings back the authentic vintage sound that first made the Stratocaster famous. The body is made from roasted pine (as indicated by the abbreviation "RST PIN" in the model name), while the neck is made from maple and features a rosewood fingerboard that provides excellent sustain, which is further enhanced by the two-point tremolo bridge with its cold-rolled steel sustain block. The guitar's elegant look is topped off by its four-ply scratchplate, and the scope of delivery also includes an Elite hardshell case to allow it to be transported in complete safety.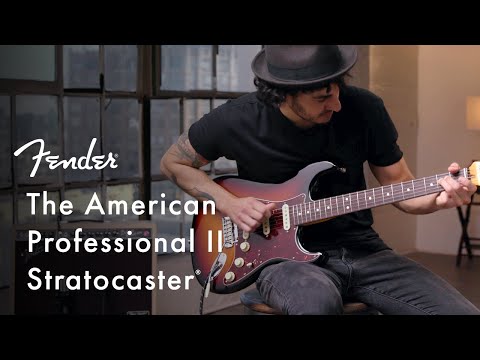 Packed with special features
As mentioned above, the Fender AM Pro II Strat RST PIN features a set of V-Mod II pickups, which are equipped with different AlNiCo magnets (as described in the "In the spotlight" section below) that have been specifically matched to the specific pickup position in order to deliver true vintage tone. The pickups are governed by the classic combination of a five-way blade switch, master volume control, and two tone controls - the second of which also features a push/pull control that lets the player combine the bridge and neck pickups or even all three simultaneously, thus expanding the range of available sounds beyond what is possible with conventional Stratocaster switching. The AM Pro II Strat additionally has a rounded neck heel and bevelled neck plate to improve access to the upper register, while both speed and playing comfort are enhanced still further by the hand-rolled fingerboard edges.
Authentic and timeless
The Fender AM Pro II Strat RST PIN gives advanced players a guitar that will fulfil even lofty expectations and combines the true vintage look and authentic tone of a classic Stratocaster with modern features that enhance both its versatility and its playing comfort. This guitar's timeless design and solid features also make it a sound investment for the future - after all, aside from the fact that the Stratocaster has defied the countless trends that have come and gone throughout its history, the attributes that make this Strat so pleasant and easy to play are sure to be just as valuable years from now.
About Fender
Fender is without doubt one of the most legendary guitar and amplifier manufacturers of all time. The company was founded in 1946 by its namesake Leo Fender († 1991), whose innovative ideas brought a breath of fresh air into the musical world. His Telecaster, Stratocaster, Precision Bass, and Jazz Bass are not only classics – they also continue to shape the styles of musicians in countless genres to this day. Timeless Fender amplifier models such as the Bassman, Twin, Deluxe, and Princeton also enjoy a stellar reputation. Besides maintaining its classic product portfolio, however, the company is also constantly developing new products that make Fender a driving force in today's music industry.
Highly adaptable
Thanks to its well-balanced sound and timeless look, the Fender AM Pro II Strat RST PIN will capably handle a wide variety of musical genres. Rock guitarists will certainly appreciate its punchy and vibrant tone, while its crystal-clear treble response will find favour with Pop stylists - and its comfortable playing feel of course makes it an ideal tool for lead guitarists in countless styles, be it for soulful melodies, catchy arpeggios, or full-on shredding. Whatever the chosen application, however, players can always count on the AM Pro II Strat RST PIN to deliver that signature Stratocaster warmth and delight the audience with the "smoky" rhythm sounds and singing lead tones that listeners know and love.
In the spotlight: AlNiCo pickups
"AlNiCo" is short for an alloy of aluminium, nickel, and cobalt. Before strong magnets were made of so-called rare earth metals (e.g. neodymium) in the 1970s and 1980s, magnets made of AlNiCo alloys were considered to be both the strongest and the least corrosive material. For this reason, they were also used in guitar pickups. Due to their widespread use, their warm and smooth tone became firmly established as the hallmark sound of entire generations of music lovers. Additional numbers on the AlNiCo pickups indicate the strength of the magnets used. However, the order of the numbers is a little mixed up. The weakest version is the AlNiCo 3 (found in 1950s Stratocasters), followed by the AlNiCo 2 (found in 1950s Telecasters). AlNiCo 5 magnets produce the strongest magnetic field.