Acoustic / Electric Guitar
Body: Mahogany

Top: Solid spruce

Bolt-on neck: Mahogany

Fretboard: Ebony

White fretboard inlays

Fretboard radius: 305 mm

Scale: 648 mm

Nut width: 43 mm

Graph Tech TUSQ nut

Neck profile: Modern Deep C

22 Narrow Tall frets

3 Pickup systems: Piezo system under the saddle, internal body sensor and magnetic N4 pickup

Controls: Master Volume and "Mod" Knob

5-Way toggle switch

Ebony bridge

Fender Standard Cast / Sealed Staggered machine heads

Chrome hardware

Ex-factory stringing: Fender Dura-Tone 860CL .011 - .052 (Article no. 444882)

Colour: Black

Gig bag included

Made in USA
Available since
March 2020
Electric? No, acoustic!
Acoustic or electric? With its lustrous black finish, the Fender Acoustasonic Stratocaster looks like a normal Stratocaster. But on the inside it's a bona fide acoustic guitar with a resonating body, spruce top, acoustic strings and - of course - loads of quality acoustic guitar tones produced by the onboard modelling electronics. But this guitar wouldn't carry the Fender name if its designers hadn't spliced in some 'electric' genes, too. The Acoustasonic Stratocaster can also sound like a normal Strat, if you want. Is this the ideal hybrid guitar? It's certainly pretty darn close. With a bit of preparation, this guitar will let you play an entire gig, featuring some impressive switches between electric and acoustic tones. By the way, its sister model, the Acoustasonic Tele, has a lot of the same physical design features. Its electronic brain, however, incorporates a range of models with different sounds. It's worth checking out, too.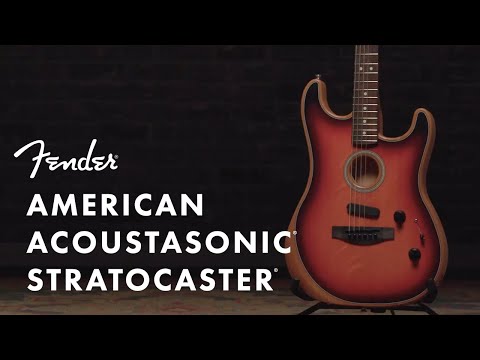 Three Pickups for a Wealth of Tone
Fender's Acoustasonic Stratocaster has a mahogany neck with the typical Strat shape, loaded with an ebony fretboard. The hollow body is crafted from mahogany and sports a precision-fitted spruce top with an angled rest for your playing arm. The sound hole is more than just a hole. This is what designers of performance speakers call a carefully tuned sound port. Mounted on the top is a normal acoustic bridge with a meticulously compensated saddle. The first pickup, a Fishman piezo, is mounted underneath the saddle. The second pickup is a single coil, clearly visible and mounted in the bridge position on the guitar's top. The third pickup is designed to accentuate the hand drumming and thumping that's essential to many modern acoustic playing styles. These three pickups are integrated into a cleverly designed Fishman electronic system controlled using a five-way switch and two knobs.
Ten Sounds On Tap
Looking for the ideal acoustic guitar for live gigs with the playability of an electric guitar? Welcome to your new favourite instrument. Because the DNA of the Acoustasonic Stratocaster is that of a modelling guitar, it can deliver a wealth of tones, The sounds range all the way from a rosewood dreadnought to a maple auditorium model. The electric Strat sounds are easy to use in a live scenario, incorporating a speaker simulation to let you route the signal directly to a PA. The five-way switch gives you a simple and intuitive way of controlling the ten included models; for added versatility, the Mod knob lets you blend between pairs of models. Depending on your musical style, this guitar lets you play an entire gig on one guitar that can cover both acoustic and electric tones. And thanks to its low weight, you can play this guitar for hours without any niggling back pain.
About Fender
Fender is without doubt one of the most legendary guitar and amplifier manufacturers of all time. The company was founded in 1946 by its namesake Leo Fender († 1991), whose innovative ideas brought a breath of fresh air into the musical world. His Telecaster, Stratocaster, Precision Bass, and Jazz Bass are not only classics – they also continue to shape the styles of musicians in countless genres to this day. Timeless Fender amplifier models such as the Bassman, Twin, Deluxe, and Princeton also enjoy a stellar reputation. Besides maintaining its classic product portfolio, however, the company is also constantly developing new products that make Fender a driving force in today's music industry.
Gigging Pro Or Couch Potato
All you need to get started is a Fender Acoustasonic Stratocaster and a full-range speaker (acoustic amp, PA). You may want to add a touch of reverb or chorus, and a USB charger: this guitar includes a battery loaded using a standard phone charger or powerbank. If you need more high-gain tones, you might want to add a multi-effect pedal with speaker simulation. Whatever you do, don't underestimate the acoustic capabilities of the Acoustasonic Stratocaster. The sculpted port mounted into the sound hole produces a characteristic acoustic sound without an amplifier. It might not be the loudest acoustic guitar sound ever, but it's a rounded and authentic tone. It's an ideal way to play a bit of guitar when you're decompressing after work or watching some TV...
In the spotlight
Acoustasonic Stratocaster Modelling Sounds
With only one control knob wired to a five-way switch, the Acoustasonic Stratocaster produces a staggering array of quality sounds. Here's how: Use the five-way switch to select a pair of core tones, then blend between them seamlessly using the Mod knob. The 10 core sounds are:
Position 1A Fender Electric, light crunch
Position 1B Fender Electric, drive
Position 2A Dreadnought, Engelmann spruce and rosewood
Position 2B Fender Electric, Clean
Position 3A Dreadnought, Sitka spruce and rosewood
Position 3B Blends body sensor sound with Sound 3A
Position 4A Parlor (short scale length), Sitka spruce and walnut
Position 4B Dreadnought, Sitka spruce and mahagony
Position 5A Dreadnought, Sitka spruce and mahagony
Position 5B Concert (short scale length), Sitka spruce and rosewood
This is what customers who viewed this product bought