EV RE320 Bundle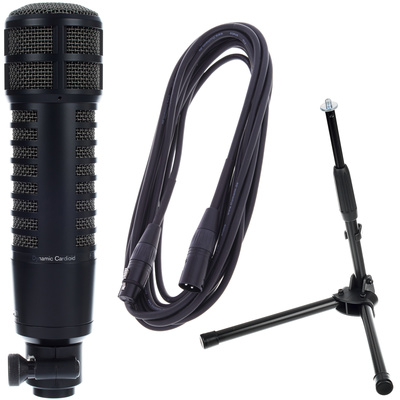 No JavaScript? No Audio Samples! :-(
Text ratings for this product are available in another language only so far
Unfortunately there was an error. Please try again later.
– Assumed from EV RE320
Mein bestes dynamisches Mikrofon
| | |
| --- | --- |
| Total | |
| features | |
| sound | |
| quality | |
Dantschge, 08.11.2013
Es liegt schwer in der Hand und es braucht auch einige Überzeugung gegenüber dem Mikroständer, dass es bei diesem Gewicht an Ort und Stelle bleibt, weil alleine das Gewicht, wenn es in einer ungünstigen Stellung befestigt wurde, fast jedes Gewinde aufzudrehen im Stande ist. Die Verarbeitung scheint trotz chinesischer Herkunft vollkommen in Ordnung zu sein, was ja auch andere Markenhersteller dank moderner Qualitätskontrolle inzwischen ganz gut beherrschen (siehe z.B. AKG Perception).

Klanglich konnte ich es mit meinen anderen Mikrofonen anhand von Aufnahmen meines Kontrabasses vergleichen (weil mir dessen Klang einfach sehr vertraut ist) und bin schon recht begeistert, wie es sich z.B. im Vergleich zu guten Kondensator-Großmembranern (AKG C214, AKG C3000, AKG Perception 820 Tube) und auch -Kleinmembranern (AKG C451B, DPA 4099 B) schlägt.

Während die getesteten Kleinmembraner etwas unter ihrem Nahbesprechungseffekt leiden und damit die Tiefbässe leicht überbetont und damit wummrig werden und undifferenziert klingen (was z.B. klanglich dem EV RE320 in der Bassdrum-Einstellung nahe kommt und dessen Einsatz als Kickdrum-Mikro vermutlich entgegen kommt) klingt das EV RE320 (in Flat-Einstellung) über den gesamten Tonumfang des Kontrabasses ebenmäßig austariert, was ich dem Variable-D-Konstruktionsprinzip des RE320 zuschreiben möchte. Der wunderbar holzige Klang des Kontrabasses in den Tiefmitten wird vom RE320 ganz natürlich wiedergegeben (bei Einstellung "flat" am RE320) und klingt damit etwas prägnanter und druckvoller als alle meine Kondensatormikros. Die Großmembran-Kondensatormikros fangen zwar noch ein paar mehr und feinere Bogengeräusche beim Streichen mit ein und klingen noch etwas feiner aufgelöst, aber dafür arbeitet das RE320 den typischen holzigen Kontrabassklang in den Mitten deutlicher heraus. Die Unterschiede sind zwar vielleicht auch Geschmackssache, aber neue Besen kehren halt einfach mal gut und bringen neue Aspekte ins Bewusstsein.

Auch beim Gesang (tiefere Männerstimme) hat sich das EV RE320 tapfer geschlagen, wenn ich auch dafür immer noch mein AKG Perception 820 Tube bevorzuge mit seinem sehr weichen Gesamtklang (allerdings ist das eher eine Geschmacks- statt einer Qualitätsfrage). Speziell als Sprecher-Mikrofon kann ich mir das EV RE320 sehr gut vorstellen, weil es etwas prägnanter formuliert, als meine Großmembran-Kondensatormikros. Ganz ohne Poppschutz kann man leider auch das EV RE320 nicht benutzen (zumindest beim heute aufgenommenen Song "Poppa Joe" und einer Entfernung von ca. 10 cm vom Mund zum Mikro). Mit den Bongo-Aufnahmen war ich nicht ganz so glücklich. Die waren etwas muffig und nicht so spritzig, wie ich das erhofft hätte, sodass ich dafür lieber die AKG C451B Kleinmembraner eingesetzt habe. Dann haben wir noch eine Cajon mit dem EV RE320 von hinten (am Schallloch) abgenommen. Das hat sauber gerumst und einen wuchtigen Bass-Schlag getan (klare Transienten und Impulse). Bei der Abnahme einer E-Gitarre haben wir ebenfalls sehr gute, vollklingende Signale bekommen.

Für gelegentliche Studioeinsätze kann ich das EV RE320 sogar in meine AKG H 85 Spinne einsetzen, wenn auch das Mikro aufgrund des hohen Gewichtes bei horizontaler Montage etwas nach unten hängt, was man mit dem Auslegerarm des Mikroständers wieder ausgleichen muss. Die AKG H85 ist deutlich kleiner und günstiger als die Original EV-Spinne. Außerdem hab ich ja schon mehrere daheim.

Der Ausgangspegel des EV RE320 ist natürlich nicht gerade hoch, wenn man es z.B. mit einem eher leisen Kontrabass bespielt. Bei meinem SPL GoldMike MKII musste ich den Gain auf gut über 60 dB aufdrehen, um den Pegel des Mikrofons auf Vollaussteuerung zu bekommen. Bei schlechteren Preamps könnte das "berauschende" Auswirkungen auf das Signal haben. Ich wurde jedoch auf meinen Testaufnahmen von keinerlei störendem Rauschen oder anderen Geräuschen behelligt (auch bei der hohen Gain-Einstellung von über 60 dB).

Nach den getesteten Studioanwendungen werde ich das Mikro nun auch live einsetzen, wo es auch noch auf andere Qualitäten (z.B. Rückkopplungsunempfindlichkeit, Bewegungsfreiheit des Musikers, etc.) ankommt, als nur auf eine 100%ig korrekte Wiedergabe des Signals (v.a. wenn man über besser geeignete Alternativen im Studio verfügt). Der Live-Einsatz vor einem Akkordeon war zumindest sehr überzeugend, sowohl vom Klang als auch vom Handling (viel Bewegungsfreiheit des Musikers ohne merkliche klangliche Änderungen; keinerlei Rückkopplungen sogar bei 60 dB Gain).

Vom Preis-/Leistungs-Verhältnis her ist das EV RE320 auf alle Fälle sehr in Ordnung, wenn es vielleicht auch keine Universallösung für alle Gelegenheiten darstellt. Aber welches Mikro (noch dazu in dieser Preisklasse) kann das schon von sich behaupten.
Unfortunately there was an error. Please try again later.
– Assumed from EV RE320
Absolut überzeugend bei der Amp-Abnahme
| | |
| --- | --- |
| Total | |
| features | |
| sound | |
| quality | |
matt60, 20.07.2012
Nachdem in den letzten Jahren das Audio Technica AE3000 mein ständiger treuer Begleiter bei der Abnahme meiner Gitarrenamps live und beim Recording war, wollte ich einfach nochmal einen Versuch starten dieses Mikro zu toppen. Das Problem bei der Abnahme war bisher meist der Punch in den Tiefen, der (Nahbesprechungseffekt?) einfach nicht so recht überzeugte. Durch Zufall bin ich auf einen Artikel über EV´s "Variable-D" Prinzip gestoßen, und da war sie dann spontan, die Idee: Ich teste das einfach mal aus, schließlich hatte ich das RE20 ja schon oft vor Amps gesehen.

Auf der EV-Website stieß ich schließlich auf Werbung für RE320 mit Joe Bonamassa, der offensichtlich mit dem neuen RE320 vor seinen Amps unterwegs ist.......Nun gut dachte ich, von Gitarrensound versteht er definitiv etwas, völlig unabhängig davon ob einem seine Musik gefällt. Also: Mikro bestellt, vor dem Amp damit und............. Bingo!!! Absolut fantastischer, druckvoller und sehr natürlicher Ampsound. Amtlich knochentrockener Wumms in den Tiefen (gerade bei geschlossen Boxen!), genügend Biss in den Höhen bei komplexen Mitten. Vielleicht etwas weniger Zahm als das AE3000, könnte man sagen. Im Grunde wie ein "SM57 done right", das las ich jedenfalls mal irgendwo über das RE320, und das kommt m.E. schon sehr gut hin.

Fazit: Das AE3000 bleibt wohl nun (zunächst wenigstens) im gefütterten Etui........

PS: Der Sound war übrigens während der ersten Tage subjektiv ein wenig krätzig. Allerdings dachte ich mir, dass sich möglicherweise zunächst das mechanische System "einlaufen muss" (vielleicht wg. Neodym-Magnet?), und tatsächlich verschwand nach einiger Zeit (1-2 Wochen) mit z.T. Live-Lautstärke das Ganze auch schon recht deutlich. Nach 6 Monaten hat sich das nun komplett erledigt, und das stützt meine "Einlauf-Hypothese". Dies bitte beim Antesten beachten und nicht direkt nach einer Stunde Testzeit verreißen, falls es etwas zu viel der Präsenz sein sollte! ;-)
Price includes VAT and free
shipping
(where applicable)
£ price – guideline price only
Available immediately
| | |
| --- | --- |
| item number | 305188 |
| sales unit | 1 piece |
| available since | January 2013 |
sales rank
in this category
Rank 141
at thomann.de
Rank 22286
Find Large-diaphragm Microphones
Offers include
20% British VAT
and are valid as long as stocks last. Shipping costs to the U.K. are 10 EUR (approx. £7), free shipping on orders above 199 EUR. Please
click here
for international Shipping rates. We do not accept liability for typographical errors or inaccurate information of any kind. *RRP = manufacturer's / distributor's recommended retail price in Germany
Payment & Security
Shop
Sitemap
Contact & Service
For our groupies...

Payment can be made safely and securely with Credit Card, Bank Transfer, PayPal or Amazon Payments.

+49-9546-9223-55
international@thomann.de

Thomann GmbH
Hans-Thomann-Straße 1
96138 Burgebrach
Germany




Shop

Fine print
ID: 305188
© 1996 – 2017 Thomann GmbH
Thomann loves you, because you rock!