Denon DJ Prime Bundle X1850/SC6000
Bundle offer comprising
2x Denon DJ SC6000 Prime
DJ Media Player

HD 10.1-inch touchscreen with excellent visual and interactive user interface

3x USB, 1x SD

Built-in HDD drive bay for storing music on the device

Integrated internet capability via WLAN or cable for music streaming

Performance Pads made of rubber with excellent response and refined lighting

Adjustable 8.5-inch jog wheel with large surface area for turntable manipulation

Standalone track preview

Serato DJ Pro controller mode (future update)

Class-leading algorithms for time stretching and key change / synchronisation

Internal analysis of music files (including Rekordbox collections)

Dual-Layer playback with independent analogue / digital outputs

StagelinQ connection for professional event / DJ lighting and video control: Plays uncompressed audio formats (FLAC, ALAC, WAV)

IEC connector for a secure hold

Dimensions (W x D x H): 320 x 463 x 151 mm

Weight: 5.8 kg

Suitable optional case: Art.483157 (not included)
Denon DJ X1850 Prime
4-Channel Club Mixer

With multiple assignable inputs

16 Professional BPM effects with new FX Quantize control

"MIDI Start with Clock" function synchronises external instruments

Expressive 3-band EQ section

Robust, smooth channel line faders

Channel-dedicated sweep effects and filters

Sharp OLED display for editing effects and adjusting settings

Dual USB audio connection for software and audio accessories

2 Dedicated XLR (6.3mm combo) microphone inputs with EQ / level / talkover

Denon DJ Flex-Fader 'Crossfader with adjustable voltage

24-Bit / 96kHz digital audio performance for uncompromising audio quality

4 Digital inputs for high resolution audio mixing

5-Port LAN hub for networks & StagelinQ event lighting / video connection

Robust metal construction

IEC power cable with secure plug connection

Dimensions (W x D x H): 311 x 445 x 110 mm

Weight: 7 kg

Suitable case: Art.483146 (not included)
available since
January 2020
A professional DJ setup for the clubs
The Denon DJ Prime Bundle X1850/SC6000 is a complete and highly professional setup for DJs comprising two DJ SC6000 Prime multimedia players and a DJ X1850 Prime mixer, so it gives DJs everything they need to get mixing right away. The individual components in this bundle combine to create the perfect system: The SC6000 Prime is an outstandingly high-quality medial player for professional club applications and features an intuitive 10.1" high-resolution touchscreen display. Thanks to their dual-layer technology, the players each possess two independent internal drives with analogue and digital outputs, which effectively gives DJs four decks – perfect for connecting to the X1850 mixer's four channels. The mixer features a three-band EQ, high-pass and low-pass filters, dedicated effects for each channel, and a BPM effect section and thus provides all of the sound processing tools that DJs need. Its features also include two microphone inputs with two-band EQ and a talk-over function.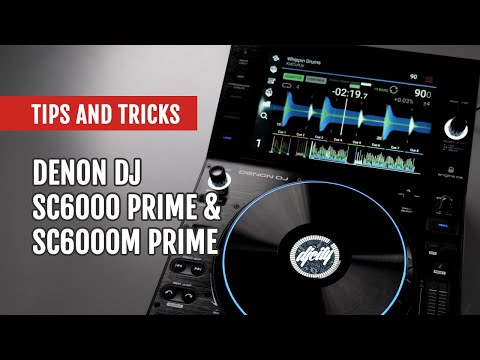 The perfect combination for every DJ
These two top products from Denon together give DJs the perfect combination. Even absolute beginners can get started right away using these professional-level tools. Vinyl DJs who want to start moving towards digital DJing won't have to give up their beloved turntables, either – these can be routed as vinyl players via the mixer's phono inputs or via its DVS input to control DJ software using scratch vinyl. What is more, the mixer also acts as a multi-channel sound card for two computers. Most importantly, however, Denon DJs can stream music directly from the internet via WLAN or network connection without the need for an additional switcher thanks to the X1850 mixer's five-channel LAN hub. The integrated StagelinQ connectivity also opens up a range of intelligent options for professional lighting and video control using Resolume and Soundswitch.
Streaming: The future of DJing
Denon has been competing to become king of the DJ booths for years, which is why the company equips its players and mixers with every refinement possible. At the same time, Denon players can be found on the riders of more and more renowned club DJs, and the Denon DJ Prime Bundle X1850/SC6000 caters to precisely this niche: The visuals of the SC6000 Prime player and the X1850 mixer alone are the embodiment of futurism thanks to their combination of green and blue LEDS and a deep black housing. Above all, however, the setup is compatible with all relevant, current, and up-and-coming playback formats, since the Denon DJ Prime bundle can already use cutting-edge streaming technology. To ensure that this outstanding hardware remains completely up to date, Denon also regularly provides free updates with useful new functions.
About Denon
The Japanese-American company Denon was founded in 1910 and established itself as a leading brand in the 1930s. It has long stood for ground-breaking technological innovations that were frequently world firsts in their time. Denon's passion for invention has produced many remarkable technologies, including the first professionally usable recording device for gramophone records (1939), the first Japanese stereo records and stereo systems (1951), and the first PCM recorder, which was based on the same principle as today's CDs (1970). In 1982, Denon launched the first CD player for home use, the DCD-2000, another milestone among its already widespread innovations. Today the company belongs to D&M Holdings Inc. and is famous for its hi-fi and DJ products.
Complete stand-alone bundle
The Denon DJ Prime Bundle X1850/SC6000 can be used as a stand-alone solution without a computer or with two additional computers working simultaneously. The bundle is also compatible with vinyl – whether real or "only" for controlling popular DJ software – as well as with drum machines and sequencers with MIDI clock synchronisation. The music itself can come from a USB stick, an SD card, an internal SSD hard drive (which can be installed as an option), or a laptop – or it can be streamed from the internet. The players' WLAN and network connectivity means that even streaming does not require a computer, and its StagelinQ compatibility for Resolume and SoundSwitch also makes the Denon DJ Prime Bundle X1850/SC6000 ideal for the synchronised control of lighting systems and video feeds.
In the spotlight: Streaming vs. USB stick
As well as broadcasting DJ sets via channels like Twitch and YouTube, "streaming" also refers to receiving music from the internet. A paying account with a streaming service like Beatport, Beatsource, SoundCloud, or TIDAL gives DJs access to every available track. Some accounts also offer temporary intermediate storage for a specific number of tracks, which are thus also accessible offline. Once the SC6000 has analysed a track, it saves the control data to its storage medium so that the track, including all of its loops and hot cues, is immediately ready for use the next time it is needed.