Guitars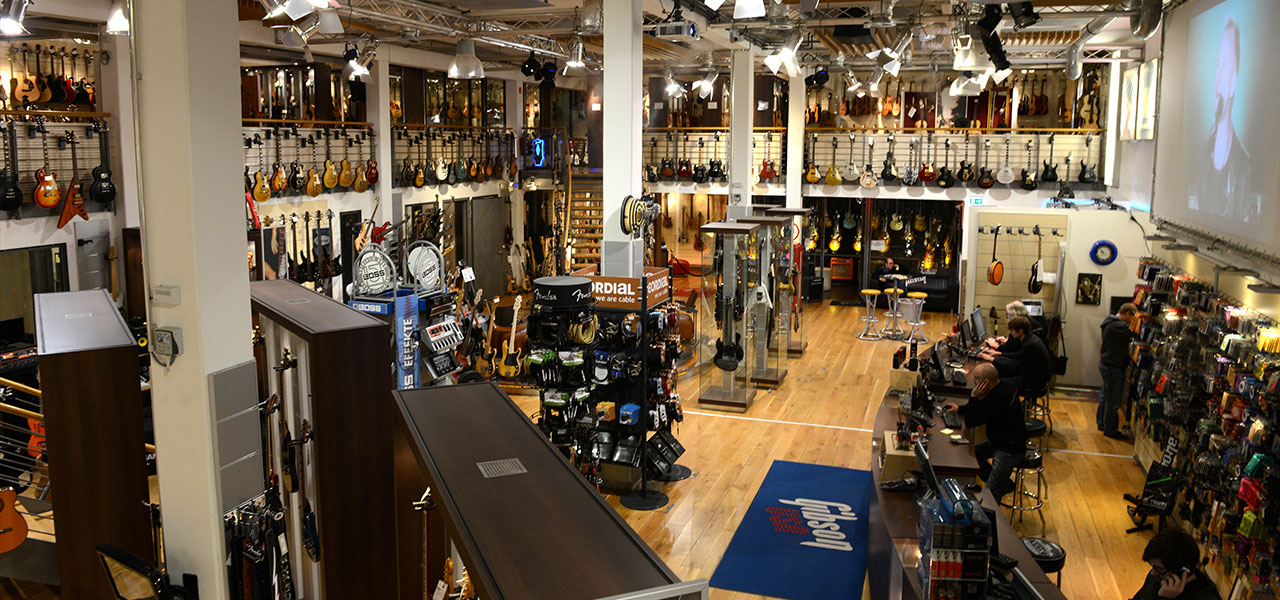 Have you ever seen the bright smile on the face of a guitarist who enters a room full of the "little treasures" the great big world of guitars has to offer. We see that smile every day in our guitar department :-)
We stock about 2500 guitars and basses. That means we have everything directly available, all the big brand names, but also extremely affordable entry level models that offer exceptional value. We always do our very best to offer both an exciting selection and exciting prices, and of course we always have an open ear for our customers.
25 trained employees in our guitar department are there to offer you optimal service, but that's not all. Our new service centre contains state of the art guitar workshops for our trained guitar specialists who maintain, repair and set up your guitars. Prior to shipment, these specialists are also responsible for making sure that all our own house-brand guitars are quality controlled to meet our customers' expectations. Our new PLEK Machine can also set up your guitar with its optimal string action, just let us know when you make your order if you would like this additional service.
A few years ago, it might have been unthinkable for many customers to buy a guitar or bass per mail order. However things have changed fundamentally - not least because our customers know they can rely on our 30-day money-back guarantee. Ordering from Thomann means buying without regrets, and that's also because we always try to anticipate manufacturer lead times and often can ship instruments directly out of our huge warehouse that neither competing dealers nor the national distributors can deliver right away.
Discover our operation on a 360° tour
our Team – Guitars
Alena Meyer

Tel. (09546) 9223 20

Alfred Reuter

Tel. (09546) 9223 20

Andreas Arneth

Tel. (09546) 9223 20

Andreas Rottmann

Tel. (09546) 9223 20

Bernhard Dreyer

Tel. (09546) 9223 20

Christian Purrmann

Tel. (09546) 9223 20

Daniel Krapp

Tel. (09546) 9223 20

David Wittig

Tel. (09546) 9223 20

Jannik Scheidel

Tel. (09546) 9223 20

Johannes Dorn

Tel. (09546) 9223 20

Jonas Dorsch

Tel. (09546) 9223 20

Jörg Herold

Tel. (09546) 9223 20

Kristof Andras Barocsi

Tel. (09546) 9223 20

Luis España

Tel. (09546) 9223 20

Manfred Trautner

Tel. (09546) 9223 20

Marco Heidenfelder

Tel. (09546) 9223 20

Michael Huschke

Tel. (09546) 9223 20

Michael Scheler

Tel. (09546) 922320

Oliver Schott

Tel. (09546) 9223 20

Oscar Ackermann

Tel. (09546) 9223 20

Paul Wünschel

Tel. (09546) 9223 20

Robin Nunn

Tel. (09546) 9223 20

Sean Samuel

Tel. (09546) 9223 20

Stefan Römisch

Tel. (09546) 9223 20

Werner Michel

Tel. (09546) 9223 20
Product highlights
Top Sellers
Hot Deals
New products
Blow-Outs