Combo for Electric Guitar
Power: 50 W

Equipped with: 12" Custom speakers

5 Amplifier types: Clean, Crunch, Lead, Brown & Acoustic

5 Independent effects: Booster, Mod, FX, Delay and Reverb - 3 of them can be used simultaneously

2 Memory locations for amplifiers and effects settings plus panel setting

Power amp input for the use of multi-effects devices

Power Control (0.5 / 25/50 watts) for full amp sound at any volume

Controls: Amp Type, Gain, Volume, Bass, Middle, Treble, Booster / Mod, Delay / FX, Reverb, Master & Power Control, Sounds

Updated Boss Tone Studio sound customization software with over 60 different Boss effects, channel and global EQs, customisable routing and more (free on Bosstonecentral.com)

Connectivity for up to two footswitches or an expression pedal

USB connection for recording and changing effect settings (matching USB cable: art. 450531 - not included)

Dimensions (W x D x H): 470 x 238 x 398 mm

Weight: 11.6 kg

Matching footswitch FS-6: Art.173531 (not included)
Matching expression pedal: Art.102890 (not included)
Available since
October 2019
Connection for External Speaker
No
Footswitch connection
Yes
The total package in one compact combo
The second generation of Boss's Katana amplifier series delivers outstanding tonal flexibility in both head and combo formats – proving once again that the iconic effect pedal manufacturer also knows how to make a great amp. In addition to its excellent basic sounds, the Boss Katana 50 MKII also boasts a range of onboard effects and an adjustable power stage output, so a rich-sounding tone is ensured at all times, and players can store their favourite settings to four different memory patches (two banks of two each). All of this makes the Katana 50 MKII the ideal partner, whether you're practising at home, rehearsing with a band, or performing on stage. And there is one thing that cannot be denied: This amp delivers the quality of sound that one would expect only at a much higher price point.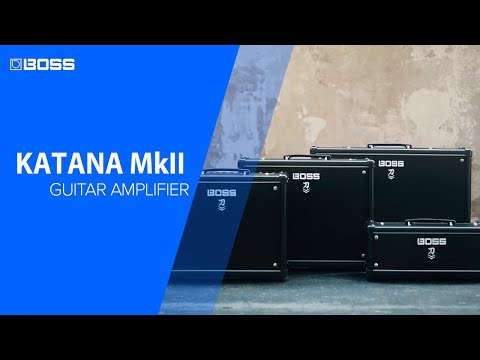 Down to the last detail
The Boss Katana is a typical 50-watt, 1x12" combo amplifier, but it can do a lot more than can be expected from conventional amps. Luckily, the Katana's wealth of features is easy to navigate using the top-mounted control panel or the Boss Tone Studio Editor (available free of charge from bosstonecentral.com), a very practical tool which allows players to fine-tune their settings down to the last detail. And leaving aside the amplifier's immense flexibility, the range of options available to shape its outstanding sounds to suit your individual taste also make it great for recording, which is made all the easier by its integrated USB output.
Perfect for beginners, that first band, and more
Until just a few years ago, getting your hands on an amp of this quality meant spending a lot more money. However, since the Katana 50 MKII gives players a truly sophisticated combo at a very budget-friendly price, it would also be inaccurate to refer to it as a "beginner's amplifier". Or to put it another way: Its price and format are perfect for taking your first steps on the guitar or in a band, but its quality goes far beyond that, making it equally interesting for experienced guitarists who are searching for an amp that sounds good even when playing quietly at home, are reluctant to spend more money than they have to, or simply wish to avoid having to get to grips with overly complicated technology.
About Boss
The Boss brand has been an important part of the Japanese Roland Corporation since the mid-1970s and has caused a sensation from its inception, especially with its compact effect pedals but also multi-effect units and other helpful tools for guitarists. The company's single effect pedals in particular are legendary and can be found in almost every guitarist's home. An incredible 15 million have been sold to date. With its Katana series, the manufacturer now also offers excellent amplifiers at a very interesting price point.
Your personal custom amplifier
True, the Boss Katana 50 MKII can do a lot. But what it does best is to deliver exactly the sound you want, when you want it – precisely what guitarists need and desire. Hundreds of different options are of course nice to have (and the Katana 50 MKII offers a great many), but ultimately, the decisive factor is how easy the amp is to use, how precisely players can customise their sounds, and of course whether the end result sounds great. That is where the Boss Katana comes into its own: With just 11 control knobs and three buttons, it has everything guitarists need to find the perfect sounds to suit their guitar and their playing style – from crystal cleans to full-throttle drive sounds – in next to no time.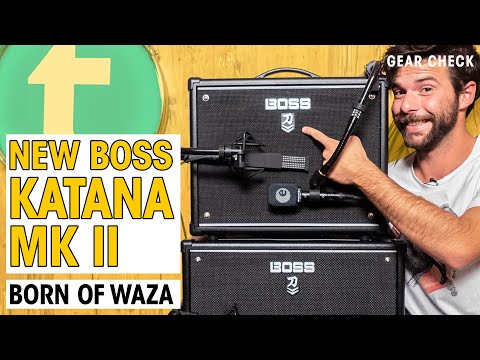 In the spotlight
Power Control
The Power Control feature is used to set the Boss Katana 50 MKII's power stage to 50, 25, or 0.5 watts or to standby mode. But why? Surely the amp can just be left at 50 watts and turned down? Actually, it is not quite that simple, and anyone who has studied guitar amplifiers in detail will know that how high the amp's power stage is turned up and how hard it is having to work make a marked difference in terms of both sound and playing feel. When a power amplifier (particularly in a tube amp) is pushed to its limits, it responds very differently, heavily compressing the signal and delivering a very specific type of feedback to the player. To take advantage of this effect even at bedroom-level volume, players can use the Boss Katana's 0.5-watt setting to push the power stage to the limit without leaving their ears ringing.